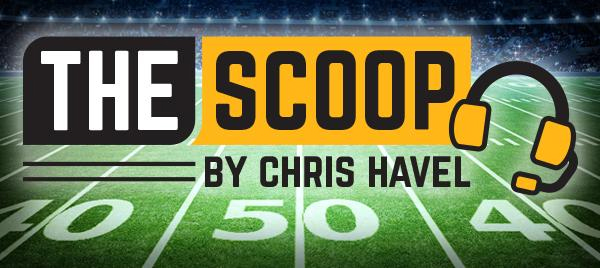 By Chris Havel
While Rodgers drama carries on, 2020 top pick Jordan Love gobbling up reps
GREEN BAY, Wis. – The Packers traded up in the first round of the 2020 draft to select Jordan Love because they projected his talent and potential to be that of an upper-echelon NFL starting quarterback.
The key words there are "projected" and "potential."
Due to circumstances out of Love's control, the former Utah State star has done nothing to disprove himself as capable of being "that guy."
The COVID-19 pandemic wiped out the NFL's preseason and forced offseason Zoom meetings and an abridged training camp. While Love did his best to grasp a whole new world in Green Bay, Packers head coach Matt LaFleur and quarterback Aaron Rodgers grew together in the offensive scheme. It created better communication, collaboration and cohesion which ultimately spawned the NFL's top-rated offense.
Throughout the 13-3 season and into the NFC championship, Love had a front-row seat to quarterback excellence. Rodgers played the position the way LaFleur could only dream Ryan Tannehill might, and even at that Tannehill proved to be quite successful in Tennessee.
Rodgers' MVP season with 48 touchdown passes to five interceptions was a real-time tutorial for Love. He doesn't have to guess at what it is that makes great quarterbacks like Rodgers. He saw it firsthand.
Now, it's time to apply it.
The Packers' second week of OTA's began Tuesday. The initial reports regarding Love's performance in Week 1 have been encouraging.
While Rodgers sits out this OTA, Love has been insatiable in terms of the number of reps he's been gobbling up. He appears to have more command in the huddle and a greater grasp of the offense, which is to be expected. He also continues to work on his accuracy, which by extension means his footwork, so he can one day run the attack with precision.
Love's confidence also appears to be in a good place. He is willing to correct teammates if they run a wrong route or line up incorrectly. He is slowly but surely growing up in LaFleur's scheme.
Blake Bortles' presence is a bonus.
Bortles, a veteran and great locker room presence, according to former teammates, will be a good sounding board for Love. Bortles knows the demands of playing the position, especially before you're NFL ready.
It will be good for Love to hear from a veteran QB not named Rodgers. The different perspectives can be invaluable to a young player.
Packers GM Brian Gutekunst called Love "a very talented developmental player."
Translation: He's got the mental and physical attributes, but he's going to need more time to continue to develop.
If Rodgers' holdout drags on – and a regular season looms – I suspect LaFleur will name Bortles as his starting quarterback, with Love holding the clipboard.
I think that will be the case whether Love plays terrific, terrible or somewhere in between during the preseason. Bortles is the buffer zone until it's absolutely clear that A) Rodgers isn't coming back and B) the Packers need to move forward and prepare to win games.
Bortles – and LaFleur's scheme – gives them their best chance now. However, if Love's play is strong in the preseason, LaFleur may look to get him some snaps in games when that typically wouldn't happen.
When the Packers drafted Love, they did it with the conviction that he could become a winner in the NFL. Some scouts rated Love behind Joe Burrow but ahead of Justin Herbert and Tua Tagovailoa. All three played well as NFL rookie quarterbacks, and their supporting casts weren't as good as Green Bay's on offense.
Rodgers' holdout is unfortunate, to say the least, but if there's a way to make the most of it, it's Love's opportunity to run the show. He's got an accomplished set of teachers in LaFleur, Nathaniel Hackett and the rest.
All of this should accelerate Love's development.
The Packers' recent draft, and the re-signing of Aaron Jones, coupled with a strong offensive line, gives hope that Green Bay can win whether it's Bortles or Love at quarterback.
The Packers went 9-7 in each of Brett Favre's first three seasons. Green Bay went 6-10, 11-5 and a Super Bowl victory in Rodgers' first three seasons.
Clearly, patience is going to be required with Love. Furthermore, Packers' fans are going to have to readjust their expectations at quarterback. But if Love is the player the Packers believe he can be – and they set him up for success – the victories will follow.