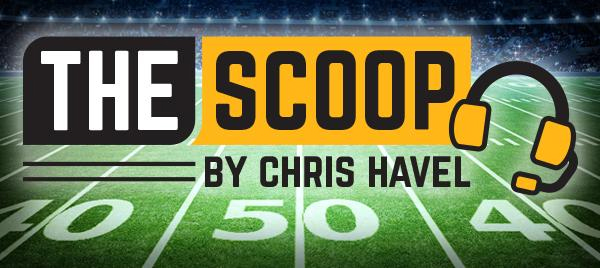 By Chris Havel
There's the news, the knee-jerk reaction and what you really need to know
GREEN BAY, Wis. – The Packers have had what at times feels like a surreal offseason in the aftermath of an unprecedented 2020 given the impact of the COVID-19 pandemic.
There's been the news, the knee-jerk reactions and what Packers fans really need to know. I'll sort it out for those in need of a recap:
** NEWS: Aaron Rodgers renews his membership at Green Bay Country Club.
** KNEE-JERK: Yippee! Rodgers is going to play for the Packers in 2021 after all. Why would he keep his membership if he wasn't staying in Green Bay?
** NEED TO KNOW: Rodgers is a very wealthy man with a multitude of financial holdings, among the least of which are his various golf memberships around the country. Most are automatically re-upped until the golf course hears otherwise. Sorry to break the bad news, but it means no more, no less.
**********************************************************
** NEWS: Packers president/CEO Mark Murphy refers to Rodgers as a "complicated fella" while speaking to a gathering of fans.
** KNEE-JERK: OMG! What is Murphy trying to do? Sabotage the entire negotiation with Rodgers? National media even went so far as to use that phrase as evidence the Packers' front office is a bunch of buffoons. They rolled their uninformed eyes and said, "See what poor Aaron has to deal with? No wonder he wants out of there."
** NEED TO KNOW: Murphy didn't need to go there, even if the assertion that Rodgers is "complicated" is entirely accurate. Then again, Rodgers didn't need to question the Packers' front office "culture" according to sources. That was a damning accusation that suggests all types of inappropriate behavior. To those who say, "It didn't come directly from Rodgers," I say, "He did nothing to dispel it, either."
If Rodgers' return hinges on Murphy calling him "complicated" then this relationship already is irreparable.
**********************************************************
** NEWS: Jordan Love was on fire two weeks ago at Wednesday's mandatory minicamp practice. Tight ends coach Justin Outten went so far as to pretend to cool him off by fanning him with a towel.
Love got the defense to jump offside and made the most of the free play by delivering a strike to Allen Lazard in stride for a 45-yard touchdown between two defenders.
He also connected with Aaron Jones and A.J. Dillon on a pair of "wheel" routes that went for 30 yards apiece. He hit both players in stride as they zipped past a would-be defender up the sideline.
Later, he fired a strike to Marques Valdez-Scantling for another big play.
** KNEE-JERK: In a battle of extreme reactions, some said it validates Love's ability as a first-round arm talent, while others said it doesn't mean anything until he does it in an NFL regular-season game.
** NEED TO KNOW: It means something. I can't recall the number of times Tim Boyle, Deshone Kizer and Brett Hundley drew that type of attention for being red-hot by firing one big-time throw after another in any given practice. That's because they didn't.
The fact that Love did it doesn't mean he's going to be a superstar. It just means he has legit first-round arm talent. There is a reason the Packers drafted Love, and it wasn't to antagonize Rodgers.
"Every day is a new learning experience," Packers coach Matt LaFleur said of Love's big day. "And when you have limited reps and you weren't getting the bulk of the reps all throughout the course of the season – and this is never an excuse; it's just a reality, right? There was no preseason (last year), so there's just a ton of learning that's going on.
"It's great to see when (Love) does have success because again that will build the confidence, and that's really what we're looking for. But also, it's everybody else around him, too. When they're playing at a high level, it makes that guy's job a lot easier."
**********************************************************
** NEWS: The Packers sign linebacker De'Vondre Campbell to a one-year deal worth $2 million, including a $1.01 million signing bonus.
** KNEE-JERK: Campbell is this year's version of Christian Kirksey, a mid-level veteran who is on the downside of his career.
** NEED TO KNOW: Campbell is NOT Kirksey. The 6-4, 232-pound inside linebacker has been a solid, durable pro entering his sixth season. Campbell has averaged 103.5 tackles since the 2017 season. He also has 7 ½ sacks, but is best-known for his ability to play the run and the pass.
Campbell's length makes him a viable pass defender, while his willingness to hit with force makes him reliable at the line of scrimmage. Campbell, who wears No. 59, is going to start. The only question is whether Kamal Martin or Khrys Barnes wins the spot opposite him.
**********************************************************
** NEWS: There are reports that the Packers are close to signing receiver Davante Adams to a long-term extension.
** KNEE-JERK: Ah-huh! The Packers' re-signing of Adams is a sure sign they're going to have Rodgers at quarterback. What better way to ingratiate a team with its quarterback than keeping his premiere, primary target?
** NEED TO KNOW: If the Packers extend Adams' contract, it's because he is a terrific receiver who has earned every penny. It's all about Adams' play – first and foremost – just like it was when all-Pro left tackle David Bakhtiari signed his extension.
Naturally, it would be great to see Bakhtiari protecting Rodgers' blind side while Adams streaks into the open downfield. Then again, it might be even more important to have those pieces in place for a first-time starting quarterback. It works both ways.
**********************************************************
** NEWS: Andrew Brandt, the Packers' former salary cap guru, sent out an interesting tweet two weeks ago.
Brandt's tweet: Beyond the noise, the Rodgers-Packers situation is the same as it always has been and will be: The Packers aren't trading him (at least not in 2021), and he can't trade himself.
** KNEE-JERK: Some respondents pointed to Brandt's assertion that Philadelphia wouldn't trade Carson Wentz (who was traded to the Colts) as reason to criticize this tweet.
** NEED TO KNOW: Brandt is right more often than not.
The reality is that Rodgers can't trade himself and the Packers aren't foolish enough to trade the MVP quarterback before playing it out. That means putting Rodgers in a position where he plays or doesn't. If he refuses to show up, the Packers go with Love and take their shot.
Then, they trade Rodgers next offseason, after he's sat out a year. It's the only sensible course of action for Green Bay, and Brandt knows it.
**********************************************************
** NEWS: The Packers retain Preston Smith to go along with Za'Darius Smith and Rashan Gary at edge linebacker.
** KNEE-JERK: Preston Smith's washed up. He had a poor 2020 season and shouldn't have been re-signed, especially with former first-round pick Rashan Gary beginning to flash.
** NEED TO KNOW: Preston Smith arrived at the OTA's in noticeably better shape than a year ago. Also, for whatever reason, Preston Smith has a habit of being really good one season, and being subpar the next. He's due for a big season.
Furthermore, Gary's ascension isn't a reason to move on from Preston Smith. It's a reason to keep him – especially since he's rejuvenated – so the Packers can attack with three pass rushers.
New defensive coordinator Joe Barry is excited by the prospects.
"All three of those guys I'm excited about, it's great whether we have two of them on the field, all three of them on the field," Barry said. "We'll get creative and have some fun with it. But you can't have enough great pass-rushers, and I'm excited to be working with all three of those guys. All three of those guys are in a great place."