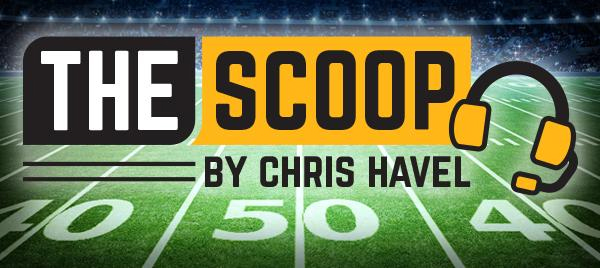 By Chris Havel
A challenging season awaits everyone from Packers' fans to the organization
GREEN BAY, Wis. – The 2021 Packers season will be like no other.
The COVID-19 pandemic appears to be relenting, variants aside, which helps pave the way for a return toward normalcy.
That means training camp, the Family Night Scrimmage, preseason games and a jam-packed Lambeau Field for the Sept. 20 home opener on Monday Night Football against the Detroit Lions.
They're all great moments to look forward to.
Typically, the phrase "thoughts and prayers" is the well-worn response in the wake of tragedy. While the Packers' bizarre offseason doesn't rise to those heights, thoughts and prayers are always welcome.
It is especially true this season, where extraordinary challenges await the Packers' leadership, players and fans. Here are my "thoughts and prayers" for them during this recess before training camp opens.
** THOUGHTS
Jordan Love may be in a tough spot, but he's also in a really good place.
Love is surrounded by terrific players on offense. The offensive line, tight end, receiver and running back positions ALL have been upgraded through the draft and free agency.
This team is built to play offense the way coach Matt LaFleur intended.
By the time camp opens, Davante Adams should join David Bakhtiari and Aaron Jones as perennial All-Pros with rich contracts to prove it. That trio represents the heart of the NFL's No. 1 offense.
Furthermore, a Packers' coaching staff led by LaFleur really and truly understands the inner-workings of modern offense in the NFL. LaFleur's ability to design plays that look identical but are different, and to create a run game that melds with play-action, is a thing of beauty.
There's also this: A majority of fans wish Love only the best. The ones that have been paying attention understand that it's not the second-year pro's fault he was thrust into the "Rodgers V Packers" drama.
** PRAYERS
Notice that I said a majority of fans will understand Love's situation.
Let's be honest. If Love is the Packers' starting quarterback Sept. 20 against the Lions, he is going to be brilliant and baffling, and often in the same series. There are going to be boos to go with the dissatisfaction.
That's all part of the NFL.
My prayer is that fans think twice before spewing venom toward whomever they feel is to blame when the Packers play poorly. That goes double if Love is the target of their displeasure.
Brett Favre and Aaron Rodgers weren't Hall of Famers on Day One. In fact, both had their share of struggles before they realized greatness. It remains to be seen whether Love is going to realize greatness, but there's no question he's going to have bad plays, and bad games.
We'll find out if he's up to the task. We'll also find out if Packers' fans are up to the challenge, and truly are the "greatest" fans in the NFL.
********************************************************
THOUGHTS
The Packers have an ace up their sleeve this season: Joe Barry.
The new defensive coordinator comes into an excellent situation in Green Bay, and his unit should benefit from it.
Barry, who has lost with the Lions and won with the Rams, remains something of a wild card for NFC North opponents. Whereas they had a very good idea of what ex-coordinator Mike Pettine was trying to accomplish, Barry is a bit of an unknown.
In Detroit, Barry showed the toughness to keep fighting in defeat. In Los Angeles, he proved he can forge a dominant defense with the right pieces. Now, he comes to Green Bay with an exceptional array of pass rushers, a stud in the defensive line and top picks scattered throughout the secondary.
The only question: How will he deploy and unleash it?
That's the riddle opposing offensive coordinators must solve.
PRAYERS
Prayers go out for opposing offenses. They'll need them.
Za'Darius Smith sounds like a man on a mission entering this season. He still feels snubbed over the Pro Bowl oversight, and he also feels disrespected by Pro Football Focus, which didn't list Za'Darius among the NFL's top 10 edge rushers.
Za'Darius has all the statistics to belong in that group. Furthermore, he's one of the team's top leaders regardless of position.
Preston Smith's rejuvenation, coupled with Rashan Gary's arrival, only serves to make the Packers that much more dangerous on defense.
*******************************************************
THOUGHTS
There is talk that Aaron Rodgers may have a loophole that could allow him to sit out this season and not repay any bonus money to the Packers.
It involves an agreement between the NFL and the NFL Players Association Tuesday that enables players to opt-out of the 2021 season due to COVID-19 concerns.
Rodgers could theoretically decide to "opt-out" for reasons due to the pandemic. He could keep his $11.5 million in unearned signing bonus money that he is owed. He also would be able to keep the $6.8 million roster bonus that he earned in March.
Here's the rub: Rodgers would have to sit out to make this happen.
PRAYERS
The prayer here is that Rodgers doesn't even consider this move.
Fans will be hurt should he choose to hold out because he disagrees with the Packers' culture. But they won't forgive him if he uses a trumped-up, calculated reason to keep his money without earning it.
As far as anyone knows, Rodgers hasn't developed any health condition that would force him to sit out due to COVID-19 concerns. Furthermore, since he's been jet-setting around the globe most of the offseason, it's ridiculous to think that he suddenly feels the need to quarantine and to not report for work?
It would be a horrible move on top of some really dubious decisions.
In fact, the prayer here is that Rodgers' mental health is OK. The way he has conducted himself this offseason has been strange, even for a "complicated fella."
*******************************************************
THOUGHTS
The Bucks will be crowned NBA champions, the Brewers will be in serious contention in the National League and the Packers will be waiting to see if Rodgers decides to play.
That could be the scenario by the time July yields to August.
If that is the case, Wisconsin sports fans will be experiencing the best of times (a championship and a contender) and the worst of times (if Rodgers is a no-show).
PRAYERS
The prayers go out to the Bucks on a title much-deserved, the Brewers for showing incredible mettle during an injury onslaught early on, and the Packers' fans for dealing with Rodgers' absence – if it goes that way – by supporting Love and their team.
Nowhere does it say the Packers can't win without Rodgers. To those who say, "Yeah, but what are the chances of winning a Super Bowl?" I respond, "So how many have they won with Rodgers in 16 seasons?"
Life will go on, the pandemic (let's hope) will end and the Packers will win a championship someday soon. If it's with Rodgers, it'll be sooner. If it's with Love, it'll be a bit later.
Either way, the Packers' fans are winners, and by the looks of this season they're going to get plenty of chances to remind everyone of it.