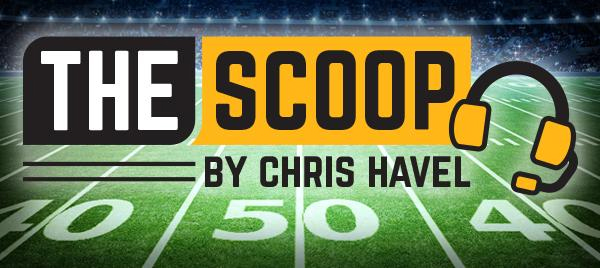 By Chris Havel
GREEN BAY, Wis. – Kylin Hill has been one of the best stories of the summer. The cat-quick seventh-round draft pick from Mississippi State has laid claim to the No. 3 running back job in convincing fashion.
In fact, Hill has been so impressive that some fans have slept on the Packers' second-round draft pick from 2020.
They're wide awake now.
A.J. Dillon reminded everyone of his speed, power and pass-catching ability on the Packers' opening touchdown drive Saturday in a 23-14 preseason loss to the Jets at Lambeau Field.
The six-foot, 247-pound Dillon accounted for 40 yards of the Packers' eight-play, 75-yard touchdown drive to grab a short-lived 7-3 lead.
The Packers didn't dress 32 players, including most of their starters, but head coach Matt LaFleur made sure to get Dillon lathered up. The hard-running back ran four times for 28 yards and caught two passes for 12.
He managed to intimidate Jets defenders in a single drive.
After last week's abysmal display in the run game, LaFleur said the offensive line play – and its run blocking – was a point of emphasis.
The message was delivered and received. The Packers rushed 32 times for 135 yards for a 4.2 average and a touchdown.
Whether it's the preseason, regular season or postseason it is imperative that players respond to their coach's criticism and expectations. The Packers' backup offensive line – with Lucas Patrick at center the only starter in the bunch – met LaFleur's challenge.
Hill rushed seven times for 29 yards (a 4.1 average) and also caught two passes for 11 yards. Patrick Taylor, who hurt himself with a first-half fumble, rushed eight times for 48 yards.
For his part, Hill loves the opportunity to play for the Packers.
"Seventh-round pick, that's just my daily grind, my motivation," he said. "When I'm tired, that's what I think about, just to prove a lot of people wrong in my life."
The Packers' running backs got to showcase their skills because No. 3 quarterback Kurt Benkert ran the offense with proficiency.
Benkert, 26, was making only the second NFL start (both preseason) of his career. He played like a quarterback who's getting good coaching.
Benkert completed 18 of 25 passes for 151 yards, one touchdown, one interception and an 83.9 passer rating.
LaFleur was pleased with Benkert's play in the loss.
"It was a great look at a lot of our younger players versus some of their starters, and I thought our guys went out there and competed hard," LaFleur said. "But we made way too many mistakes to win the football game, and we're always trying to win here."
Benkert didn't get the 'W' but he may have won the No. 3 job.
That's if the Packers keep three quarterbacks.
Benkert's second scoring drive was an impressive 19-play, 81-yard monster that ate up more than 10 minutes. It was longer than any of the Packers' scoring drives from a year ago.
Benkert tripped over right guard Royce Newman's left leg twice on the drive, but still managed to cap it with a touchdown.
"That drive could've went to crap but didn't," he said.
Benkert showed chemistry with reserve receiver Malik Taylor, who caught four passes for 66 yards (a 16.5 average) on five targets. Amari Rodgers caught four passes for 31 yards, also on five targets.
The Packers were 2-for-2 in the red zone and committed just three penalties for 25 yards in a game that was fairly clean. They also converted eight of 14 third-down attempts to keep drives alive.
Benkert took a realistic approach to his future.
"I feel like I've done everything that I could," Benkert said. "I feel like I've put myself in a pretty good position, but at the end of the day, I know it's a numbers game and I could play (poorly) and they need me on the 53, or I could play really well and they don't need me and I'm on the practice squad."
Jordan Love, the Packers' No. 2 quarterback, could return to practice after injuring his right shoulder in the preseason opener. LaFleur said Love could return to practice as soon as Monday, where he'd do individual drills and possibly progress to team (11-on-11) periods.
"He has been throwing every day," LaFleur said. "So we'll try to get the volume up, the velocity up and the distance to see how he feels."
The Packers' defense didn't fare as well against the Jets' Zach Wilson, the No. 2 selection in this year's NFL draft. Wilson completed 9 of 11 passes for 128 yards and two 18-yard touchdown passes to Tyler Kroft.
The Packers' lone pass defended was by first-round pick Eric Stokes. Kabion Ento played well and contributed five tackles, while defensive tackles T.J. Slaton and Jack Heflin also were stout.
Slaton had four tackles (three solo) and a sack. Heflin had four tackles (two solo) and two quarterback hits.
It appears Heflin will be on the 53-man roster, and both should have roles in the defensive line rotation.
Otherwise, the Packers' defense and special teams were outplayed by the Jets, who got a 73-yard kick return from Corey Ballentine.
While the Packers have been fortunate on the injury front thus far, there is mounting concern over edge rusher Za'Darius Smith's status. One of the NFL's premier pass rushers has been dealing with a back injury that threatens to keep him out of the Week 1 opener at New Orleans.
"Obviously he's working through something right now and I'm hopeful that that's not the case, as far as missing Game 1, but he's dealing with his little day-to-day (injury)," Packers GM Brian Gutekunst said. "We got him there to see if he could get a couple good days (of practice last week), and then it just flared up on him again."
LaFleur isn't sure if Smith will be ready to go Sept. 12.
"I'm not quite sure when we'll get 'Z' back," LaFleur said Sunday. "He's injured right now. I know he wants to be out there, but we're going to be smart with him. He's obviously a big-time player for us and yeah it definitely is a concern."
Rashan Gary, the team's top pick in 2019, also has been limited with a groin injury. Gary's injury isn't thought to be serious, though, and he should be ready to roll against New Orleans.