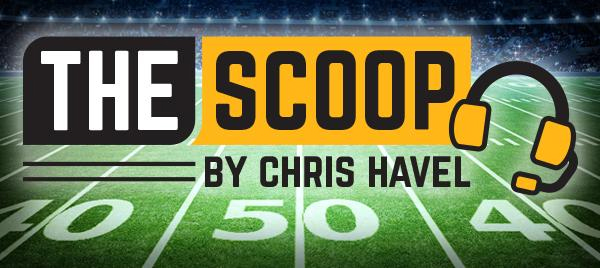 By Chris Havel
GREEN BAY, Wis. – On a crisp, sun-splashed autumn afternoon – and for the first time all season – the Packers' defense didn't cower in the shadows of its own goal post.
It stood tall and defended its turf.
It vanquished instead of vanished.
It dominated a Washington Football Team that ventured inside Green Bay's 20-yard line four times on Sunday, and was spurned all four times in the Packers' 24-10 victory in front of 78,319 fans at Lambeau Field.
Green Bay's defense had surrendered 15 touchdowns in 15 trips by opposing offenses into the red zone. The Packers emphatically ended that streak while continuing another as they notched a sixth straight win.
Aaron Rodgers threw for three touchdowns, including one to close the first half and another on the Packers' first possession of the second half. The 14-point double whammy turned a 7-7 tug-of-war into an insurmountable 21-7 lead.
Allen Lazard was the focus of the Packers' touchdown drive to end the first half. He caught five passes for 60 yards during the 9-play, 72-yard drive, including a 10-yard touchdown grab to make it 14-7 at the half.
Lazard discussed the defense's stellar work rather than his own.
"Coach Joe B (Barry) has obviously done a fantastic job," Lazard said. "Any time you can hold an offense to 10 points, man, that's a great game. Obviously, you can't really do that without forcing turnovers, coming up big in the red zone.
"I think our defense has steadily grown into their identity of who they are today and they continue to grow and they're figuring out their roles … today was a great day for them."
Defensive leader De'Vondre Campbell stuffed the stat sheet with 13 tackles (10 solo) and two forced fumbles in the red zone. Both were critical in the defense's perfect 0-for-4 display.
"Everybody knows that we've been struggling a little bit in the red zone, so that definitely was a point of emphasis coming in, making sure that we can get that part of our game going," said Campbell. "I think today was definitely a step in the right direction."
With Preston Smith's availability in doubt with an oblique injury (he eventually missed the first game of his seven-year career) the Packers signed Whitney Mercilus, whom Houston released earlier in the week.
It's no coincidence Rashan Gary arrived the week Mercilus showed up. While the veteran Mercilus flashed in his 31-snap debut, Gary mashed with seven tackles, two sacks, four QB hits and seven QB pressures.
It was the finest game of Gary's career.
Gary's play, like the defense's, is on an upwardly mobile path.
"We've still got room to improve," Gary said afterward. "We're not a finished piece. Like I said, 'Day by day, week by week, we're chipping away to become that perfect piece.'"
Rodgers praised the defense while singling out Gary's performance and the team's decision to sign Mercilus.
"Rashan cares so much … he just got a game ball in the locker room," Rodgers said. "He's a really good kid. He loves football. He's a grinder. He works at his craft and he's relentless."
He added, "I'm a big fan of the Mercilus signing for a number of different reasons. The way that Preston has played this year, his leadership, and the way Rashan has played, and bringing in a stud like Mercilus who is highly motivated and can still play is all good."
Kingsley Keke and Dean Lowry showed up to help Kenny Clark with the heavy lifting. Keke had six tackles, 1 ½ sacks and two QB hits. Lowry had five tackles, a half-sack and a QB hit.
It was Keke's and Lowry's best showing of the season.
The defensive secondary contributed with a gritty performance led by rookie Eric Stokes, who battled the Football Team's wonderful receiver, Terry McLaurin, all day long.
McLaurin finished with seven catches for 122 yards and a touchdown, but Stokes made a lot more plays than he allowed.
Nickel cornerback Chandon Sullivan contributed a red-zone interception and fellow corner Rasul Douglas had four tackles and a forced fumble. Safeties Adrian Amos and Darnell Savage combined for 11 tackles and three passes defended.
Aside from the Football Team's touchdown on its opening drive, the Packers' defense easily played its best game of the season.
The WFT's Taylor Heinicke completed 25 of 37 passes for 268 yards and an interception. He was harassed constantly and sacked four times. He also rushed 10 times for 95 yards, which should be cause for concern as the Packers' defense braces for Arizona's speedy Kyler Murray.
Then again, Heinicke's scrambling should be a cautionary tale as to what can happen when the defense doesn't consistently set the edges and contain the quarterback.
Arizona (7-0) presents a tremendous challenge on both sides of the ball. The Cardinals average nearly twice as many points per game (32.1) as they allow (16.2) through seven games.
Green Bay (6-1) knows it has a terrific opportunity to seal its place among the NFC's top contenders with a victory Thursday night in the 7:20 p.m. clash at State Farm Stadium in Glendale, Ariz.
Rodgers likes where the Packers are headed.
"Our best defenses over the years have been opportunistic ones," he said. "There were lots of big plays by those guys. The pass rush was really better in the second half and we got after (Heinicke)."
Offensively, the Packers still haven't played their best football.
Packers coach Matt LaFleur said the offense was "one off quite a bit," meaning one player or one element on any given play isn't in sync.
Rodgers has a sense that it's coming together.
"I feel like we're close," he said. "We have to keep finding ways to get the ball to our guys in space, but when our defense is playing like they did today, we're going to be tough to beat."
The Packers and their fans will get a gauge of exactly how tough they are to beat Thursday night at Arizona.