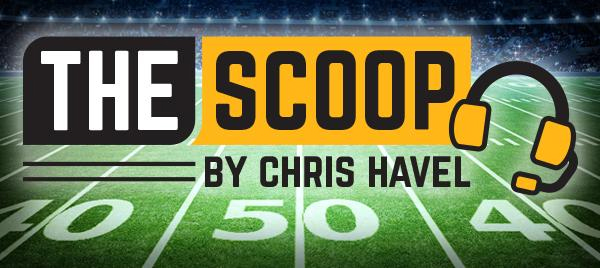 By Chris Havel
GREEN BAY, Wis. – Matt LaFleur and his Green Bay Packers have taken the art of adjustment to an otherworldly level.
They went into Arizona on a short leash and an even shorter work week. They were undermanned underdogs forced to persevere on the road without Davante Adams, Allen Lazard and their defensive coordinator. All of that and playing the NFL's last remaining unbeaten team.
Most gave the Packers two chances: Slim and none.
Guess what? Slim (aka Rasul Douglas) and the Packers skipped town with a 24-21 victory over the Cardinals in a Thursday night thriller at State Farm Stadium in Glendale, Ariz.
Douglas, an NFL vagabond, may have found a home in Green Bay. His end zone interception with 12 seconds to play on a Kyler Murray pass intended for A.J. Green became an instant classic.
It sealed the win and cemented the cornerback's place in Packers' lore.
That's pretty good work for a guy who has been on four NFL rosters in the past two months. He was released by Las Vegas in August and spent a week in Houston before signing with Arizona's practice squad.
The Packers signed the 2017 third-round pick two weeks ago. He seized the opportunity and is now starting opposite first-round pick Eric Stokes.
So how does Douglas feel?
"Blessed, blessed, blessed man," he said. "You're in a crazy mental state being in the league five years, never been on a practice squad before. And then one day you're just on a practice squad, you feel like you're working for nothing, kinda, and then you get a call and you're somewhere else (Green Bay), and you're just playing.
"So I'm just thankful."
Green Bay fans are equally thankful for him, for the pro personnel department finding him, for GM Brian Gutekunst signing him and for the coaches and players integrating him.
It's an apropos story on a terrific night for the Packers.
Aaron Rodgers directed a balanced attack that overcame Adams' absence by relying on a mix of short passes and punishing runs to move the chains and keep the Cardinals off-balance.
Rodgers completed 22 of 37 passes for 184 yards, two touchdowns and a 90.4 passer rating. He was sacked just once and watched as A.J. Dillon (16 carries for 78 yards) and Aaron Jones (15 for 59) slashed through Arizona's defense to combine for 137 yards on 31 carries.
The Packers' reworked offensive line earned its keep and then some.
Furthermore, Randall Cobb delivered in the clutch.
Cobb had three receptions for 15 yards, but two of those catches were high-degree difficulty touchdowns.
Clearly, Cobb's familiarity with Rodgers in the red zone paid dividends.
Cobb's first touchdown catch was a 2-yarder that came after Henry Black's interception killed the Cardinals' opening drive of the second half. Cobb's score made it 17-7 Packers.
His second touchdown grab was a 6-yarder that pushed Green Bay's lead to 24-14 in the fourth quarter.
"When you've got the top receiver in the league and the top quarterback in the league, you sometimes can get overshadowed and not have as many opportunities," Cobb said. "But I told the guys going into this game, I told them last night, 'Make the coaches, when you walk off this field tonight, make the coaches want to get you involved whenever they're calling plays.' I think that some guys stepped up today and showed what they can do when they touch the ball."
Rodgers was pleased with the Packers' ability to handle adversity.
"I think we're a gritty football team," he said. "I think nobody probably expected us to win tonight – maybe to be in the game, but definitely not to win with the guys that we had out. I'm really proud of the guys."
Rodgers credited the team's attitude and leadership.
"I was texting with some friends today and I said, 'I love when the odds are stacked against us,' " he said. "I feel like it takes all the pressure off. And we just kind of relaxed and played really loose. With the guys that we've got leading us, we know how to deal with adversity. And we've been in pressure situations before and we know how to handle it."
Meantime, the Packers' defense harassed Murray to the bitter end.
Murray completed 22 of 33 passes for 274 yards and two interceptions. Black picked off a pass to kill Arizona's opening drive of the second half, and Douglas' pick clinched it on the final drive.
Murray rushed for just 21 yards on six tries. The Cardinals' long run of the night was merely 11 yards.
De'Vondre Campbell stuffed the stat sheet and Cardinals' ball-carriers. He had seven tackles, a sack and two QB hits.
The Packers used five defensive backs on every play.
Adrian Amos, Darnell Savage and Chandon Sullivan joined Stokes and Douglas on all 59 defensive snaps. Henry Black – a sixth defensive back – was in on nearly 20 percent of the plays.
The ability to keep that many DBs on the field without allowing Arizona's James Conner and Chase Edmunds to gash them in the running game is a testament to their sure tackling and communication.
Preston Smith and Whitney Mercilus did a first-rate job of setting a hard edge against the run. Murray looked like he was throwing from the bottom of a barrel as the pass rush methodically encircled him.
The Packers' defense came into the game as the NFL's fourth-best tackling team and it showed. Joe Barry, the defensive coordinator, missed the game due to COVID-19 protocols but Green Bay adjusted.
Defensive backs Jerry Gray called the defensive signals and inside linebackers coach Kirk Olivadotti relayed them to Campbell. On the whole the defensive operation was smooth.
"Coach Gray is a great coach," Amos said. "Everybody had the utmost confidence in him calling the plays. It wasn't a flinch or anything like that. That's a great win for him."
Amos was asked about dealing with the adversity.
"We don't look at it, at least I don't, as a whole bunch of adversity," Amos said. "It's the NFL. You have players hurt each and every week. You're expected to go out there and play. If we lost, I don't think too many people would give us a lot of excuses.
"We came here expecting to win. It's not we hope to win without Tae or Lazard or Ja (Jaire Alexander). It's not hope. We're coming out here expecting to win."
Green Bay (7-1) has been coping with adversity all season.
The Packers were without Adams, Lazard and Marques Valdez-Scantling – their top three receivers – as well as All-Pro left tackle David Bakhtiari, center Josh Myers, edge rusher Za'Darius Smith and corners Kevin King and Alexander.
Still, they found a way to win.
On Thursday night it was a castoff cornerback rising to the occasion, and entire team believing it would prevail despite the odds.
"That was probably the first time I've won a game like that," Douglas said. "It was like a shocking feeling, like 'Oh, snap, we just won off that play.' I was kind of surprised. I just saw Stokes running down, like, 'You just said you were going to get a pick.'
"And I was like, 'Well, it just came to life.' "