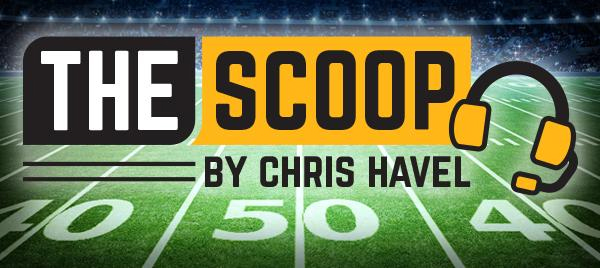 By Chris Havel
GREEN BAY, Wis. – The Packers didn't play Sunday.
By comparison to several teams that did, they never looked better.
The Vikings, a team talented enough to beat the Packers two weeks ago, also is misguided enough to lose to the previously winless Lions, 29-27.
The 49ers' defense made a late goal-line stand at Seattle, and Jimmy Garoppolo drove the 49ers 95 yards to the Seahawks' 3-yard line, only to fail to score the tying touchdown in a 30-23 loss.
The Bears ever-so-briefly flirted with the idea of upsetting Arizona before reverting to form and tapping out, 33-22.
Ill-advised passes, inferior schemes, sloppy tackling, crazy play-calling, poor clock management and all the rest served an important purpose.
The bye forced fans to look beyond their Packers-centric universe and perhaps be reminded that Green Bay's football team is really good.
When the Packers are playing it's natural for fans to bemoan the loss of so many terrific players to season-ending injuries.
When those same fans are watching other teams implode they're more likely to think, "Thank the football gods we've got Aaron Rodgers instead of (fill in the blank)."
The bye week doubles as Packers Appreciation Week this season.
It's more about what they have, as opposed to what they've lost.
Elgton Jenkins, Robert Tonyan, Kylin Hill, Whitney Mercilus, Chauncey Rivers and Randy Ramsey are done for the season. There is a chance David Bakhtiari, Jaire Alexander, Za'Darius Smith and Josh Myers will return, but it's wise to proceed as if they won't be back.
Then, if and when they do return, it's a bonus.
Meantime, the Packers (9-3) will try to take their game to a higher level in hopes of overtaking Arizona (10-2) as the NFC's top seed.
The Cardinals have the Rams, Colts and Cowboys on their schedule. It's likely they'll lose at least one of those games, which means the Packers would claim the No. 1 seed if they run the table.
In fact, the Packers could grab the top seed as early as this weekend with a win over the Bears on Sunday night and an Arizona loss to the Rams on Monday Night Football.
Tampa Bay (9-3) has won three straight games despite receiver Antonio Brown's best efforts to disrupt things. However, Tom Brady and Co. play Buffalo in a 3:25 game Sunday afternoon. It's the Bucs' only remaining game against a team with a winning record.
The Packers would welcome any cushion they have regarding the Bucs.
If the playoffs started this week it would be San Francisco at Green Bay, Washington at Tampa Bay and the Rams at Dallas. In the top-heavy NFC any one of five teams has a chance to get to the Super Bowl, so having a first-round bye is especially advantageous.
The Packers are 11 ½-point favorites against the Bears. After that they travel to Baltimore, are at home against Cleveland and Minnesota, and close out at Detroit.
The Ravens (8-4) dropped from the AFC's top spot to the third seed with a 20-19 loss at Pittsburgh on Sunday. Nevertheless, Baltimore appears to be the team with the best chance to upset Green Bay.
It will be interesting to see what the Packers have ascertained during their bye week self-scout.
Clearly, the special teams' play needs to be crisper down the stretch. Odds are they'll need Mason Crosby to deliver a clutch field goal or two in the postseason. They've got five weeks to fix it.
The offensive line looks like it will be Yosh Nijman, Jon Runyan, Lucas Patrick, Royce Newman and Billy Turner for now. If Nijman or Turner is lost to injury, veteran Dennis Kelly would go to right tackle, where he would either replace Turner or line up opposite him.
Aaron Jones and A.J. Dillon should be rested and ready to go.
Davante Adams leads a receiving corps that should be as healthy as it's been all season. Randall Cobb is dealing with a groin injury, but Allen Lazard, Marquez Valdes-Scantling and Equanimeous St. Brown are all good to go.
Marcedes Lewis, Dominique Dafney and an ascending Josiah Deguara are a strong tight end crew despite losing Tonyan.
Defensively, De'Vondre Campbell was in the COVID-19 protocols before the bye week. He should be available Sunday night.
Rashan Gary has had an extra week to get his elbow healthy, while safeties Adrian Amos and Darnell Savage, Jr., also should benefit from some well-deserved time off.
Packers coach Matt LaFleur has put his team in position to make a strong five-game charge leading into the postseason.
After a bye week to appreciate their Packers' 9-3 start, fans can buckle up and get ready for a wild ride into the playoffs.