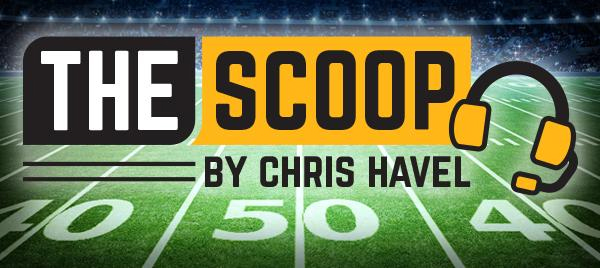 By Chris Havel
GREEN BAY, Wis. – Darnell Savage's perseverance on a difficult day was rewarded with the redemption of making the game-saving play.
Savage's fingertip deflection of a Tyler Huntley pass thwarted Baltimore's go-ahead 2-point try and sealed the Packers' 31-30 victory over the Ravens Sunday at M&T Bank Stadium.
"We were just trying to get the win right there," Ravens coach John Harbaugh explained. "I think our chances of winning right there were a little bit higher than in overtime, maybe, if you calculate it out."
Aaron Rodgers offered his thought on the Ravens' strategy.
"They just didn't feel like they could stop us," he said.
In turn, Green Bay's defense rose up to meet the do-or-die challenge.
Huntley, who started at quarterback in place of the injured Lamar Jackson, had completed 10 passes for 126 yards and two touchdowns to tight end Mark Andrews.
Therefore it was no shock when he targeted Andrews on the 2-point try. While Eric Stokes was jockeying with Andrews for position, Savage broke on Huntley's pass and tipped it in the nick of time.
"They play to win," safety Adrian Amos said. "That's how they play. That's how they operate. They go for it. We just had to make a stop."
Packers coach Matt LaFleur applauded his defense's resiliency.
"I think that's what this game is all about, just finding ways to win," he said. "Any time you can consistently do that, I think it builds up that resiliency, it just builds up that mentality that, 'Hey, no matter what happens, we're going to find a way.' I think our guys truly believe that."
The Packers' defense survived despite being without All-Pro tackle Kenny Clark, who was on the COVID-19 list.
Defensive tackles T.J. Slaton and Tyler Lancaster had four tackles each, while De'Vondre Campbell registered 10 tackles and a sack. Edge rushers Rashan Gary, Preston Smith and Tipa Galeai were too aggressive and lost contain at times, but otherwise played well.
Rasul Douglas and Adrian Amos each added eight tackles, and Stokes was strong in coverage throughout.
The Ravens' longest pass play of the day – aside from Andrews' big catches – was only 8 yards. It speaks to the Packers' sure tackling and tight coverage in the secondary.
While Savage struggled against Andrews, the rest of the secondary essentially bottled up the Ravens' wide receivers.
Huntley was impressive while completing 28 of 40 passes for 215 yards and two touchdowns without an interception. He also ran 13 times for 73 yards and two touchdowns to make it a game.
Baltimore (8-6) saw its 13-game winning streak versus NFC teams come to an end with the loss.
With the win, the Packers (11-3) clinched their third straight NFC North title and a playoff berth.
Aaron Jones rushed 13 times for 58 yards, hauled in a 9-yard touchdown pass and even returned a kickoff. After his productive day he reflected on the Packers' division crown and where they go from here.
"That's where it starts. It starts with the North," Jones said. "Now we got bigger fish to fry."
The Packers retained their status as the NFC's top seed with the win. They also opened up a one-game lead over Tampa Bay (10-4) and Arizona (10-4) after the Bucs and Cardinals both lost. Dallas (10-4) defeated the New York Giants and is now the NFC's No. 2 seed.
If the Packers win out they will receive the NFC's lone bye. They also will have the home-field advantage throughout the playoffs.
It appears the Packers' offense is finding its rhythm at the right time.
Rodgers threw three touchdown passes to reach 442 and tie Brett Favre for the franchise's all-time lead. He has a chance to break the record against Cleveland on Christmas Day at Lambeau Field.
"There is something special about being able to do it at home," Rodgers said. "The competitor in me is a little upset I didn't just trust that the outside route was going to hold the corner long enough. When I was about to throw it, I felt like I was in no man's land and I threw him kind of a '50% catch, 50% incompletion' ball instead of trusting the corner was going to attach to the outside route and that we really had a chance to get him there.
"But of course there's definitely stuff inside me that's excited about the prospect of doing it at home in front of our fans."
Rodgers was 23 of 31 for 268 yards with three touchdowns, no interceptions and a 132.2 passer rating. He was sacked three times, but the Packers' patchwork offensive line held up for the most part.
Marquez Valdes-Scantling caught five passes for 98 yards and an 11-yard touchdown reception. Davante Adams had six catches for 44 yards and a nifty 3-yard touchdown grab.
The Packers' offense was 5 of 9 on third-down tries and 4-for-5 in the red zone. They also didn't commit a turnover.
"I feel like we've been trending for a while," Rodgers said of the Packers' offense. "It's always one of those things where you talk about trending, you talk about playing your best football, you talk about playing a four-quarter game and you kind of have this ongoing dialogue about it. But I felt like the last two games, we've played some pretty damn good football on offense."
Rodgers acknowledged that the Ravens' defense was missing numerous key players, but that didn't diminish his appreciation for a job well done.
"I know they were beat up and had some COVID issues on defense, but they still have a really good scheme and a really good front," Rodgers said. "To score 31 on the road, I thought it was good football by us to respond the way we did."
MVS wants to keep it going.
"We've got to keep that rolling so we can have this whole thing run through Lambeau," Valdes-Scantling said.
LaFleur echoed the sentiment of Packers' fans.
"I love this team," he said. "I love this group, just how they battle, how connected they are."
The Packers' bumpy-but-beautiful sleigh ride (or is that 'slay' ride) through the AFC North continues with a Christmas Day extravaganza against the Browns at Lambeau Field.
The Packers' 12th win on Christmas would be a wonderful present.