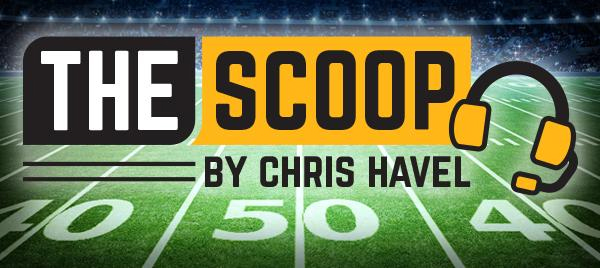 By Chris Havel
GREEN BAY, Wis. – With their 13th regular-season win Sunday night, the Packers guaranteed they'll be playing at home – and the Vikings will be staying at home – throughout the NFC playoffs.
The Packers' 37-10 rout of Minnesota – coupled with Arizona's win at Dallas earlier Sunday – eliminated the Vikings (7-9) from playoff contention and enabled Green Bay (13-3) to clinch the NFC's No. 1 seed.
The Packers receive the lone first-round bye and home-field advantage throughout. They will host a divisional playoff game Saturday, Jan. 22, or Sunday, Jan. 23, at Lambeau Field, where they are unbeaten this season.
"We know how important it is to have teams have to come through Lambeau," Packers running back A.J. Dillon said after the game. "I say it all the time. We've got the best fans in football. We also have the elements, as you saw tonight. So you combine those two with all the talent and the team and the staff that we've got, and it's going to be tough sledding for anybody."
It may be tough sledding for opponents with or without snow because the Packers have embraced the frigid cold like a long lost lover. The temperature was 11 degrees at kickoff with a wind chill of minus-1 on Sunday night.
Aaron Rodgers loved the frosty conditions and played like it.
He completed 29 of 38 passes for 288 yards, two touchdowns and a 114.8 passer rating. A Vikings' defense that ranks fifth in the NFL in sacks (44) was shut out by the Packers' patchwork offensive line.
Rodgers did the rest without being inconvenienced by the Vikings or the cold.
"Last year we didn't get that good Green Bay weather," Rodgers said. "Tonight was one of those nights. We haven't had a game like this in a while temperature-wise. This was different. It is different, the whole feel of it. I feel like teams can break a little bit easier when it is this cold because there's an excuse: the weather."
Rodgers added that his broken left pinky toe didn't need to be injected before kickoff, and that it's feeling better than it has since the injury occurred.
The Vikings were without quarterback Kirk Cousins, who tested positive for COVID-19 last week, so they went with seventh-year journeyman Sean Mannion. He wasn't awful, but he was nowhere near good enough to beat Green Bay.
The Packers came into the game on a mission.
They wanted to unleash a knockout punch and put the Vikings away early.
"We had the right mindset to keep going at them," Packers receiver Davante Adams said. "That's the new 'Packer Way' now. That killer mindset to put teams away. Finishing those games off is going to be critical going forward."
The Packers also wanted to tighten up their run defense, pound away with their own rushing attack and play mistake-free football on special teams.
They accomplished those goals.
"We did what we said we wanted to do," Packers edge rusher Rashan Gary said. "We wanted to get off the field on third down and give back the offense the ball as many times as we can."
Gary had four quarterback hits and a sack, while Preston Smith added four tackles, a sack and a pass defended.
The Vikings managed just 11 first downs. Their running game was non-existent.
Dalvin Cook had seven carries for 17 yards at the half. He added two more carries for minus-4 yards in the second half to finish with 13 yards rushing.
The Packers' run defense was stout despite Kenny Clark playing just 39 snaps. Linebackers De'Vondre Campbell and Krys Barnes were all over the field and the defense's tackling was much crisper than it's been in recent weeks.
"We know (Cook's) ability to carry the ball and make big plays at any given moment in the game," Packers edge rusher Preston Smith said. "We know we had to stop him. We know we had to make them one-dimensional and get them out of the run game and get them to passing and make them uncomfortable."
The Vikings' most athletic play of the night was delivered by center Garrett Bradbury, whose catch of a deflected pass and 21-yard run fueled Minnesota's only touchdown drive of the game.
The Packers seemed to avoid any major injuries while playing a clean game. They had zero turnovers, committed just one penalty for 5 yards and were perfect in the kicking game. They also appear to have discovered a reliable punt returner.
David Moore, a fifth-year pro and former Seattle Seahawk, contributed immediately. He returned three punts for 33 yards, including a Packers' season-best 21-yarder in his first game.
"I thought he did an outstanding job," Packers coach Matt LaFleur said. "He had a lot of success it looked like, from my vantage point. I was really impressed."
The Packers' offense was 3-for-7 in the red zone. After a sluggish start that produced two field goals, they went touchdown, touchdown, touchdown, field goal and touchdown on their final five possessions.
Aaron Jones rushed eight times for 76 yards. He also caught five passes for another 30 yards. A.J. Dillon picked up 63 yards on 14 carries, including a whopping 5.5 yards per carry (8 for 44) during "closing time" in the second half.
Adams was sensational, per usual, grabbing 11 passes for 136 yards and a touchdown. Allen Lazard contributed with six catches in as many targets for 72 yards and a touchdown.
Green Bay amassed 481 yards offense and 29 first downs while Rodgers took another step closer to capturing a second straight NFL MVP award. If he sits out the season finale at Detroit, Rodgers will finish 352 of 513 (68.6 percent) for 3,977 yards, 35 touchdowns and four interceptions for a 111.1 passer rating.
Those numbers should earn him the MVP.
Adams has a team-record 117 catches for 1,498 yards and 11 touchdowns. He remains 21 yards shy of Jordy Nelson's single-season receiving yards record.
It remains to be seen if Rodgers, Adams and other key starters will sit out the final regular-season game.
"If you ask me right now, my gut is these guys are going to play at least a little bit," LaFleur said.
For his part, LaFleur eclipsed George Seifert's 30-year-old NFL record for the most regular-season wins by a coach in his first three seasons. LaFleur is 39-9 and 41-11 overall. Seifert was 38-10 at San Francisco from 1989-91.
While the Packers' head coach decides who to play at Detroit, his players are thrilled that they'll be at home throughout the postseason.
"There's a lot of pride in Green Bay, a lot of tradition," Dillon said. "We as a team, even the fans, when we're at Lambeau Field I include the fans as part of the team. They're quiet when we're on offense, loud when we're on defense, and this year to go undefeated at home during the regular season is big and speaks volumes about the entire organization."
Now, the Packers stand two home wins away from advancing to Super Bowl LVI on Sunday, Feb. 13, at SoFi Stadium in Los Angeles. To hear Preston Smith after the game, losing at Lambeau Field between now and then isn't an option.