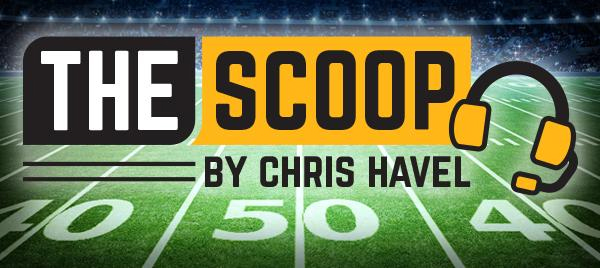 By Chris Havel
GREEN BAY, Wis. – The next play is Aaron Rodgers' to call.
The Packers made news on the NFL's newsiest weekend with reports, according to sources, that they are willing to make Aaron Rodgers the league's highest-paid quarterback with a three-year extension.
Their plan is to spend as close to the salary cap as they can this year and spread it into future years, according to ESPN. The Super Bowl LVI champion L.A. Rams are perennial cap pushers and look where it got them. The New Orleans Saints used a similar cap strategy to retain Drew Brees before he retired.
Not so long ago, the very idea of the Packers pushing money into the future to pay for today was considered heresy at 1265 Lombardi Ave.
Now, given Rodgers' unique circumstances, it may or may not be the way to go. It's certainly one way to go.
Whether Rodgers stays or goes, the Packers' pre-emptive "offer" puts the football squarely in their four-time MVP's hands. It was a shrewd PR move by the Packers, who can't be blamed for not doing enough to retain one of the NFL's top QBs.
Some fans would be hard-pressed to forgive the Packers if they traded away Rodgers without at least making a significant offer. Clearly, the reported offer falls into the "significant" category, and I have no reason to doubt its validity.
The Packers did what they had to do. They calculated their return-on-investment scenarios and decided, "We can do this. We can retain Rodgers AND build a championship-caliber roster."
It doesn't mean they can, or will, but believing is the first step … I suppose.
If Rodgers declines the offer, and it's possible because he'll become the NFL's highest-paid quarterback wherever he plays, the trade winds will begin howling. Many of those scenarios were discussed in last week's column.
If or until that happens it's one step at a time.
First and foremost, we'll see where Rodgers' football interests and pursuits lie.
Many NFL observers insist Green Bay gives Rodgers his best opportunity to win Super Bowl LVII. One reason is his success with Packers coach Matt LaFleur.
Another is the belief that he'll be surrounded by a highly competitive roster.
The fact is it's impossible to know the Packers' potential without knowing the short- and long-term cost of retaining a 38-year-old back-to-back MVP QB.
Will the roster be gutted of key players such as Davante Adams, Aaron Jones, Allen Lazard, Billy Turner and De'Vondre Campbell?
Undoubtedly, the Packers are better with Rodgers at quarterback. Then again, the same could be said for two dozen or more NFL teams. But having Rodgers wouldn't guarantee them a Super Bowl title, as Packers' fans are painfully aware.
The Packers are at a crossroads of two widely held NFL beliefs.
The first is that it's a death sentence to trade an MVP-caliber quarterback who can still play at a high level despite his advanced age. The Packers traded Brett Favre to the New York Jets on Aug. 7, 2008, and were celebrating a Super Bowl championship in Rodgers' third season.
Meantime, neither the Jets nor Vikings reached the Super Bowl with Favre.
The second is that a team never gives up on a first-round QB without checking its hole card. The Packers should have a grasp of Jordan Love's potential – and perhaps his ceiling – by now.
Then again, Love has thrown a whopping 62 passes thus far. He's completed 58 percent of them for 411 yards, two touchdowns and three interceptions. He's been sacked three times and owns a 68.7 passer rating.
That's scarcely skimming the surface.
At any rate, news of the Packers' offer to Rodgers leaves Love's future in limbo.
It also means the Packers don't view themselves as being in "rebuild" but rather "all-in" mode. Rodgers has said he has no interest in being part of a "rebuild."
I still believe Rodgers will be playing elsewhere in 2022. His value is never going to be higher, and it presents a rare opportunity for the Packers to square their salary cap, capitalize on the motherlode of draft picks and build a winner around Love.
That's what I would do, but it doesn't mean it's the right thing to do.
If Rodgers returns and the Packers win Super Bowl LVII it'll be the right move. If he leaves and they reload and win around Love, there's nothing wrong in that, either. It's all about what the Packers make of it.
While Green Bay was shifting the focus to Rodgers and his decision, the Rams were proving that a team can push money into forever and still win a Super Bowl. The Rams' narrow 23-20 victory over Cincinnati Sunday proved that sacrificing draft picks and spending like crazy can bring the desired result.
In fact, if Odell Beckham Jr. hadn't been injured, the Rams blow out the Bengals. Their midseason acquisition of OBJ was a key factor in winning the Super Bowl.
When the Rams landed OBJ the Packers were reportedly in contention. I didn't think they needed OBJ to win it all. Then again, I didn't know Marques Valdez-Scantling wasn't going to be available. Apparently the Packers didn't, either.
Now we must wait while Rodgers decides whether he wants to be the NFL's highest-paid player in Green Bay or someplace else.