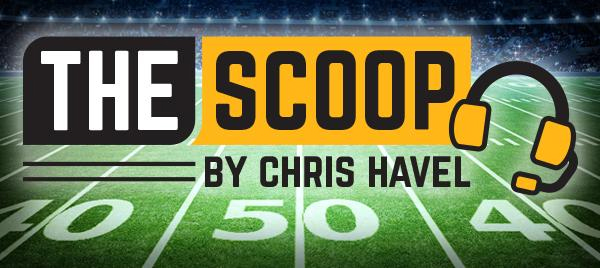 By Chris Havel
GREEN BAY, Wis. – The arrival of the NFL's first mock draft is like seeing the first robin of spring. It is guaranteed to put a smile on your face as you daydream about all the grand possibilities that lie ahead.
When the first 2022 mock draft lit upon my laptop screen it was pure delight.
This particular draft expert had the Green Bay Packers, with the 28th overall pick, selecting, "Jordan Davis, defensive tackle, Georgia."
I'll co-sign on that … in blood … in front of a notary public … under oath.
Davis is that good. Heck, he's that BIG. It's like a two-for-one deal.
Now, it isn't surprising that the Packers would select the 6-foot-6, 341-pound monster to pair with All-Pro Kenny Clark. It's surprising that he was on the board.
Davis blew away NFL scouts with a 4.78-second 40-yard dash at the combine. He also had a 32-inch vertical leap and a 10-foot-3 broad jump. Those are incredibly explosive numbers for such a big man.
This falls in the "pinch me" because "it's too good to be true" category.
Clark and Davis would be the NFL's No. 1 defensive tackle duo. Edge rushers would be drooling and inside backers would be getting in line to play behind them. Some NFL scouts believe Davis is a one-dimensional run stuffer. The truth is they've only got it half right. He can do it all.
Davis, like Clark, appears to be underrated as a pass rusher.
If the Packers somehow land Davis the frozen tundra would shake in the wake of the footprints this pick would leave behind, literally and figuratively.
By way of coming back to Earth, I dialed up a second 2022 NFL mock draft to see where another of the experts had Green Bay going in the first round.
It wasn't Jordan Davis big, but it proved to be a pleasant surprise.
Alabama wide receiver Jameson Williams, who is coming off a torn ACL, was this expert's Packers' selection with the 28th pick.
Clearly, it's a futures pick given Williams' injury status.
However, there is no reason to think he will be impeded in any way. He is a top 10 talent at a position of great need that could be available late in the first round. The injury component is the only reason the Packers might have a chance to pick him.
Williams (6-2, 198) is a record-breaking hurdler with long, smooth strides.
He was injured in the National Championship game and didn't run at the combine. However, Alabama officials say they have clocked him at 23 mph in practice with a GPS tracker, which is another way of saying nobody's catching him from behind.
Williams scored 11 touchdowns of 30-plus yards last season.
If Williams is paired with a big-time quarterback such as Aaron Rodgers, and an All-Pro receiver such as Davante Adams, he will light it up. Here's the good news: Williams' recovery would coincide with a late-season playoff push.
If the Packers don't draft a receiver in the first round, a great Day 2 prospect would be North Dakota State's Christian Watson. The 6-foot-4, 208-pound receiver is the son of former NFL safety Tim Watson.
Watson is an exceptional athlete. He ran a 4.36 40-yard dash with a 38 ½-inch vertical leap and an impressive 136-inch broad jump.
He plays fast, but will have to elevate his play to match the upgrade in competition. He also is an accomplished return specialist who would immediately fill one of the Packers' most glaring, ongoing needs on special teams.
In the second round, the Packers would be wise to consider a pair of inside linebackers or a tight end. With the unknown status of All-Pro inside linebacker De'vondre Campbell and tight end Bobby Tonyan, the Packers must be covered.
Campbell's breakout season proved the importance of the position. Campbell's return would be preferable. The next-best thing is to replace him with a player possessing a similar skill set.
Georgia linebacker Quay Walker (6-4, 241) would be one possibility. Walker is almost identical in size to Campbell, and he ran a 4.52 40-yard dash with an explosive 32-inch vertical jump at the combine.
Wyoming's Chad Muma is a solid Day 3 prospect with the potential to be a starter and the ability to bring immediate help to special teams.
Muma (6-3, 239) didn't run at the combine, but he did bang out 27 reps at 225 pounds on the bench press and had an explosive 40-inch vertical leap. Muma's skills need polishing but he would represent a nice upgrade to the ILB position.
At tight end, the Packers may be in the market if Tonyan moves on and they don't re-sign Marcedes Lewis.
One prospect that caught my eye is Colorado State's Trey McBride.
The 6-foot-4, 246-pound tight end is a willing blocker in the run game and as a pass protector, attributes which are coveted by Packers head coach Matt LaFleur. McBride lacks top-end speed, but is a precise route-runner with sticky hands. He knows how to win the battle on contested footballs.
** AARON RODGERS AND DAVANTE ADAMS UPDATE
The Packers have until Tuesday at 3 p.m. to decide whether to assign Davante Adams the $20.1 million franchise tag for receivers.
It would give the Packers and Adams more time to reach an agreement on a long-term deal. It also would let quarterback Aaron Rodgers know that his pass-catching counterpart will be on the roster.
It's been 3 ½ weeks since Rodgers said he would make his decision "soon." It's possible he will make an announcement during an appearance on "The Pat McAfee Show" podcast Tuesday noon.
Meantime, the Packers and cornerback Jaire Alexander are working on a long-term contract extension.
Alexander currently counts $13 million against the 2022 salary cap, so it would be in both side's best interest to strike a deal. It would allow the Packers to add much-needed cap space, and it would give Alexander long-term financial security.
NOTE: Event USA will be posting a Chris Havel column when news regarding Rodgers' or Adams' contracts breaks.