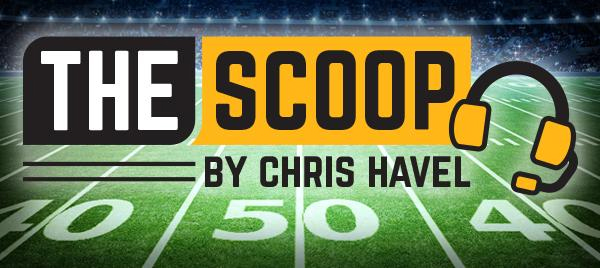 By Chris Havel
GREEN BAY, Wis. – The prediction remains unchanged.
The Packers will be better this season, and they'll reach Super Bowl LVII.
General manager Brian Gutekunst's decision to trade All-Pro receiver Davante Adams was a bitter pill to swallow. When a player of Adams' undeniable talent and character leaves, for whatever reason, it's going to hurt.
Painful as it was, Gutekunst's decision was prudent and pragmatic.
The Adams trade doesn't diminish the Packers' chances to win the Super Bowl. It simply means they'll have to do it with a new WR1, and perhaps a new WR2, depending on whether Allen Lazard and/or Marquez Valdes-Scantling return.
The key is they still have the quarterback.
The trade also means Green Bay will have a defense to reckon with.
The Packers' defensive depth chart is a sight to behold.
The front seven features All-Pro defensive tackle Kenny Clark, steady Dean Lowry and ascending T.J. Slaton along the line. Edge rushers Rashan Gary and Preston Smith combined for 18 ½ sacks last season. De'Vondre Campbell and Krys Barnes – aka Batman and Robin – return to wreak havoc at inside linebacker.
The cornerback position features a trio the rest of the league can envy.
Pro Bowl cornerback Jaire Alexander leads a talented crew that includes terrific second-year pro Eric Stokes and the surprising Rasul Douglas. The reliable and occasionally sensational Adrian Amos and Darnell Savage return at safety.
The Packers paid Campbell, the heart of their defense, before they traded Adams. That means they had the wherewithal to offer Adams a more lucrative contract than the Las Vegas Raiders offered AND retain Campbell.
That's well and good except Adams didn't want to play in Green Bay. He purchased a $12 million home in Las Vegas, and spent much of this offseason playing catch with his old college quarterback, Derek Carr.
The Raiders knew they were Adams' preferred destination, and they could've played hardball in negotiations, but instead chose to do the deal.
Las Vegas wanted Adams that badly.
So the Packers cleared a ton of cap space, kept their defense firmly intact, and received first- and second-round draft picks as capital to replace Adams. The Packers now own the ninth-highest draft capital going in. When one considers all the bad teams with all those high picks that's a lot of capital for a contender.
Had the Packers retained Adams, signing Douglas would've been problematic if not impossible. It's also a safe bet they wouldn't have been able to sign free agent tight end Bobby Tonyan, either.
Now consider the disastrous consequences of paying both Aaron Rodgers and Adams a king's ransom, only to have either injured. If Rodgers is lost for a lengthy period of time the season probably is, too. But if Adams went down during the season, the Packers wouldn't have been able to adequately replace him.
Clearly, the Packers' receiving corps has lost its lead dog, and Rodgers' top weapon. But so long as Green Bay has the quarterback it has a chance to win big.
Gutekunst maintained this team's integrity while protecting the future.
Furthermore, Rodgers increasingly looked to Adams as the season wore on. He stopped spreading the football around and the overall attack suffered for it.
Whether that was because of Rodgers' supreme trust in Adams, or a lack of faith in the other targets, isn't clear. What matters is that Rodgers has the necessary weapons at receiver to exploit defenses.
To that end, the Packers most assuredly will draft at least one receiver early.
Green Bay has the 22nd, 28th, 53rd, 59th and 92nd picks in the first three rounds.
Ohio State's Chris Olave or Garrett Wilson may be targets if Green Bay trades up. They also could stay put and select Arkansas' Treylon Burks with the 22nd pick.
My guess is that Alabama's Jameson Williams, a splendidly talented receiver who is coming off an ACL injury, is a luxury the Packers can't afford.
They need help at receiver now.
Depending upon how much money Gutekunst can or wants to spend in free agency, the Packers also may have interest in Will Fuller, Jarvis Landry, A.J. Green or Odell Beckham, Jr. Talk of trading for Seattle's DK Metcalf or Tyler Lockett is interesting and might be worth investigating depending on the cost.
Clearly, the loss of Adams can't be overstated.
It will take time for rookie and veteran receivers alike to get up to speed with Rodgers. Growing pains are a given.
Then again, it's preferable to putting it all on the shoulder pads of NFL's highest-paid quarterback and receiver. It's overkill at the rest of the roster's expense.
Now, Packers coach Matt LaFleur will be able to play closer to his preferred style.
It's based on Aaron Jones and A.J. Dillon effectively running behind a strong offensive line to set up play-action passes. LaFleur prefers to move the chains, wear down an opponent and strike with big plays over the top.
The loss of Valdes-Scantling late in the season allowed defenses to attack with little risk of being beaten deep. Selecting a legit deep threat in the draft is crucial. The only question is which receiver or receivers?
When training camp opens the offense will be more flexible, the special teams vastly improved and the defense built to go the distance.
The loss of Adams stings. Draft night undoubtedly will ease the pain.