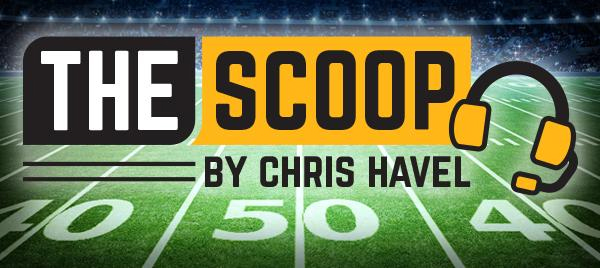 By Chris Havel
GREEN BAY, Wis. – It's always an interesting exercise to the play the pre-draft "What if?" game involving the Green Bay Packers.
For example, what if the Packers draft a quarterback in the first round? That wasn't an oft-asked question going into the 2020 NFL draft, but it sure was afterward.
No one who's been paying attention thinks there will be a Jordan Love-type pick by the Packers during the upcoming April 28-30 draft.
That doesn't mean the possible "What if?" moments should go unexplored.
** What if … the Packers find a way to select the top two receivers, the top tight end and an unparalleled hybrid safety in this draft?
It could happen. In fact, it's not even farfetched.
The Packers could send their 22nd pick and two fourth-round picks to the L.A. Chargers in return for the 17th pick, which they use to land Alabama wide receiver Jameson Williams. Before Williams tore his ACL in the national championship game, he was generally regarded as the best at his position.
The injury didn't change his potential. It merely means he'll be ready nine months later than the ideal scenario.
Without question the Packers would have their future WR1 in the fold.
Clearly, some Packers' fans would be miffed because Williams doesn't equate to immediate help. That's understandable, but to them I would say, "Be patient."
At 28, the Packers double down at receiver and select Arkansas' Treylon Burks.
The 6-2, 225-pound receiver is one of the most sure-handed targets in the draft. He also is a menace after the catch and reminds NFL scouts of another former SEC receiver: Ole Miss's A.J. Brown.
Brown (6-1, 225) was a player I absolutely loved out of college. He has gone on to be an incredibly productive NFL player. He has 185 catches for 2,995 yards and 24 touchdowns in his first three seasons. The Packers would be thrilled if Burks could match those numbers.
Burks was a first-team All-SEC pick in 2021when he caught 66 passes for 1,104 yards, a 16.7 average and 11 touchdowns in 12 starts.
Scouts and fans alike want to see how players perform against the best. In that regard, Burks passed with flying colors. He caught eight passes for 179 yards and two touchdowns against Alabama last season.
The only concern is that Burks may not be quite as explosive as Brown, whose vertical leap is 3 ½ inches higher and his 40 time is a half-second quicker.
At 53, the Packers use their third-round pick (the 92nd overall) and the 53rd to trade up and select Michigan safety Dax Hill at 39.
Hill (6-0, 191) was clocked at a blistering 4.38 seconds in the 40-yard dash to go with his elite 33 ½ -inch vertical leap.
One area scout for an NFC team told NFL.com, "(Hill's) so fast and so athletic that it wouldn't surprise me if a team tried to make him a full-time cornerback. I think he has that kind of potential."
Hill was described by scouts as "rangy playing over the top, the eyes and burst to play in zone coverage, and the loose hips and length to shade big slot receivers in man-to-man coverage."
Mel Kiper, Jr., rated Hill as the 13th best player in the entire draft.
This comment by one scout is noteworthy, "Hill's sure to be a coveted target for defenses trapped in pass-happy divisions."
At 59, the Packers add another weapon in the passing game: Colorado State tight end Trey McBride.
McBride (6-4, 246) was an AP All-American after ranking ninth in the nation with 90 catches for 1,121 yards (both school records). His only scoring reception of the season came on a 69-yard fake punt against Nevada in his final college game.
McBride's ability and willingness as a blocker would appeal to Packers head coach Matt LaFleur. McBride's precise route-running and sure hands – which remind some NFL scouts of the Ravens' Mark Andrews – would appeal to Aaron Rodgers.
The consensus among scouts is that McBride is the best, most complete tight end in this draft.
If the Packers went this route in the draft they would have:
** No. 17 – James Williams, who is the best receiver in this draft and undoubtedly would have been unattainable for the Packers if healthy.
** No. 28 – Treylon Burks, who is a dynamic receiver with crazy after-the-catch skills, could step in and contribute immediately at a position of great need.
** No. 39 – Dax Hill, a versatile hybrid safety, is the chess piece defensive coordinator Joe Barry currently doesn't have on the roster. Darnell Savage, Jr., is similar to Hill and could be his future replacement. Both Savage and Adrian Amos are working on one-year contracts.
Furthermore, the Packers didn't tender a contract offer to safety Henry Black, who played on nearly 40-percent of the defensive snaps last season. Hill would represent a major upgrade over Black on Day One.
** No. 59 – Trey McBride, who is considered the best tight end in this draft, has to be a strong consideration for Packers GM Brian Gutekunst.
Naturally, some fans would gripe about the Packers not selecting an offensive lineman in the first four rounds. They also would be less-than-thrilled with the team using seven picks to acquire four players.
On the other hand, the Packers would be set at receiver and tight end for the foreseeable future. They also would add a Top 15 talent on defense with Hill.
That's four first-rate, upper-tier players the Packers could add in as many rounds.
If that happens, the question should be, "What if?"
It should be, "What's not to like?"