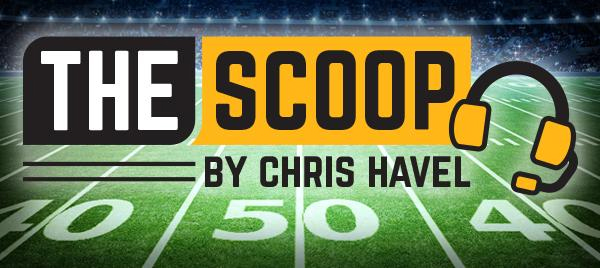 By Chris Havel
GREEN BAY, Wis. –When the NFL schedule was released last May the Packers weren't entirely sure Aaron Rodgers would be playing in Green Bay.
So much has changed since then.
Rodgers is back, Davante Adams and Za'Darius Smith are gone and a reconstituted Green Bay team is set to defend its NFC North title and beyond. The goal is to win Super Bowl LVII on Sunday, Feb. 12, at State Farm Stadium in Glendale, Ariz.
I picked the Packers to finish 12-5 last season. They went one better at 13-4.
I've got Green Bay going 12-5 this season.
The schedule is daunting in some stretches and doable in others. They play nine teams with losing records last season. They also play six playoff teams: the AFC's Patriots, Bills and Titans, and the NFC's Bucs, Cowboys and Rams.
They finish with three of their last four games at Lambeau Field. They have an early two-game stretch in Weeks 3 and 4 that features Tom Brady quarterbacking the Bucs and Bill Belichick coaching the Patriots. That is followed by a two-game run in Weeks 5 and 6 that has Green Bay "hosting" the Giants in London followed by a true home game against the Jets. Both New York teams were awful last year.
The Packers' salvation appears to be a weak NFC North … again. That said the Vikings' offense is dangerous, the Lions are improving under head coach Dan Campbell and the Bears' Justin Fields is still all about potential, not production.
Here is a game-by-game thumbnail sketch of the journey ahead:
** WEEK ONE: Sunday, Sept. 11 at Minnesota, 3:25 p.m.
The Packers celebrated the grand opening of U.S. Bank Stadium in 2020 by running the Vikings out of their new building in a 43-34 rout. Last season, the Vikings exacted mid-season revenge with a 34-31 home win over the Packers.
This time it will be interesting to see if Za'Darius Smith and Danielle Hunter can muster a formidable pass rush against Green Bay. The Vikings' offense is always explosive, especially with running back Dalvin Cook and receiver Justin Jefferson, who are among the best weapons at their respective positions.
The Vikings' perennial problem is its offensive line. This would be a terrific time for Packers defensive coordinator Joe Barry to unleash the Dawgs in Georgia rookies Devonte Wyatt and Quay Walker.
Also expect Rodgers to answer the question about life without Adams by finding a new face (Sammy Watkins) and a familiar face (Randall Cobb) in the end zone.
Prediction: Packers 27, Vikings 24
** WEEK TWO: Sunday, Sept. 18, Chicago at home, 7:20 p.m.
The Bears' Matt Eberflus inherits an offense led by second-year quarterback Fields, who had mixed reviews in his rookie season. They signed veteran receiver Byron Pringle and drafted rookie receiver Velus Jones to mitigate the loss of the talented but underutilized Allen Robinson.
Eberflus, who replaces Matt Nagy, has a defensive background. No wonder the Bears drafted a corner (Kyler Gordon) and a safety (Jaquan Brisker) with their first two picks. Eberflus is already trying to devise ways to stop Rodgers' passing game.
Prediction: Packers 19, Bears 10
** WEEK THREE: Sunday, Sept. 25, at Tampa Bay, 3:25 p.m.
Brady's retirement was short-lived. The Bucs' future Hall of Fame quarterback has everyone returning from an offense that scored 30.1 points per game (second in the NFL) last season. This will be a great early-season test for the Packers' defense.
Rodgers also would like some pay-back against the team that prevented him from reaching the Super Bowl two seasons ago. Todd Bowles replaces Bruce Arians as the head coach and the defense added end Logan Hall in the first round of the draft.
Prediction: Bucs 31, Packers 28
** WEEK FOUR: Sunday, Oct. 2, New England at home, 3:25 p.m.
When Belichick and his 290-143 win-loss record come to Lambeau Field it's like having NFL royalty as guests. The plan is to treat Belichik and the Patriots with all the respect they've earned. And score a key home victory in the process.
It will be interesting to see how Green Bay's defense fares against the Patriots and second-year quarterback Mac Jones, who guided them to a 10-7 record and a playoff berth last season.
Defeating a Belichick-coached team is never easy, but always gratifying.
Prediction: Packers 23, Patriots 21
** WEEK FIVE: Sunday, Oct. 9, N.Y. Giants at London, 8:30 a.m.
It had to happen sooner or later.
The Packers' trip to London is a wonderful thing for their fans across the pond. It's also a bonus that their opponent is a Giants' team trying to find itself.
Packers left tackle David Bakhtiari should be tested by rookie pass rusher Kayvon Thibodeaux. The Giants fired Joe Judge and replaced him with ex-Bills offensive guru Brian Daboll, who helped establish Josh Allen as a star in Buffalo.
Whether he can fix Danny Jones remains to be seen.
Prediction: Packers 23, Giants 11
** WEEK SIX: Sunday, Oct. 16, N.Y. Jets at home, noon
Packers head coach Matt LaFleur opted to skip the early bye week after the London trip and save it for Week 14. It means he'll have to get his team ready for the Jets after dealing with the overseas game.
The Jets' draft was widely praised with the additions of corner Ahmad "Sauce" Gardner, defensive end Jermaine Johnson and receiver Garrett Wilson.
Jets coach Robert Saleh is familiar with LaFleur from their days together at Central Michigan and were groomsmen in each other's wedding.
Now, they'll go head-to-head on game day. Jets quarterback Zach Wilson, the No. 2 overall pick in 2021, had the league's lowest passer rating. The Jets helped their offensive line by signing guard Laken Tomlinson in free agency.
Prediction: Packers 34, Jets 17
** WEEK SEVEN: Sunday, Oct. 23, at Washington, noon
Carson Wentz's NFL journey continues in Washington, where he hopes to recapture his rookie form from 2017, when he was 11-2 with a 101.9 passer rating as the Eagles' starter. Since then it's been injuries and ineffectiveness for Wentz.
Wentz will have quality targets in Terry McLaurin, Curtis Samuel and rookie Jahan Dotson from Penn State.
The Commanders were 7-10 last season, but finished in the bottom 10 in points scored each of the last four seasons. They're looking for some offense to go with a talented but oft-injured defensive front four.
Prediction: Commanders 24, Packers 23
** WEEK EIGHT: Sunday, Oct. 30, at Buffalo, 7:20 p.m.
The Bills are dangerous without a reliable running attack. If rookie running back James Cook, a second-round pick, pans out the Bills might be close to unstoppable. Clearly, they have put too much on Josh Allen's plate. They ask him to direct it, throw it and run it on offense. Why not expand his blocking duties, too?
Orchard Park is a beautiful setting and the closest thing to Lambeau Field that the NFL has to offer. The Bills averaged 28.4 points per game (third) and were No. 1 in defense, allowing just 17 points per game.
Stefon Diggs caught 103 passes for 1,225 yards and 10 touchdowns. Gabriel Davis, Jamison Crowder and tight end Dawson Knox are reliable weapons, too. The key will be Cook, the rookie, and how he melds along with Devin Singletary.
Prediction: Bills 28, Packers 24
** WEEK NINE: Sunday, Nov. 6, at Detroit, noon
The Lions drafted defensive ends Aidan Hutchinson and Josh Paschal to boost an ineffective pass rush. The Lions were 31st in points allowed last season and have major rebuilding on all three levels.
This is the first of two meetings between the division rivals and I expect the Lions to give a nice accounting … in defeat.
Prediction: Packers 45, Lions 13
** WEEK 10: Sunday, Nov. 13, Dallas at home, 3:25 p.m.
Welcome back, Big Mike!
The Packers will entertain Super Bowl-winning head coach Mike McCarthy and his Cowboys in a "must see" Sunday afternoon game.
The Cowboys, 12-5 last season, lost Amari Cooper in the offseason, but are hopeful third-round pick Jalen Tolbert will pick up the offense quickly.
Dallas scored 31.2 points per game under McCarthy, which was tops in the NFL. Dak Prescott was third in the NFL with a 104.2 passer rating – Rodgers was tops with a 111.9 rating – so this figures to be a shootout.
It also could be a huge determining factor in NFC seeding.
Prediction: Packers 35, Cowboys 31
** WEEK 11: Thursday, Nov. 17, Tennessee at home, 7:15 p.m.
This is a quick turnaround against worthy playoff teams. The saving grace is that both are at Lambeau Field. The Titans traded A.J. Brown to the Eagles in return for the first-round pick they used to select Arkansas' Treylon Burks, who is regarded as the closest thing to Brown in the draft.
Tennessee was 12-5 last season and the AFC's top seed, but like the Packers they stumbled in the divisional round of the playoffs.
This game features the Titans' Derrick Henry – the top back in the game today – and the Packers' one-two punch of Aaron Jones and A.J. Dillon. The team with the most rushing yards wins this game.
Prediction: Titans 27, Packers 23
** WEEK 12: Sunday, Nov. 27, at Philadelphia, 7:20 p.m.
The 10-day break will be welcomed by the Packers before they travel to Philadelphia to take on the run-heavy Eagles. Quarterback Jalen Hurts threw for 3,144 yards and 16 touchdowns. He also rushed for a team-best 784 yards and 10 touchdowns. Now, with A.J. Brown to throw to, Hurts could take the next step.
The Eagles' 9-8 record last season was the result of a largely ineffective defense that ranked poorly in almost every meaningful category.
Prediction: Packers 21, Eagles 18
** WEEK 13: Sunday, Dec. 4, at Chicago, noon
We will see if Aaron Rodgers continues to own the Bears at Soldier Field.
Fields led a Bears offense that ranked 27th last season and was entirely ineffective in several lopsided defeats. Ex-Packers offensive lineman Lucas Patrick should help shore up Chicago's weak offensive line.
Prediction: Packers 27, Bears 14
** WEEK 14: BYE WEEK
LaFleur decided it was better to have the bye week later in the season, as opposed to requesting it after the Week 5 trip to London.
Clearly, LaFleur wants to get his team rested and ready to make a late-season push on into the postseason. It makes sense, especially with three of their final four games at home.
It gives Green Bay a realistic chance to be as rested and ready to go as possible for the playoffs.
** WEEK 15: Monday, Dec. 19, L.A. Rams at home, 7:15 p.m.
This is THE MARQUEE GAME on the schedule.
The defending Super Bowl champions and head coach Sean McVay would love nothing better than to derail the Packers in a late-season game at Lambeau Field. The NFC's seeding likely will be impacted by this game's outcome.
The Rams lost Von Miller, Robert Woods and Andrew Whitworth in the offseason. However, they added receiver Allen Robinson, linebacker Bobby Wagner and cornerback Troy Hill.
The Rams lost at Green Bay last November and appeared to be waning before they went on a five-game winning streak and ultimately won the Super Bowl. Cooper Kupp had a tremendous season with 145 catches for 1,947 yards and 16 touchdowns. Those are Davante Adams numbers. Robinson's presence should make Kupp all the more dangerous, if that's possible.
Matthew Stafford's encore will be interesting. He had his best season with a 102.9 passer rating while throwing for 4,886 yards, 41 touchdowns and 17 interceptions.
The Rams' vaunted defense is led by defensive tackle Aaron Donald. It's possible the Rams will be trying to stop their former teammate, Odell Beckham, Jr., who just might sign with the Packers between now and then.
Prediction: Packers 34, Rams 28
** WEEK 16: Sunday, Dec. 25, at Miami, noon
If you're the Packers, so much for being home for the holidays, thanks to the NFL's decision to have them play at Miami on Christmas Day. If things go the Packers way, their fans should get an additional present to enjoy.
Tyreek Hill's presence should make the game interesting, especially when he's matched up against the Packers' Jaire Alexander.
Prediction: Packers 20, Dolphins 17
** WEEK 17: Sunday, Jan. 1, Minnesota at home, 3:25 p.m.
The Vikings drafted a safety (Georgia's Lewis Cine) in the first round and a guard (LSU's Ed Ingram) in the first two rounds. It addressed the Vikings' two greatest needs: Pass coverage and pass protection.
New coach Kevin O'Connell, another of the Sean McVay coaching tree, hired former Packers defensive coordinator Ed Donatell to run the defense. Donatell has a lot of work to do with a defense that ranked 24th last season.
If Za'Darius Smith and Hunter can stay healthy the pass rush should be first-rate. But that's a big if where those two are concerned.
Prediction: Vikings 27, Packers 24
** WEEK 18: Saturday, Jan. 7, or Sunday, Jan. 8, Detroit at home, TBA
For the sixth time in seven seasons the Packers will close out against Detroit. It's timely if the Packers already have their playoff seeding clinched.
Jared Goff just might be playing his final game in a Lions' uniform. Expect the Packers to send him off with a loss – that is unless they've got it all locked up.
Prediction: Packers 30, Lions 19