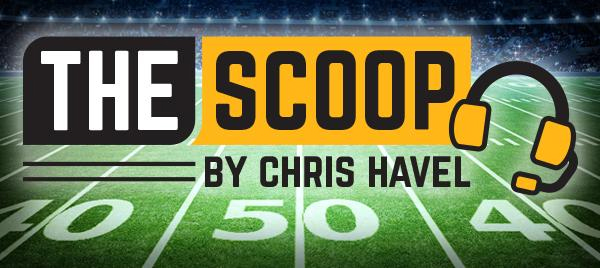 By Chris Havel
Special to EVENT USA
GREEN BAY, Wis. – The Packers' offseason has been dominated by three questions:
** No. 1 – How will the offense replace All-Pro receiver Davante Adams?
** No. 2 – How much better can the defense be in its second year under defensive coordinator Joe Barry?
** No. 3 – Is Rich Bisaccia really going to solve the team's chronic special teams troubles?
Packers coach Matt LaFleur has his work cut out for him, but it's not all an uphill journey. He has a future Hall of Fame quarterback, a new special teams' guru and several top draft picks that possess eye-popping athleticism and skills.
Along the way, some veteran players are going to stand up and be counted on, while others will be faced with plying their profession elsewhere.
So who is a good bet to "step up" and surprise coaches and fans alike? Here are five players that are currently flying under the radar. The reasons range from being bumped down in the depth chart by a top draft pick to being overlooked by fans because they've played sparingly or not at all in Green Bay.
That doesn't mean they can't or won't contribute in a big way.
Their opportunity is yet to come and it'll be interesting to see if Krys Barnes, Tyler Davis, Keisean Nixon, T.J. Slaton and Amari Rodgers make the most of it.
** No. 51 LB Krys Barnes, 6-2, 229, third year
Barnes, an undrafted free agent out of UCLA, has capitalized on his opportunities since signing with Green Bay two years ago.
Barnes, 24, was a tackling machine in college and that trend continued in Green Bay, where he has started 23 games and racked up 161 tackles in two seasons.
Lining up next to De'Vondre Campbell appeared to elevate Barnes' confidence and performance. He was third on the team with 81 tackles (58 solo) as well as four passes defended, two fumble recoveries and a sack last season.
The Packers' decision to draft Quay Walker with the 22nd pick appeared to leave Barnes on the outside looking in. That still may be the case, depending on Walker's development among other things, but I wouldn't be against Barnes.
His experience in the defense is meaningful, and he's been a strong tackler. Scouts loved Barnes coming out of college, describing him "as a player," but most teams couldn't get past his rather mediocre testing before the draft.
Walker may take time to adjust to the NFL. Meantime, Barnes is a reliable starting inside linebacker. If Walker beats out Barnes, who is on a one-year deal, the good news is Barnes is a strong special teams' player.
** No. 84 TE Tyler Davis, 6-4, 252, third year
The tight end position enters 2022 in a state of flux.
Josiah Deguara is still developing, Marcedes Lewis is long in the teeth and Robert Tonyan is recovering from a knee injury. None of that forced the Packers to draft a tight end or sign an undrafted free agent of note.
In the pre-draft news conference GM Brian Gutekunst singled out Tyler Davis, which rarely happens with undrafted players.
"TD – Tyler Davis – we picked up early in the (2021) year, and as his opportunities grew not only in the games but in practice, we think we really have something there. So I'm excited about that," Gutekunst said.
Davis, 25, was a sixth-round pick by Jacksonville in 2020. He ended up leaving for Indianapolis, where the Packers plucked him off the Colts' practice squad.
A willing and capable blocker, Davis also proved to be a dependable pass catcher (albeit in limited snaps) and a quality special teams' player. As a receiver, Davis' big day came at Baltimore, where he caught four of five targets for 35 yards, including a 22-yard grab up the seam in heavy traffic.
Davis played 132 snaps on offense last season, with 99 coming after Week 14, and was fifth on the team in special teams' snaps.
** No. 25 CB Keisean Nixon, 5-10, 200, fourth year
Nixon's familiarity with Bisaccia and his skill-set as a slot cornerback fit the Packers' needs.
Nixon, 25, was an undrafted free agent from South Carolina who signed with the Las Vegas Raiders in 2019. He played in 40 games with two starts in three seasons. Bisaccia coached him on special teams, where he had a team-high nine special teams tackles as a rookie.
Chandon Sullivan's departure to Minnesota opens the door for Nixon to see significant playing time in the slot.
Nixon, who is rapper Snoop Dogg's nephew, ran a 4.42 40-yard dash and posted a 32 ½-inch vertical leap in workouts. Now we'll see if he can earn a regular role.
** No. 93 DT TJ Slaton, 6-4, 330, second year
Slaton, 24, wasn't the run-stuffing behemoth the Packers expected given his size, strength and resume at Florida.
However, the mammoth defensive tackle did play in all 16 regular-season games and the playoffs. He tallied 255 snaps on defense and 143 snaps on special teams.
As the season wore on and defensive tackle Tyler Lancaster faded, Slaton stepped up down the stretch to play more than 20 snaps in each of the final four regular-season games.
Slaton ranked 95th out of 149 players at his position that had at least 200 snaps. He was 114th against the run and 67th as a pass rusher. He also ranked 19th in terms of being a sure tackler, according to Pro Football Focus.
Slaton's most impressive attribute was his pass rush ability, which bordered on explosive at times. He needs to be more disciplined in the run game so he can be counted on to fill in for Kenny Clark if necessary.
** No. 8 WR/Returner Amari Rodgers, 22, second year
The Packers traded up in the third round to select Rodgers with the 85th pick in the 2021 draft. That draft-day move generated a buzz around Rodgers, whom Packers fans assumed was going to be the Day One slot receiver.
Then Randall Cobb was acquired at the behest of Aaron Rodgers and Rodgers' opportunities took a major hit. Then again, Rodgers didn't do anything special with the limited chances he did receive.
Rodgers was targeted just eight times with one drop and four catches for 45 yards. He also had one rushing attempt for 11 yards.
As a return specialist, Rodgers was 21st among punt returns in attempts and 20th in yards. He also fumbled twice on punt returns and it was telling that he didn't play a single snap from scrimmage in the playoff loss.
Rodgers admitted he wasn't in the greatest shape of his life last season but said he has turned that around this offseason. If Rodgers develops and flashes at least some of the big-play ability that led Green Bay to draft him it would be a bonus.
The clock is ticking on Amari Rodgers, but it's premature to write him off.