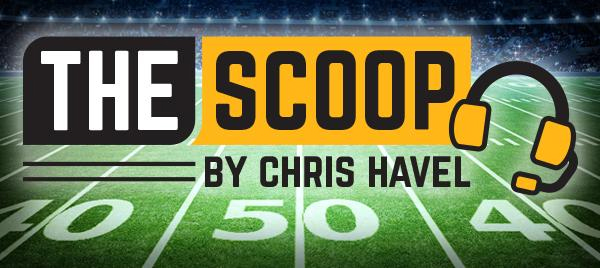 By Chris Havel
Special to EVENT USA
GREEN BAY, Wis. – Aaron Rodgers' golf game is sharper than ever.
The Packers' future Hall of Fame quarterback fired a final round 72, including 2-under on the back 9, on Sunday to cap off his best finish in 18 tries at the American Century Championship in Lake Tahoe, Nev.
So what does that have to do with the Packers' fast-approaching season?
It only has everything to do with it.
Trying to play golf with a cluttered mind is like trying to navigate a poorly lit, jam-packed attic without stumbling. It makes an already challenging task that much more difficult.
It isn't that dissimilar to playing NFL quarterback.
Rodgers' performance Sunday suggests that in addition to being a terrific ball-striker, he is in a really good place mentally right now. His mind, like his swing, appears to be free of any unwelcome "noise."
If it works for the world's finest golfers, it could do likewise for one of the NFL's all-time great quarterbacks.
A year ago, the Packers weren't altogether sure if Rodgers was going to post an on-time arrival for training camp.
This year, it's an on-time departure … without Davante Adams aboard.
"Last year, when you have a guy who's that talented, it's probably not an exaggeration to say 80 percent of the plays in the passing game were designed specifically for 17 (Adams)," Rodgers said in early June. "We're obviously going to do a few things a little differently."
Packers head coach Matt LaFleur surely prefers dealing with the known, such as Adams' departure, rather than tap-dancing around the unknown. Adams was traded March 18, so he's had four months to calculate.
Fortunately, LaFleur knows he'll have his trigger-man from Day One.
The rest he can figure out.
It starts with teaching his team to play great offense despite being without one of the NFL's top receivers.
If this were jeopardy, LaFleur could pose the answer, "Aaron Jones."
To which Rodgers would reply, "Who put up insane numbers when the Packers were without Davante Adams?"
That is the correct answer for a chance to win Super Bowl XLVII.
More accurately, given A.J. Dillon's emergence, the question to the answer is Jones AND Dillon replacing Adams in the offense. The only reason Jones' numbers weren't better with Adams out is that he had to occasionally take a series off to catch his breath from all the big plays.
Now it'll be Jones and Dillon collectively inflicting damage.
LaFleur's offense will revolve around the running backs, rather than one receiver, which should make it less predictable. Whether it is more explosive remains to be seen, but the potential is exciting.
Then again, as Rodgers said, "I like production over potential. We have some production. We have a lot of potential."
The potential-to-production transformation is going to require patience, persistence and practice to make it work. The Packers are up for the challenge on the heels of back-to-back losses in the NFC title game. They're willing to do whatever takes to clear that final hurdle.
On offense it'll require a bit of rewiring.
The Packers, 13-4 last season, ranked 10th in points (26.5 per game) and yards (365.6 per game). They were third in turnover ratio at +13 with 26 takeaways (18 interceptions, eight fumbles recovered) to just 13 turnovers (five interceptions, eight fumbles lost) in 2021.
LaFleur's offenses have been among the NFL's best in terms of avoiding turnovers, pre-snap penalties, drops and blown assignments. Any one of those, in and of itself, can be a game-killer. The Packers have kept them to a minimum under LaFleur and the win-loss record bears it out.
Those tenets of his offense aren't likely to change.
The play-action pass remains a critical component of the Packers' attack.
Opposing defenses face a difficult choice against Green Bay's offense.
They can play it straight with six or seven in the box and hope that the Jones-Dillon duo doesn't crush them. Or they can commit more players to stopping the run and pray Rodgers doesn't gash them.
Good luck with that.
The headlines declaring the Packers' offense DOA in 2022 due to the Davante Adams trade are understandable but off base, Jones said.
"People are definitely going to sleep on our offense with us losing Davante," he said. "We definitely have a lot of weapons and guys that can get it done so we're going to let them sleep and when the scoreboard says what it says – it'll show what our offense did and our defense."
The quarterbacks will be Rodgers and Jordan Love backing him up.
Here's a position-by-position breakdown of LaFleur's offense:
** Running backs (3) – Aaron Jones, A.J. Dillon, Kylin Hill
The Packers were 7-0 without Adams, and Rodgers was particularly sharp. He threw for an average of 292.7 yards without his No. 1 target. He hit on 19 touchdowns to just one interception, posted a 119.7 passer rating and led the offense to an average of 31.6 points per game.
Jones and Dillon will replace Adams in both the pass and run game.
"I think the way we've played in his (Adams') absence over the last seven games or so over the last three years has been different," Rodgers said. "Obviously, Aaron Jones has had more opportunities in those games and now that we have an incredibly complimentary second back (Dillon) we can get both of those guys involved in the passing game.
"Yeah, the offense has to change."
A year ago, the running back tandem combined for 444 touches but committed just two fumbles. Their drops were minimal. Their execution was exceptional.
Jones and Dillon represent the NFL's best running back tandem, which is a luxury when a team also has one of the league's top quarterbacks.
They combined for 1,602 rushing yards on 358 attempts with nine touchdowns last season. They caught another 86 passes for 704 yards and eight touchdowns.
They'll each surpass 1,000 yards from scrimmage for a second straight season. Offensive coordinator Adam Stenavich likes what he has to deploy.
"We're excited to get those two on the field (together) and do a bunch of different stuff," Stenavich said earlier this offseason.
** Tight ends (4) – Marcedes Lewis, Josiah Deguara, Tyler Davis, Dominique Dafney
Lewis is entering his 17th season but can still play. The 6-7, 260 pound veteran is an excellent in-line blocker and reliable pass catcher.
Deguara hopes to realize his potential this season. He has the ability to stretch the field and also is a willing and capable blocker.
Davis, a special teams contributor, showed flashes last season and especially in the game at Baltimore.
Dafney brings speed, versatility and experience.
Once the injured Robert Tonyan returns, the only question will be which of the current tight ends is demoted?
** Receivers (6) – Allen Lazard, Sammy Watkins, Randall Cobb, Christian Watson, Romeo Doubs, Amari Rodgers
Lazard enters the 2022 season vastly underrated, if not underappreciated.
He caught 40 passes on 60 targets for 513 yards and eight touchdowns. However, he did most of his damage in the final five weeks, when he caught 21 passes for 290 yards and five touchdowns. The five TDs were the second-most in that span in the league, trailing only Adams.
Sammy Watkins, a former fourth overall pick, is extremely motivated going into the season. He is excited about playing catch with Rodgers, and winning games with Green Bay, as his career winds down.
An immensely talented athlete, Watkins sabotaged his own career early on, but has since found himself and been a consummate pro. He expects to put up big numbers this season, even if others don't see it.
Rookies Christian Watson, Romeo Doubs and Samori Toure also will contribute at receiver. It'll be interesting to see how the receivers separate themselves in camp, both from each other and from DBs.
Rodgers is counting on Cobb to be his receiver liaison.
"We've got my closest buddy on the team with those guys every single day, Randall Cobb, and he's been here the entire time just about," Rodgers said. "So he's passing along everything they need to know about playing with me and expectations and signals and unspoken communication and non-verbal stuff, and they just have to feel me once we get back for training camp and it gets real.
"There'll be expectations for them, but reasonable expectations. We're not going to expect those guys to be anything other than the best versions of themselves. I know with how high we picked Christian (Watson) there will be expectations, but we just need him to be the best version of himself. I'm excited about Sammy (Watkins), he's made some plays. It's good to see him out there, he looks the part. We'll get Allen back and Randall, then there's a lot of competition behind them."
** Offensive line (10) – Yosh Nijman, Cole Van Lanen, Jon Runyan, Royce Newman, Josh Myers, Sean Rhyan, Tom Zach, Jake Hanson, David Bakhtiari, Elgton Jenkins
The only concern here is the timeline for David Bakhtiari's and Elgton Jenkins' return from injury. Thanks to LaFleur's scheme, the staff's coaching and GM Brian Gutekunst's acquisitions the Packers should be able to survive until their No. 1 offensive line is healthy and in place.