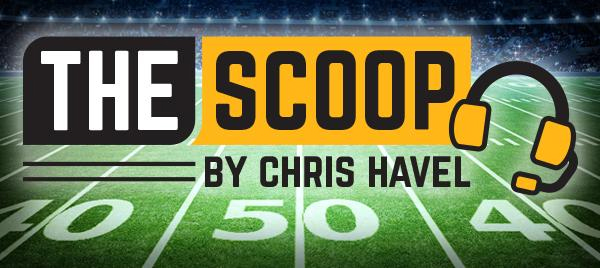 By Chris Havel
Special to EVENT USA
GREEN BAY, Wis. –Fans in the stands and railbirds on the fence have gotten their money's worth at Packers training camp thus far.
Ok, so it's free to attend. That doesn't mean it's not priceless.
On the contrary, Packers' fans were thrilled to see rookie receiver Romeo Doubs shine, third-year edge Rashan Gary wreak havoc and the defense make Aaron Rodgers and the offense sweat for a change.
It's been terrific competition, which is what it's all about.
"We're a defensive team now," Rodgers said after Wednesday's first camp practice. "I felt coming into camp, to be honest, we were going to get our butts kicked most days because our defense is talented and deep and athletic. It's one of the best defenses on paper that we've had, but I told those chumps, '1-0, offense.' "
On Wednesday, Rodgers and the offense won the day as Doubs shined.
Since then, the defense has risen and Doubs has rolled. For those scoring along at home, Doubs is 3-for-3 in terms of strong practices.
The scoreboard is 1-2 in favor of the defense after it got the better of it Thursday and Saturday. Friday was a light walkthrough and Sunday was a day off. The Packers will practice with shoulder pads Monday and full pads Tuesday, with Wednesday off.
Gary, whose name is being mentioned along with some of the NFL's top pass rushers, has been difficult to block. He looks leaner, quicker and stronger than in the past, which is saying a lot.
Overall, the defense has played as fast and ferocious as practice allows.
Preston Smith, a defensive leader, is excited by Gary's ascension.
"He's been impressive since he's been here," Smith said of Gary. "Just seeing Rashan grow from a rookie until now, it's just very impressive, man. We just seen what he did last year (9 ½ sacks), and I called it. I did call it early in the offseason. He just keeps stacking those years and keeps coming in working hard. He's growing into a leader of his own. He's grown into his own. He's getting tremendous confidence and he's playing at a high level and been really consistent with it."
Defensive tackle Jarran Reed, cornerback Rasul Douglas and the mildly surprising Shemar Jean-Charles, a second-year corner, all have played well thus far. Veterans such as Kenny Clark, De'Vondre Campbell and Adrian Amos – as well as Smith – have been rock solid.
The defense has been vocal in terms of communicating with each other and directing some of the salty stuff at the offense.
"It's a lot of trash-talking, a lot of confidence," Smith said. "You just feel the energy in the meetings, out there in practice. Guys are feeling confident, guys are playing real fast, guys are playing at a high level and guys are playing together. We're trying to stack our days, build off it and keep moving forward."
A spirited defense undoubtedly will sharpen the offense.
Packers head coach Matt LaFleur likes what he's seeing.
"The old cliché, iron sharpens iron, so you definitely want to try to create as much competition as possible because I think that's going to bring out the best in each other," LaFleur said last week. "I don't sit there and say, 'That was an offensive day' or 'That was a defensive day.' You're just really looking at the process of all the things that you can control and less about the outcomes, especially early on."
The Packers' offense is taking its lumps while finding its identity and that's the likely tenor of camp going forward. The good news is the offense should be used to great competition by the season opener.
While David Bakhtiari and Elgton Jenkins continue to convalesce, the offensive line has provided an interesting array of configurations.
On Saturday, it was rookie Zach Tom at left tackle with Jon Runyan at left guard, Josh Myers at center, Royce Newman at right guard and Yosh Nijman at right tackle.
On Thursday it was Nijman at left tackle, Runyan at left guard, Myers at center, Jake Hanson at right guard with Newman at right tackle.
Meantime, Doubs has been especially impressive all week.
Doubs (6-1 ¾, 202) grabbed everything thrown his way – and everyone's attention in the process – by showing up fit, mentally sharp and ready to roll.
It's a ray of hope at a position that'll take all it can get.
Davante Adams' departure is a source of anxiety. When a young receiver such as Doubs steps up like a pro it makes the growing pains easier to manage.
Obviously, it's only a scintilla of a sample size, but it's better than opining about how Doubs appears unable to catch a cold, much less a laser from Aaron Rodgers. That isn't the case. Doubs body is hard, his hands are soft, and his mind is bright.
Doubs, the 132nd player selected in the draft, was a highly productive, sure-handed receiver at Nevada. He fit the Packers' modus operandi at receiver: He finds ways to catch passes and make plays despite the fact that the defense knows the quarterback is coming his way.
It was the same for Jordy Nelson at Kansas State, Greg Jennings at Western Michigan and Davante Adams at Fresno State.
Whether Doubs attains their high level of proficiency is impossible to say.
What the rookie does have going for him – and it was the same for his predecessors – was Aaron Rodgers throwing him the football.
Doubs has also hooked up with Jordan Love on several sweet catches.
Love is impressed.
"Right away, he came in and was an exciting player off the bat," Love said of Doubs. "The way he's been performing so far, it's exciting. He's catching the ball at a high level, he's running good routes and he's not making too many mistakes. He's picking it up very fast, and it's awesome to see him playing at such a high level so early."
Of course, as LaFleur said last week, it's about more than being good for one practice, or even a handful of them. But so far Doubs looks like he's serious about contributing as a rookie.
The opportunity certainly exists, and Doubs is making the most of it.