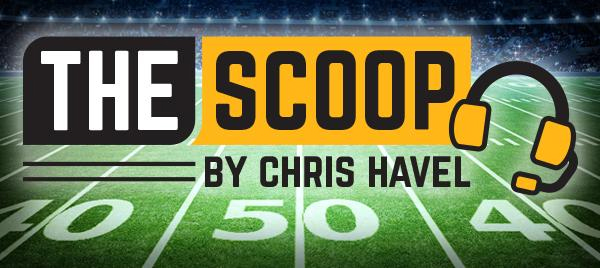 By Chris Havel
Special to EVENT USA
GREEN BAY, Wis. – The Packers saved the best news for Sunday to cap their most productive weekend since the NFL draft in April.
On Friday night, Jordan Love's uneven play in a 28-21 preseason loss at San Francisco was offset by stellar showings along the offensive line and by no less than a dozen other players in all three phases.
On Saturday, the team's 5 a.m. return to Green Bay dictated a day off to rest, relax and work through any soreness from the night before.
On Sunday, the Packers announced that offensive lineman Elgton Jenkins, tight end Robert Tonyan and receiver Christian Watson were activated off the PUP (Physically Unable to Perform) list.
It doesn't guarantee that they will play in Green Bay's Sept. 11 season opener at Minnesota, but it does pave the way for the possibility.
Jenkins, a talented and versatile player, could start at left or right tackle when he's ready to roll. Tonyan, also coming off an ACL tear, is the team's top pass-catching tight end. Watson, a physically gifted receiver and the 34th overall pick in April, returns after minor knee surgery.
While some teams are dealing with mounting injuries, the Packers are getting healthier as training camp progresses. Safety Dallin Leavitt incurred what's described as a "serious" shoulder injury Friday night, but the team didn't report any other injuries of note.
Packers head coach Matt LaFleur announced the PUP list activations during his pre-practice news conference Sunday.
"It's just like the next step in the process," he said. "It's not like they're going to be out there in team drills. But they'll do some individual (work) and with them being back, now it allows you to do some walkthroughs, which is going to be obviously very beneficial for, especially for a guy who hasn't played in the NFL like Christian. So it'll be great to get 'em out there for some of the walkthroughs."
LaFleur didn't commit to playing Jenkins at a particular position.
"As far as where he's going to play, I think time will tell," he said. "I don't want to commit to the right side. I don't want to commit to the left side. I don't want to commit to tight end."
Jenkins' stance and footwork during his individual work, according to ESPN, suggests he'll line up at right tackle. That makes sense, especially if All-Pro left tackle David Bakhtiari is activated off the PUP list in time to play in the regular-season opener.
If Bakhtiari remains on the PUP list to start the season he will have to miss at least the first four games. Jenkins seems the likely starter at left tackle if that's the case.
With Jenkins at right tackle, the Packers' offensive line would be Yosh Nijman at left tackle, Jon Runyan at left guard, Josh Myers at center and either Royce Newman, Jake Hanson or Zach Tom at right guard.
The Packers still have three players on the PUP list: Bakhtiari, veteran kicker Mason Crosby and running back Kylin Hill.
Meantime, Love needs to build on the positives and learn from the negatives following the preseason opener.
Love, 23, played with poise and confidence while flashing his first-round arm talent on a handful of throws. But the good was mitigated by two poor decisions on throws that were deflected by his receivers and resulted in interceptions.
The Packers' backup to Aaron Rodgers alternated between sharp and shaky during his 36 snaps. He threw for two touchdowns and three interceptions while completing 13 of 24 for 176 yards and a pedestrian 66 passer rating.
Love's touchdown throws were nicely delivered 33-yard lasers to rookie receivers Romeo Doubs and Danny Davis. He also commanded the huddle, got them in and out crisply and was accurate on his intermediate throws and check-downs.
His reads and decision-making on several throws was disappointing, though.
Two of his three interceptions were the result of passes that were deflected by his receivers. The third was an ill-advised throw to Amari Rodgers over the middle. He wasn't perfect, to be sure.
Love seemed to take it in stride.
"The ball wasn't bouncing our way tonight," Love said. "A couple misfortunate plays. I think for everybody it could have been a better night. The ball bounced weird ways and they capitalized on those plays. Obviously no one wants that to happen and it sucks when it does. It's something to learn from."
Love's first pick came on a pass that sailed through the hands of Tyler Davis, who is battling to make the team as the fourth tight end. Davis has to make that catch if he wants to earn a spot on the 53-man roster.
The second pick was high and behind Doubs, who contorted his body and nearly made a terrific play before having the football wrestled away by the defender. It should serve as a great teaching moment for Doubs: Finish the play.
The third pick had almost no chance to be completed and shouldn't have been thrown. Amari Rodgers bowed his route, which allowed cornerback Samuel Womack to step in front for an easy interception.
"Certainly, he's going to want a couple of the throws back and certainly some of the reads," Packers coach Matt LaFleur said. "But it's never perfect for a quarterback. But I thought, by and large, just watching the things like how the operation was, it was a smooth operation."
LaFleur didn't entirely absolve Love for throwing the interceptions, but he acknowledged it wasn't all the former Utah State quarterback's fault.
"I think two of those you can totally take off him," LaFleur told reporters. "The third one, we had two busted routes because the ball really shouldn't have gone there on that play (to Rodgers). He had nowhere else to go with the football, and he forced it in there and the defender made a good play. We've just got to clean up everything around him. We say it all the time about quarterbacks, they're going to get too much credit when we do well and they're going to get a lot of the blame when we don't, and that's just the reality of playing that position in this league."
Love will have plenty of opportunities to make the necessary corrections. He is likely to receive plenty of reps during the Packers-Saints joint practices, as well as the Saints' and Chiefs' preseason games.
Here are other key takeaways from Week 1 of the preseason:
** Amari Rodgers is a much sleeker, more explosive player than a year ago. The third-round pick dropped 10 pounds from his 5-foot-9 frame and appears quicker at 202 pounds.
Rodgers had a nifty 22-yard touchdown catch on a Danny Etling pass in the second half. He also made a terrific read on an incredibly well-blocked kick return and raced 50 yards before being forced out-of-bounds.
On the touchdown catch, Rodgers said: "I just had a flat route and the nickel blitzed off me, so I knew I had a chance of getting the ball. I saw that and I got my eyes around quick and made the first man miss. The second had a good angle on me. I was thinking about cutting back but I saw his angle so I gave him a little hesitation to see if I could stop his speed and it worked."
Then what?
"I just reached for the pylon," he said with a smile.
On the kickoff return, Rodgers followed his blocking, made one would-be tackler whiff and then kicked it into high gear.
"It was well-blocked and I think the hardest hit came when he got to the sideline and Rashan Gary knocked him on his butt," LaFleur said.
** The Packers' offensive line held up against the 49ers' defensive starters.
Love wasn't sacked and had a clean pocket to work in. Etling took one sack.
The Packers finished with 299 yards passing on 19 of 32 for three touchdowns. Perhaps even more impressive was a Packers' running attack that produced 141 yards on 34 carries (4.1 average) and six rushing first downs.
"I thought our offensive line did a much better job," LaFleur said. "I thought they held up really nicely throughout the course of the game. It wasn't perfect. There were a couple runs that I think we could've blocked up a little bit better. But by and large I thought they did a nice job.
"I was really happy with the effort that the guys gave really in every phase. I thought guys were competing, playing with great urgency, playing with great effort, playing together. Nobody was making up their own stuff out there which tends to happen sometimes when you get your first exposure in an NFL football game, a preseason game, and so by and large the guys did a nice job."
** There's keen competition to be the sixth receiver.
Doubs had three catches for 45 yards on seven targets. He had two drops, which he'll learn from, but overall he ran really good routes and showed he belongs. Doubs' ability to gain separation in the blink of an eye was fairly apparent.
Samori Toure had three catches for 42 yards on four targets. His speed translates on the field. After Toure's NFL debut it's easier to see why he had a knack for getting behind defenders.
Juwan Winfree also had a nice game with three catches (three targets) for 27 yards. Then there is ex-Badgers receiver Danny Davis, who caught two passes for 45 yards, including the 33-yard touchdown grab.
It appears the Week 1 receivers will be Allen Lazard, Sammy Watkins, Randall Cobb, Amari Rodgers, Romeo Doubs and Watson.
** The third running back job is up for grabs.
Patrick Taylor, Dexter Williams, B.J. Baylor and Tyler Goodson are battling for one roster spot behind Aaron Jones and A.J. Dillon. This is perhaps the keenest competition on the roster.
Taylor and Williams have been in the system for a while now, while Baylor and Goodson flashed more quickness and better hands out of the backfield.
The turning point may be which is most capable on special teams, although the Packers have invested in Keisean Nixon and Dallin Leavitt – a pair of defensive backs – to shore up the teams' play.
Right now, I'd put Taylor slightly ahead of Goodson, with Baylor and Williams as the longshots.
** The defense was stout against the run.
Green Bay held the 49ers to just 57 yards rushing on 18 carries (a 3.2 average) through the first three quarters. The 49ers then ran 11 times for 63 yards in the fourth quarter to skew the numbers a bit.
The Packers racked up three sacks and had decent pressure most of the night.
The problem was the two big pass plays that went for touchdowns. Danny Gray hauled in a 76-yard bomb behind Leavitt and Ray-Ray McCloud scored on a 39-yard grab when Rico Gafford slipped and fell.
"On one of them, we went up and challenged them, and the receiver made a nice move off the line of scrimmage, similar to the one Romeo scored his touchdown on," Lafleur said. "The other one Rico (Gafford) slipped on the back end."
"We gave up two big-time plays and had three turnovers on offense. That was ultimately the difference in the game."