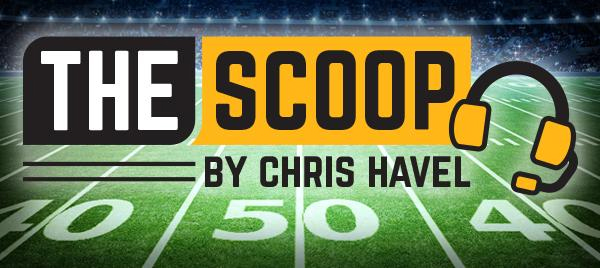 By Chris Havel
Special to EVENT USA
GREEN BAY, Wis. – The Packers enter August's final days with Tuesday's roster cut deadline and a date with the Vikings – formidable tasks, indeed – looming on the near and not-so-distant horizon.
Football – like the humidity – is in the air in Title Town, USA.
But before diving into roster minutia, and Week 1's marquee matchup, I'd like to compliment the Packers' top draft pick, Quay Walker.
It's been a curious training camp and preseason in that the 22nd overall pick has been inconspicuous, in part, because of his professionalism. He doesn't look, act or play like a rookie.
The talent is readily apparent, but unlike some high draft picks, Walker is apparently ready to play.
In some ways, Walker has been treated as if he's going to be the next, oh, I don't know, Blake Martinez. By comparison, you'd swear Romeo Doubs is going to be the next Davante Adams.
Doubs has grabbed passes and headlines from Day One of training camp. He has been the media darling, and rightfully so, especially for an offense left to find its way without Adams.
In addition, the Packers' depth on the offensive and defensive lines has routinely received rave reviews. It's to the point where defensive tackle Jack Heflin and offensive tackle Rasheed Walker – previously not on most fans' radar – are being talked about as "must keepers" on the 53.
Beyond that, it's been about the rehabs of David Bakhtiari, Elgton Jenkins, Robert Tonyan, Christian Watson and Mason Crosby. All but Crosby have been cleared from the PUP list. Again, it's big news.
But until the Packers' preseason finale at Kansas City on Thursday night, a 17-10 loss, Walker has been mostly an afterthought.
That didn't prevent fans from easily identifying which of the Packers' lone defensive starters was on the field at Arrowhead Stadium.
Walker roamed sideline-to-sideline making plays all over the joint.
The Packers' No. 7 was everywhere during the game's first two series. He racked up a team-high five tackles (three solo) and proved beyond a shadow of doubt that he's ready for the season-opener at Minnesota.
He wasn't just good. He did a linebacker leap off the TV screen. He wanted to keep playing but the Packers' coaches pulled him before the defense's third series of the night.
"Everything has pretty much slowed down for me because that was my third preseason game," Walker said. "I wanted to keep going but I got pulled out."
In his first series, Walker tackled running back Jerick McKinnon in the left flat 3 yards short of a first down to force a Kansas City punt.
In his second series, Walker was in on four tackles, including the stop that forced the Chiefs to settle for a field goal.
Now pair Walker with All-Pro inside linebacker De'Vondre Campbell. Their competency, communication skills and God-given talent add up to the Packers deploying one of the NFL's top inside linebacker tandems.
Today's offenses feature throws to running backs, H-backs, gadget backs and tight ends – not to mention receiver screens and jet sweeps – which are left to be defended by … the inside linebackers.
Campbell and Walker aren't merely "creatures" as Packers head coach Matt LaFleur affectionately and respectfully refers to them. Yes, they are 6-foot-4, 245-pound clones who can run, jump and deliver a blow. But they also are key cogs in a defense's ability to stop the run and pass.
So much of this type of heavy lifting used to fall on the safeties. It's why Adrian Amos and Darnell Savage (back from his hamstring injury) are such critical pieces to the Packers' success. But they can't play to their highest potential if they're asked to defend large areas of the field.
Campbell and Walker will make the safeties' lives easier. Bank on it.
They also provide more-than-adequate run support to what's already being considered one of the Packers' top defensive lines in decades. It should send shivers down Kirk Cousins' shoulder pads.
Defensive coordinator Joe Barry and his staff wisely relied on Walker to wear the green dot on his helmet and relay the signals all preseason. It has empowered the rookie to lead and take control from the outset.
Walker earned the responsibility by diligently doing his homework.
"It's allowed me to put a lot of stuff on my shoulders and be a guy the defense can look to," he said. "Me, relaying the calls, that's pretty much building my confidence and allowing me to get more prepared for the season."
Walker is anxious to get the regular season started, but he also knows the opener against the Vikings at U.S. Bank Stadium is going to be a terrific test of mind and body.
"That's the main thing – to try to keep going, building conditioning – because there are longer drives in the NFL," Walker said. "(I'm) just trying to get ready for that as much as I can and get better each and every day and stack days."
LaFleur can't wait to see Campbell and Walker together in Week 1.
"I thought Quay had a nice night," LaFleur said Thursday night. "He is far from a finished product but the guy takes unbelievable mental reps every play. I asked him why he was sitting so far away from the defense late in the game. He said, 'I can see everything from here.' That's a great answer. That's what I do. When I'm calling plays and I'm 30 yards behind the sticks that's what I'm trying to do, to see everything.
"I love watching him run," LaFleur continued. "He's a big guy that can really move sideline-to-sideline. I'm excited to see him paired up with another creature (Campbell) who's a 6-foot-4 inside linebacker."
LaFleur isn't the only one.