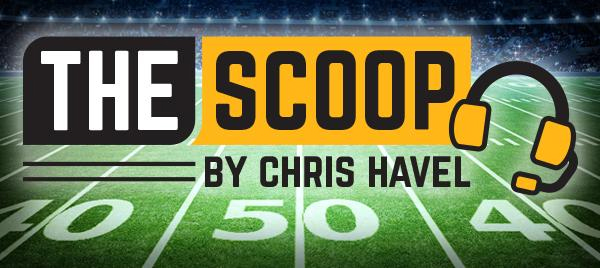 By Chris Havel
Special to EVENT USA
GREEN BAY, Wis. – The Packers ought to retain London super sleuth Sherlock Holmes in order to solve the case of the AWOL offense.
It's obvious they don't have a clue.
If I didn't know better I'd say Matt LaFleur's preferred way to play offense is for 30 minutes a game. The Packers' head coach will get the attack humming in the first half … or the second … but not both.
On Sunday, the Packers' vanishing act came after intermission when they were blanked by the Giants in a disappointing 27-22 loss at London's Tottenham Hotspur Stadium.
The only thing magic about Green Bay's offense is how it disappears.
The Packers came into the game as 9-point favorites. Their loss was the NFL's worst this season by a team so heavily favored.
A.J. Dillon and his quads had an embarrassingly low six touches, all rushing attempts that netted a total of 34 yards. Aaron Jones had 13 carries for 63 yards and two catches for 17 yards.
The Packers' offense netted 98 yards in the second half.
Rodgers tried to go deep repeatedly but to no avail. It was as if ex-Packers coach Mike McCarthy had commandeered the play-calling duties for several possessions. It was pass, pass, pass and punt.
Perhaps the Packers should've focused on running the football and the short- and intermediate- passing game.
"You make a good point," Rodgers told the reporter that broached it. "It's something to think about."
The Packers' second-half offense was an embarrassment.
"It was the tale of two halves," LaFleur said. "They kicked our butt in the second half."
The Packers (3-2) led 20-10 at half on a pair of Aaron Rodgers touchdown passes and Mason Crosby's 46-yard field goal. That's when the Giants (4-1) roared back to score 17 unanswered points.
Trailing 27-20 and down to their final drive, Rodgers marched the Packers 69 yards in 12 plays to the Giants' 6. Faced with third-and-1 LaFleur called two straight pass plays, both were swatted away at the line, and the Giants danced off with the win.
Just last week Rodgers declared that winning in spite of the offense's split personality wasn't sustainable. He was right.
"Offensively, we haven't put two halves together," Rodgers said. "There's a lot that factors into that – everything from calls to execution, to the momentum, to defensive stops, to the adjustments that we make. There's games like this were our defense is not going to be up to their normal standards and we've got to pick them up.
"And we had chances … a lot of chances."
The production from the Packers' top three receivers could be best described as not much bang for a whole lot of targets.
Randall Cobb was wonderful while catching seven passes for 99 yards, including a 35-yard catch-and-run. The downside is that it took 13 targets to get those seven catches.
Allen Lazard had four catches for 35 yards and a touchdown, but that was on eight targets. Romeo Doubs had three catches for 29 yards, but it took five targets. In all, the trio combined for 14 catches for 163 yards and a touchdown, but it took 26 plays to get there.
Rodgers was asked why they're having trouble connecting.
"We're just not quite on the same page at times," he said. "We've got to go back and look at it. I don't want to make a blanket statement right now, and definitely not an emotional blanket statement."
For all of the Packers' problems on offense, the defense struggled, too.
The Giants' Saquon Barkley rushed 13 times for 70 yards and caught three passes for 36 yards. He had a 40-yard run, a 41-yard catch, and a rushing touchdown.
Daniel Jones also played well.
The Giants' quarterback completed 21 of 27 passes for 217 yards and a 100.2 passer rating. Jones was especially sharp in the second half when he hit on 13 of 14 for 136 yards.
Jones got great production from his top three receivers, a trio of no-name wide-outs: Darius Slayton had six catches for 79 yards on seven targets; Marcus Johnson caught three passes for 35 yards and Richie James had two for 16. They did what the Packers' receivers couldn't: Get open.
The Packers' defense committed four penalties that handed the Giants four first downs. Cornerback Rasul Douglas committed three of them.
Afterward, Douglas said he apologized to his teammates.
"I just told everybody, 'My fault,' " Douglas said. "I had three uncharacteristic f—ing penalties that I don't usually get, but I had them. I think that f—ed the whole defense up."
Packers' linebacker Preston Smith said the Giants took advantage of Green Bay's mistakes on defense.
"They executed off a lot of our mistakes," Smith said. "They had opportunities to get first downs when we could have executed a lot better."
Further troubling is Rodgers' response to comments made by teammates after the game in the locker room. Jaire Alexander said he wasn't worried about the defense's second-half meltdown in London.
"I ain't worried, but if we lose next week, then I'll be worried," he said. "But it's a new situation for everybody – new circumstances, sleep patterns. It's a whole adjustment here in London."
The Packers spent so much time analyzing their departure time when the real problem was scheduling the return trip to take place at halftime.
Rodgers said he didn't want to hear any talk about losing.
"I don't like all this conversation about losing next week," he said. "I'm a firm believer in the power of words and manifestation. And we've got to check ourselves on that, because talking about that is not winning football. There was a conversation about it in the locker room, and I don't like it. Ja's my guy, but we don't need to be talking like that."
Rodgers is right.
Now isn't the time for talk. It's time for drawing up a kick-butt game plan for the Jets, then practicing it this week and executing it Sunday.
The Packers have faced two of the NFL's top defensive coordinators in the past two weeks. The Patriots' Bill Belichick came within a whisker of defeating the Packers, and the Giants' Wink Martindale got them.
Now we'll see what the Jets' Robert Saleh – a long-time acquaintance of LaFleur's – will have cooked up for his old pal. I suspect it'll be similar to Belichick's and Martindale's plan, which is to make Rodgers and the Packers have the patience to run it, move the chains and grind you down.
That requires giving it to Jones and Dillon and throwing it to the tight ends, in particular Tonyan and Lewis.
Suddenly, the Jets' game got a lot more interesting.