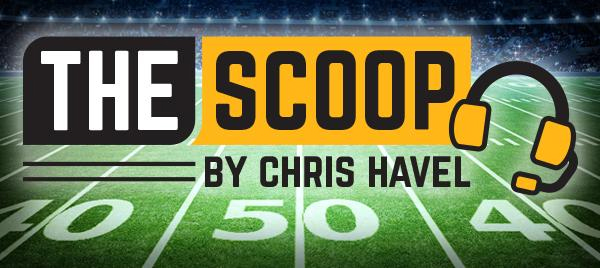 By Chris Havel
Special to EVENT USA
GREEN BAY, Wis. – In the spirit of positivity, I'll try limiting my criticism of the Packers to two areas: blocking and tackling.
They are most to blame for Green Bay's 27-10 loss to the 7 ½-point underdog New York Jets on a rainy, gloomy Sunday at Lambeau Field.
Beyond the obvious, other factors included Aaron Rodgers' thumb injury, Royce Newman's pratfalls (which are defined as falling onto one's buttocks – look it up), missed tackles galore and (drum roll) back by unpopular demand – special teams' gaffes.
In fairness to the Packers it was their most complete game this season.
The offense was awful in the first half and the defense was gassed and then gashed in the second half. In their three-hour trip to perdition and back the Packers also had a punt AND a field-goal attempt blocked.
In a lethargic first half, the Packers (3-3) had eight possessions, six first downs and three points to show for a mistake-riddled 30 minutes. While Green Bay's defense was neutralizing the Jets' attack, the Packers' offense missed a tremendous chance to take control early.
Instead, they never got a handle on it.
"That was very humbling when you're in your own building and you get taken like that and lose by three scores," Packers head coach Matt LaFleur said. "We've all got to be better."
The loss came on the heels of Green Bay's 27-22 loss to the New York Giants last week at London.
LaFleur endured the first back-to-back losses of his four-year career, both in front of and because of his relatives. His younger brother, Mike, had a good day as the Jets' offensive coordinator. His best friend, Jets head coach Robert Saleh, drew up a superior defensive game plan.
The LaFleurs' parents and grandmother were in attendance, alternately smiling and smirking if such a thing is possible. Certainly there was a lot of twisting, contorting and hand-wringing on Matt LaFleur's part.
It's the first time in memory the Boy Wonder sounded fresh out of ideas. When asked why the Packers' offense hasn't hit stride he frowned.
"That's a great question … a fair question," he said, then added, "I don't know. We're in a pretty bad predicament right now. We could never get into a flow. Give them credit. They were tough to handle up front."
The Packers' offensive line has been outplayed by the opposing defense's front seven repeatedly this season. Rodgers has been hit more frequently and more savagely than ever in his 18-year career. His birthday is Dec. 2. At his current rate he's 38 going on over-the-hill.
Rodgers was 26 of 41 for 246 yards with one touchdown and an 88.1 passer rating. He was sacked four times and absorbed nine hits.
After the game, a reporter asked Rodgers if the Packers' season was "getting a little wobbly" at .500.
"We've got to be realistic of where we're at," he said. "We've played a couple of subpar games the last two. We've got to play better, but wobbly? (That's) only if people are breaking rank. I think it'll be interesting to look at the comments from all of our guys and coaches, and hopefully we stick together."
Rodgers only offering up a "hopefully" they'll stick together isn't exactly encouraging. Then again, he has reasons to be less than certain, beginning with the utterly sloppy play of his offensive line.
Newman was outclassed at right guard. Center Josh Myers wasn't much better. Right tackle Elgton Jenkins got whistled for a dubious holding penalty, as did left guard Jon Runyan.
The Packers had one turnover and seven penalties. They were outgained by the Jets' rushing attack 179 to 60. Aaron Jones had nine carries for 19 yards. A.J. Dillon had 10 carries for 41 yards and a lost fumble.
Green Bay's ground game was non-existent.
Jets' defensive tackle Quinnen Williams single-handedly redrew the line of scrimmage about 3 yards into the Packers' backfield. Quinnen Williams had five tackles, two sacks, three QB hits and a forced fumble.
Linebacker Quincy Williams led the Jets with 14 tackles and rookie cornerback Sauce Gardner had three tackles and defended two passes.
Saleh had high praise for his defensive line.
"We feel like our D-line matches up from an advantage standpoint versus anybody, whether that's cocky or unguided confidence, whatever it is," he said. "We love our D-line. We think they're a rolling ball of butcher knives, and there are a lot of them that can play at a high level."
The Packers are in no position to disagree.
The Jets (4-2) won a total of six games the past two seasons. They've already notched four victories, including three road wins. The victory at Lambeau Field Sunday had to be especially gratifying to a Jets' team that's trying to establish credibility.
"Give the Jets a ton of credit," Matt LaFleur said. "They were prepared. I thought our defense battled in the first half. Special teams – there was some good and some bad, obviously, but we didn't do enough offensively in the first half to take control of that game."
The Packers' receiving corps is decimated through six games. Sammy Watkins (hamstring) is on injured reserve, Christian Watson (hamstring) may be headed there and Randall Cobb sustained what looked to be a serious lower leg injury. Cobb was seen wiping away tears as he was being carted to the locker room.
LaFleur said he hadn't received word of Cobb's status while reiterating his value to the offense, especially on third down plays.
The Packers did switch it up along the offensive line by benching Newman in favor of Jake Hanson, only to have Hanson leave with an injury after a handful of snaps.
LaFleur said they brought in Hanson in hopes of getting a spark on the right side of the line. He was asked if they might consider moving Jenkins from right tackle to left guard, Runyan from left guard to right guard, and inserting Yosh Nijman at right tackle.
"Everything's on the table moving forward getting our best people out there," LaFleur said.
The Packers' offensive and defensive stars of the game were tight end Robert Tonyan and safety Adrian Amos. Tonyan turned back the clock to 2020 by catching 10 passes for 90 yards on 12 targets. Hopefully that's merely the beginning of what's to come for Tonyan, whom the Packers' offensive desperately needs right now.
Amos had six tackles, four solos and one for a loss.
The Jets' Zach Wilson completed just 10 of 18 passes for 110 yards and a 73.8 passer rating. He was sacked twice and ran five times for 1 yard.
Wilson has led the Jets to a three-game winning streak since returning from injury and replacing Joe Flacco.
The Jets broke a 3-3 tie when Braxton Berrios scored on a 20-yard end around. After a Jets' stop, Michael Clemons blocked a Pat O'Donnell punt and Will Parks recovered and sprinted 20 yards for the touchdown.
The Packers responded with a 25-yard Rodgers-to-Allen Lazard touchdown later in the third quarter before being blanked in the fourth.
LaFleur sounded like a coach who couldn't wait to see the film and get to work fixing everything that ails his team.
"The reality is we're six games into this thing, we're 3-3, and there's a lot of ball in front of us but we have to have that urgency to want to improve," LaFleur said. "We have to clean up a ton of details. We're going to have to take a hard look at everything from a coaching perspective and find out what's working and what's not."