Your Weekly Packers News Update
We've sorted through dozens of articles about the Packers' latest news, game results, rosters, rumors and other info that's important to the team and to you. Check it out!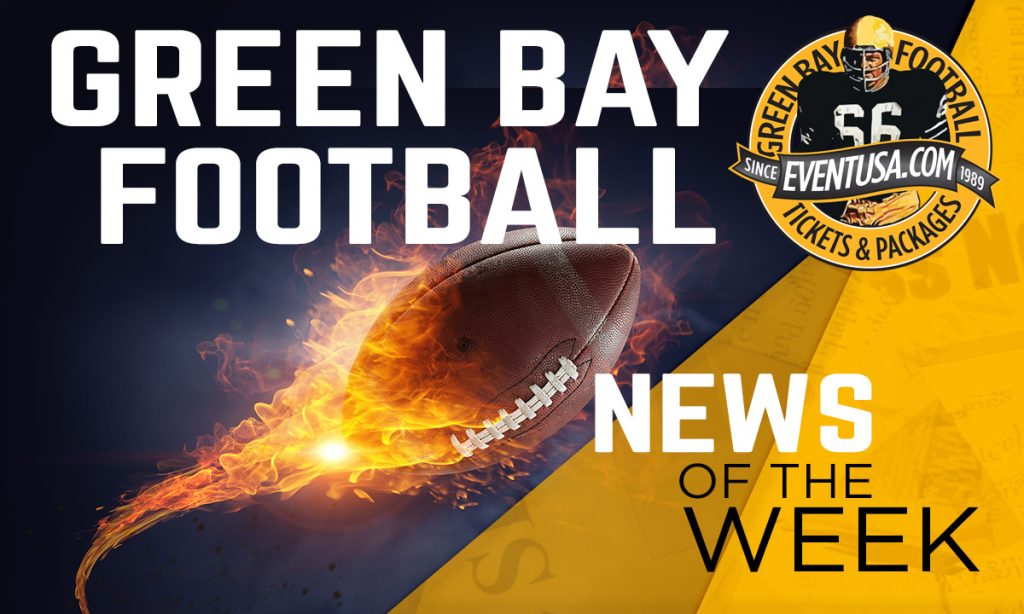 By CHEESEHEAD TV
What Did the Experts Think About Jordan Love Before the 2020 NFL Draft?
The three-year anniversary of the Packers drafting Jordan Love is approaching, and after a long wait for his opportunity, he will soon collect the baton from Aaron Rodgers and become the team's starting quarterback.
Due to mostly being out of sight and out of mind since entering the league, it's easy to forget what the sentiment was around the former Utah State QB back in 2020.
So, let's take a trip down memory lane and revisit what the experts thought about Green Bay's new starter when he was drafted.
Daniel Jeremiah – NFL Network
Jeremiah was a fan of Love and ranked him 20th overall player in his initial top 50, one spot above Justin Herbert.
For NFL.com, he wrote: "Love has ideal size, arm strength and athletic ability. He operates in the gun and he's very fluid and smooth in his setup.
"He throws from a variety of platforms and arm angles. The ball jumps out of his hand. He is at his best on skinny post drive throws and over the top deep balls.
"His decision making was very concerning this season. He forces too many balls into crowds and he doesn't ever give up on a play — to a fault. His supporting cast isn't very good, but he still fell into too many bad habits.
"He uses his athletic ability to escape and extend plays, but there are occasions when he fails to climb and reset his feet.
"Overall, Love is a raw prospect who will need some time to develop. There is risk with him, but the payoff could be huge."
After the Packers selected Love, 'DJ' reiterated his concerns over Love's 2019 season at Utah State, in which his play declined significantly, but doubled down on his potential upside.
On the 2020 NFL Draft ESPN/NFL Network simulcast, Jeremiah said: "When you talk about the decision-making being concerning, that is absolutely true, but when you go look at the video and study this kid, he's got more talent than any other passer in this entire draft".
That draft included Joe Burrow, Tua Tagovailoa and Herbert.

Matt Miller – Bleacher Report (Now ESPN)
Miller echoed Jeremiah's opinion on Love's upside, but voiced strong concerns over his potential flaws.
"Love is a case study in traits vs. production. He has the traits scouts love (arm strength, mobility, big-play mentality), but he threw 17 interceptions in 2019. No matter which team drafts him, Love is a sit-and-develop type quarterback, not a rookie starter.
"He must work on cleaning up his decision-making while also growing into a professional quarterback after coming from a conference where his arm strength and athleticism were good enough to win.
"Love is a major boom-bust prospect who could end up being the best quarterback from the class or a journeyman backup."
PFF
The team at PFF were hard on Love for how he handled the more challenging 2019 season at Utah State.
"It's difficult to blame Love too much for taking a step backward in 2019.
"He lost his coaching staff and much of his offensive personnel. We've seen time and time again how important situation is for the quarterback position, so expecting him to have better numbers than in 2018 was outrageous.
"What we can blame him for, though, was how precipitously he fell off. Love very much compounded his bad situation by pressing and trying to do too much within the Utah State offense.
"While we here at PFF care about on-field performance a ton, the NFL is more lenient, which means Love is still a candidate to go first round."
Eric Edholm – Yahoo Sports (Now NFL.com)
Edholm summarised the feeling around Love nicely with his 'TL;DR scouting report', which simply read: "Extremely gifted but flawed passer whose spectrum is wide: He could develop into the best QB in this class — or a major bust".
Overall, the consensus was that Love had supreme talent and the potential to become a top NFL starter, but he wasn't ready and had some issues to clean up before that could become a realistic possibility.
In that sense, the Packers have stuck to the script perfectly.
Love has been put on the path which was believed to be best for him. He has been allowed to mature and learn behind one of the greatest quarterbacks to ever do it.
Now, it's his turn to make good on the second part of his projection. There will be no excuses for Love, given the time he has been afforded to prepare for this moment.
Of course, there will be bumps in the road, but Love clearly has the talent and has done all the preparation he can before taking the reins. If he can't succeed in the NFL now, he was never going to.
——————————————————-
Mark Oldacres is a sports writer from Birmingham, England and a Green Bay Packers fan. You can follow him on twitter at @Marko7LW.