Your Weekly Packers News Update
We've sorted through dozens of articles about the Packers' latest news, game results, rosters, rumors and other info that's important to the team and to you. Check it out!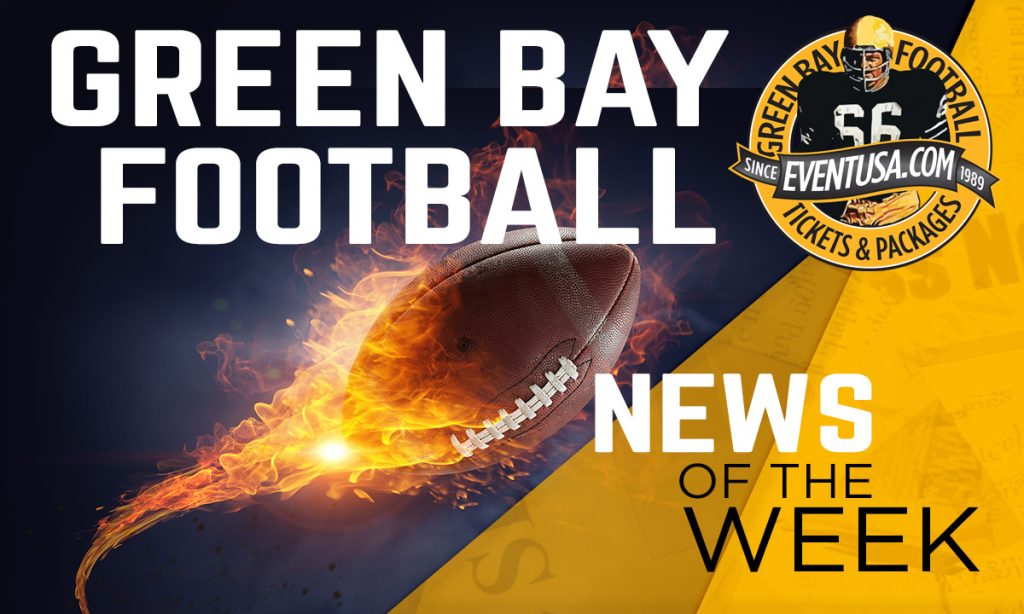 By PACKERSWIRE
Running backs, offensive line provide valuable help for Packers QB Jordan Love
Two versatile, productive running backs and a deep, experienced offensive line provide important foundational pieces around Jordan Love, the Green Bay Packers' first-year starting quarterback in 2023.
While the other skill position groups (wide receiver, tight end) in Green Bay are the youngest in football, Love will get valuable support from elsewhere as he navigates his first season as the Packers starter.
Pro Football Focus recently ranked positional groupings on offense entering the 2023 season. The Packers had the sixth-best running backs and eighth-best offensive line, and it could be argued both positions should be higher in the rankings

Aaron Jones and A.J. Dillon have been one of the most productive 1-2 punches at running back in football over the last two seasons. In 2021, Jones and Dillon produced 2,306 total yards and 17 touchdowns. In 2022, the pair created 2,492 total yards and 14 scores. Both were ranked among the top 12 running backs in overall grade by PFF last season. Both are entering 2023 will major financial incentive to create a big season.
The offensive line finished the 2022 season ranked third by PFF but dropped to eighth now, thanks mostly to the analytics site wondering if the transition from Aaron Rodgers to Love will affect the overall play of the line. It's a fair question, but this fact remains: the Packers are bringing back all five preferred starters and every single backup from last season. This is an excellent pass-blocking offensive line across the board, led by All-Pros David Bakhtiari and Elgton Jenkins on the left side (Love's blindside), and it could get a lot better if center Josh Myers and do-it-all second-year lineman Zach Tom take a step in 2023.
Great pass-catchers make a quarterback's job easier. Throwing on time to open players makes everything more simple for the position. But what else could a young quarterback ask for than dynamic running backs and a terrific pass-blocking offensive line?
The pass-catching skill positions are young but fast. "Really fast," according to both Jones and Love. The likes of Christian Watson, Romeo Doubs, Luke Musgrave, Tucker Kraft, Jayden Reed and Samori Toure might not be perfect, but the youngsters will be making mistakes and growing while moving 100 miles per hour. All the speed in this offense should, in theory, makes things a little less crowded and create better passing windows for Love.
It's nothing if not an interesting mix. There's a former first-round pick and now first-year starting quarterback who sat three years behind a future Hall of Famer. A proven and excellent running back tandem. Young but incredibly fast receivers and tight ends. And a deep, veteran offensive line who can pass-block. How does it all mix for Matt LaFleur, who runs a quarterback-friendly mix of the Kyle Shanahan and Sean McVay playbook?
There's going to be a learning curve for everyone. And Love, more than anything, will need to learn how to play winning football in his first year as a starter. So much of this season is going to be about learning on the fly for the Packers offense, but the foundational pieces shouldn't be discounted. Love has help. On every snap, the young Packers quarterback will be supported by running backs a defense must respect, an offensive line that was the third-best pass-blocking unit at PFF last year, speed all over the field at the pass-catching positions and a playcaller running a battle-tested scheme.
Follow all of your favorite Wisconsin teams at Packers Wire, Badgers Wire and the Milwaukee Journal Sentinel!