Your Weekly Packers News Update
We've sorted through dozens of articles about the Packers' latest news, game results, rosters, rumors and other info that's important to the team and to you. Check it out!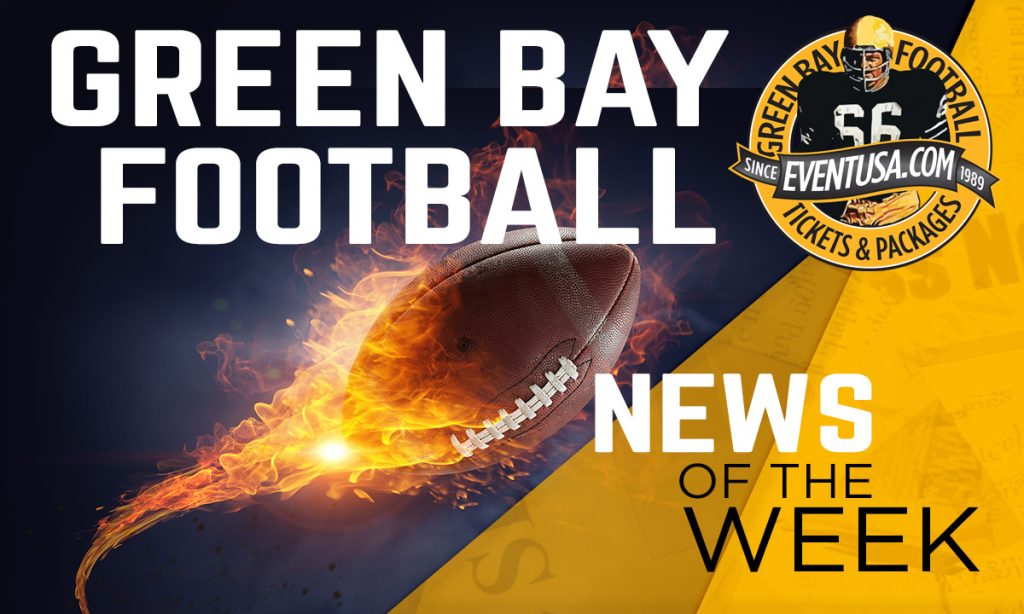 By PACKERSWIRE
Packers who helped themselves most in preseason win over Bengals
The Green Bay Packers are a step closer to filling out their 53-man roster after beating the Cincinnati Bengals in Week 1 of the preseason. Of course, there is still a ton of practice time and two more exhibitions to go, but Friday's matchup provided a perfect setting for guys on the bubble or buried on the depth chart to show what they can do.
As far as the preseason games go, this one wasn't too bad to take in. There was a ton of action and excitement, kicking off with Jordan Love making his debut as the starting quarterback. Love looked poised and in command of the offense on his way to completing 7 out of 10 passes for 46 yards with a 9-yard touchdown to Romeo Doubs to cap off his night.
While most of the offensive and defensive starters played only a series or two, the intrigue didn't stop with their departure. In fact, it may have even picked up a bit.
Several players aiming to make a strong impression on the coaching staff and personnel department certainly did so, and some may have even made headway in their quest to either make the team or carve out a prominent role during the regular season.
The Packers obviously don't have to make any major decisions just yet, but in the meantime, let's highlight the players who helped themselves the most in their 36-19 win over the Bengals.
Clifford's outing in Cincinnati was nothing short of a roller coaster. He threw two interceptions, including a pick-six, but also helped facilitate three touchdown drives. Clifford's highlight of the game was an impressive two-minute drill to close out the first half, which ended with him throwing a five-yard touchdown to tight end Tyler Davis.
It wasn't a perfect night by any means for the fifth-round draft pick, who completed 20 out of 26 passes for 208 yards with a touchdown but also had two turnovers. However, stats are null and void in the preseason. More importantly, Green Bay saw Clifford's mental toughness while navigating through tough stretches with a strong presence in the pocket and delivering some impressive throws.
After the game, head coach Matt LaFleur seemed pleased with his rookie quarterback handled himself.

"I do love the fact that he had to battle through some adversity, throwing the two picks, and then coming back and leading us on a two-minute (touchdown drive)," said LaFleur. "So, I thought just to see him not be fazed by those situations, I thought it showed something. You can't coach that. You can talk about it all you want, but that is intrinsic and he possesses that and just happy that he was able to battle through that and overcome it."
The Packers will want to see more out of Clifford before they name him Love's backup for the 2023 season, but he's off to a good start.
It was an emotional day for Wilson, who made his NFL debut on the 14th anniversary of his father's passing. In the best possible way to honor him, the undrafted rookie out of Fort Valley State turned in an incredible performance that saw him rush for 111 yards and two touchdowns on just six carries. During the fourth quarter, Wilson ripped off an 80-yard touchdown using great vision to bounce the run outside and impressive speed to make sure he wasn't caught. Wilson had been an afterthought in the conversation in RB3, but he is now squarely in the mix following Friday's heroics.
Even if it was just an exhibition, we were able to forget about the inexperience surrounding Green Bay's wide receivers and appreciate the potential in that room. For starters, Samori Toure showed signs that he is ready for a larger role in Year 2, catching three passes from Clifford for a total of 56 yards. He also added a 44-yard kick return to set up a short touchdown drive in the third quarter.
Meanwhile, the rookie trio of Jayden Reed, Dontayvion Wicks, and Malik Heath flashed against the Bengals. Reed was handed a jet sweet and hauled in a contested catch over the middle for a pickup of 15. Wicks was the team's leading receiver with 68 yards and could contribute as a fifth-rounder. Lastly, Heath should be the front runner for the sixth wide receiver spot. He finished with three catches for 36 yards and showed good physicality as a blocker.
Follow all of your favorite Wisconsin teams at Packers Wire, Badgers Wire and the Milwaukee Journal Sentinel!