Your Weekly Packers News Update
We've sorted through dozens of articles about the Packers' latest news, game results, rosters, rumors and other info that's important to the team and to you. Check it out!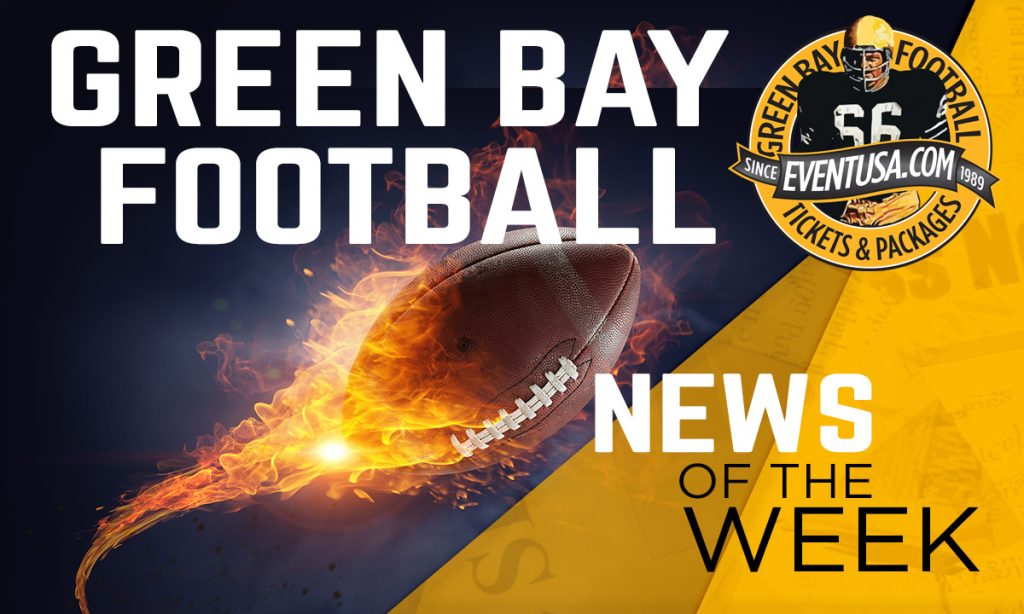 By PACKERSWIRE
Final Packers 53-man roster prediction following the preseason
The Green Bay Packers finished the preseason with a final practice on Thursday and the preseason finale on Saturday against the Seattle Seahawks. The final step before the regular season can officially begin is trimming the roster from 90 players down to 53, which has to be completed by Tuesday afternoon.
"Obviously, it's a tough time of the year," said Matt LaFleur following the Seattle game. "When we have to make some really tough decisions, but that's because of the effort and type of locker room that we have. Gutey (GM Brian Gutekunst) and his staff have done a nice job of getting a very competitive roster, especially at certain positions. But, it's on to the regular season now."
Based on what took place in the preseason, along with what I saw during each of the Packers training camp practices, here is my best guess at how the final 53-man roster shakes out.
Quarterback (2)
Keep: Jordan Love and Sean Clifford
If there was any doubt that Sean Clifford was going to be the backup, LaFleur squashed that earlier in the week when telling the media that Clifford had earned that role. Alex McGough will then head to the practice squad, most likely. With the ability to elevate players from the practice squad, keeping a third quarterback on the roster makes little sense.
Running back (2)
Keep: Aaron Jones and AJ Dillon
I've gone back and forth on this one, deciding whether to keep two running backs or three. I have little doubt that Patrick Taylor is the third running back, given his impact on special teams, as a blocker, and in the passing game. He's not flashy, but he checks the boxes in regards to what the Packers are looking for in the third running back. However, from a roster construction standpoint. the ability to elevate players from the practice squad alleviates the need to carry three running backs. But with that said, this is only a temporary solution. The Packers either have to be fine with adding Taylor to the roster at some point or okay with potentially losing him because after his third elevation, he either has to be signed to the active roster or released, allowing him to potentially sign elsewhere.

Wide Receiver (7)
Keep: Christian Watson, Romeo Doubs, Jayden Reed, Samori Toure, Malik Heath, Dontayvion Wicks, Grant DuBose
Malik Heath is a lock at this point, following his start against Seattle, where he again impressed as a pass catcher and a blocker. Although he has apparently leapfrogged Samori Toure on the depth chart, I still expect Toure to be on this team. He has seen his fair share of snaps with the starting offense this summer, and if they were willing to roster him in 2022 as the seventh receiver in what was a much more experienced room compared to this one, I have to think they'll do the same in 2023. The question for me is if the Packers will keep Grant DuBose as the seventh receiver, but in his limited action, he was able to make a few plays in the passing game, show he's a willing blocker, and took on some special teams contributions as well. Similarly to Toure, another seventh-round pick, I think the Packers keep DuBose.
Tight End (3)
Keep: Luke Musgrave, Tucker Kraft, Josiah Deguara
There is the possibility that the Packers add a tight end on the waiver market once roster cutdowns start to take place around the NFL. This is something that Brian Gutekunst said the team would be monitoring. However, LaFleur also mentioned earlier in the week that if need be, the team is comfortable going into the season with just three tight ends, in part because of their depth at receiver, along with also pointing out that they are willing to use a sixth offensive lineman at times as well. So, given the Packers' tackle depth, and not knowing who will be available on waivers, or even if Green Bay will be able to land the player they want, I'm going light and sticking with three tight ends.
Offensive Line (9)
Keep: David Bakhtiari, Elgton Jenkins, Josh Myers, Jon Runyan, Zach Tom, Rasheed Walker, Yosh Nijman, Caleb Jones, Sean Rhyan
I believe this conversation comes down to Caleb Jones, Sean Rhyan, and Royce Newman competing for two open spots. I don't think Jones is quite a roster lock, but I do think he's close–the team just really likes him and his potential, especially with uncertainty around tackle in 2024. As recently as Thursday, Jones was taking some first-team reps at left tackle. When it comes to Rhyan or Newman, Rhyan has been the far more steady player, and at this stage of their careers, as a second-year third-round pick, Rhyan has a higher ceiling. I wouldn't be surprised if the Packers keep Newman as a 10th offensive lineman, given his versatility and experience – two things the Packers covet – but from a numbers standpoint, coupled with Newman's play, I couldn't keep him.
Interior Defensive Line (6)
Keep: Kenny Clark, TJ Slaton, Devonte Wyatt, Colby Wooden, Karl Brooks, Jonathan Ford
It's taken me a little bit of time to come around to the idea of the Packers keeping six interior defenders, but Jonathan Ford's play throughout training camp has made him difficult to keep off. As LaFleur said, he's "upped his game," and you can see that with his ability to generate push in the run game. Also, a part of my thinking is if the Packers rostered Ford last season knowing he wouldn't contribute, they'd be willing to do so again, with him potentially able to see playing time on obvious running downs–an area where Green Bay has to improve.
Follow all of your favorite Wisconsin teams at Packers Wire, Badgers Wire and the Milwaukee Journal Sentinel!