Your Weekly Packers News Update
We've sorted through dozens of articles about the Packers' latest news, game results, rosters, rumors and other info that's important to the team and to you. Check it out!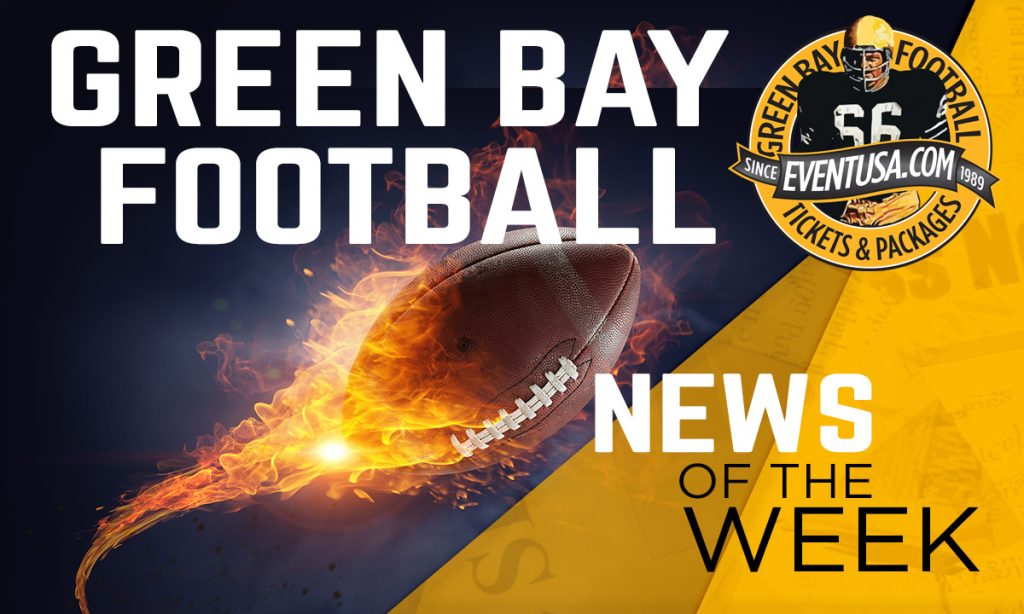 By PACKERSWIRE
Recap of Packers' 20-3 win over Rams in Week 9
The Green Bay Packers (3-5) snapped a four-game losing streak with a 20-3 win over the Matthew Stafford-less Los Angeles Rams (3-6) on Sunday at Lambeau Field.
The Packers scored a first half touchdown, got a dominant defensive performance against backup quarterback Brett Rypien and slammed the door shut with 10 fourth-quarter points.
Here's a recap of the Packers' 20-3 win over the Rams in Week 9:
Final score: Packers 20, Rams 3
Second quarter
GB 7, LAR 0: Aaron Jones 3-yard rush (14:19)
GB 7, LAR 3: Lucas Havrisik 52-yard FG (1:51)
Third quarter
GB 10, LAR 3: Anders Carlson 26-yard FG (2:55)
Fourth quarter
GB 13, LAR 3: Anders Carlson 34-yard FG (9:08)
GB 20, LAR 3: Luke Musgrave 20-yard catch (3:41)
… Two plays after a 37-yard completion to Christian Watson, Jordan Love found rookie Luke Musgrave for a win-sealing 20-yard touchdown pass. Love faked left, faked right and then threw over the middle to Musgrave, who was wide open.

Game balls
RB Aaron Jones: Matt LaFleur said he wanted to cut Jones loose this week. The result? Jones turned 24 touches into 99 total yards and a score.
CB Carrington Valentine: The rookie started at cornerback after the Packers traded away Rasul Douglas. Valentine delivered three pass breakups and a near interception late.
TE Luke Musgrave: First career touchdown? That's a game ball. Musgrave had two catches of at least 20 yards, including the dagger touchdown in the fourth quarter.
S Anthony Johnson Jr.: First career interception? That's a game ball. Johnson held his own as a starter at safety and was gift-wrapped an interception on a tipped pass by Jaire Alexander.
Key stat
0. The Packers held the Rams without a trip inside the red zone. The Rams averaged 3.4 yards per play, gained only 10 first downs and finished 5-for-16 on third and fourth down.
Jordan Love watch
Love completed 20 of 26 passes for 228 yards, one touchdown and zero interceptions while taking four sacks. He completed a season-high 76.9 percent of his passes, averaged 9.1 yards per attempt and finished with a passer rating of 115.5 passer rating. Was Love as good as his numbers suggest? Probably not. But Love did find completions and avoid mistakes. He snapped his five-game streak with an interception as well.
Injury updates
Defensive lineman Kenny Clark left with a shoulder injury in the first half and didn't return. Left tackle Yosh Nijman suffered a back injury and didn't return. Receiver Christian Watson was injured on his 37-yard catch in the fourth quarter and was being evaluated for back and chest injuries and a possible concussion.
What's next
The Packers will go on the road to play the Pittsburgh Steelers, who came from behind to beat the Tennessee Titans on "Thursday Night Football" in Week 9. Mike Tomlin's team is 5-3 despite averaging 16.6 points per game this season. The Steelers defense has 26 sacks and 16 takeaways in eight games in 2023. The Packers won the last meeting 27-17 at Lambeau Field in 2021.
Follow all of your favorite Wisconsin teams at Packers Wire, Badgers Wire and the Milwaukee Journal Sentinel!