Since 1991, Event USA has been providing Packer fans with a complete Road Game experience. Our Deluxe Road Game Lodging Package options all include game tickets and hotel nights, while some also include air transportation from Wisconsin. Customized air from any other departure points can also be arranged.
Tailor-designed by the city, we include such amenities as tailgate parties, breakfasts, sightseeing tours to popular attractions in the area, celebrity appearances, souvenirs, area maps and information, stadium transfers and airport transfers.
All game packages include welcome/hospitality desks and professional and helpful tour staff to get you settled into the rival city and answer any questions you have so you can enjoy the game and city. Let us do the work for you!
Road Warrior Packages
We also offer a day-of-game package for those who can provide their lodging.
Tailgate Party
Looking for a place to join other Packer fans on the road for a pre-game tailgate party? Look no further! Event USA has you covered with our road tailgate parties.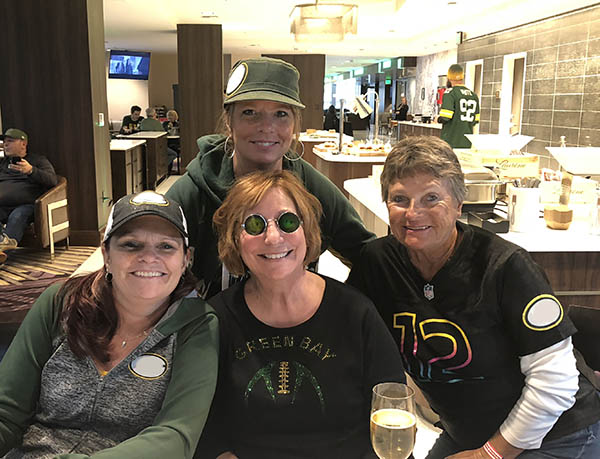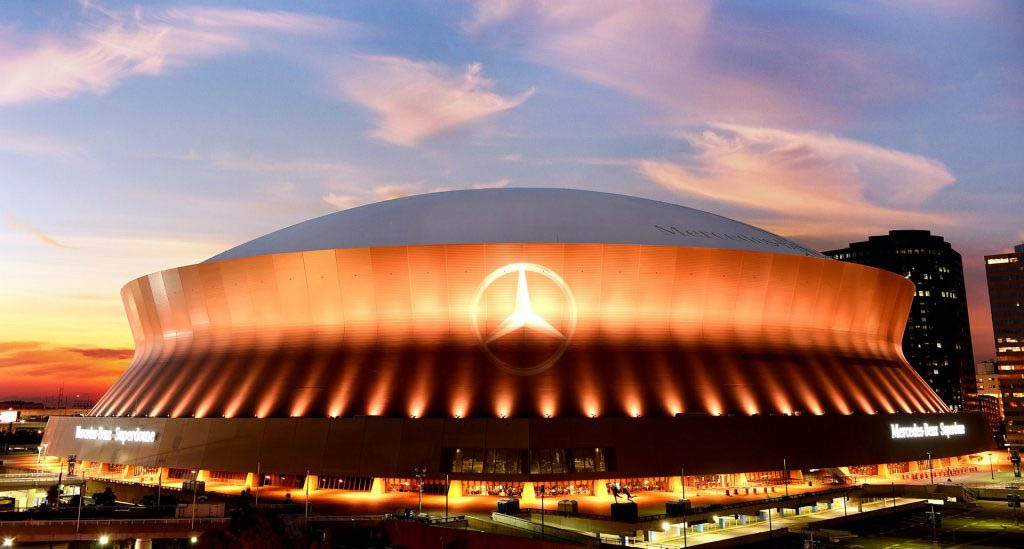 Travel with the Pack to the "Big Easy", New Orleans! Known for its round-the-clock nightlife, vibrant live-music scene and spicy, singular cuisine reflecting its history as a melting pot of French, African and American cultures. Once you have seen all that New Orleans has to offer, head on over to the Superdome to see the Pack take on the Saints in what could be the game of the season! With two of the NFL's elite quarterbacks in the history of the NFL fighting to get back to the big game in Tampa Bay, Super Bowl 55, you won't want to miss this exciting matchup!
All Saints Packages have been cancelled due to no fans being allowed into the game.
---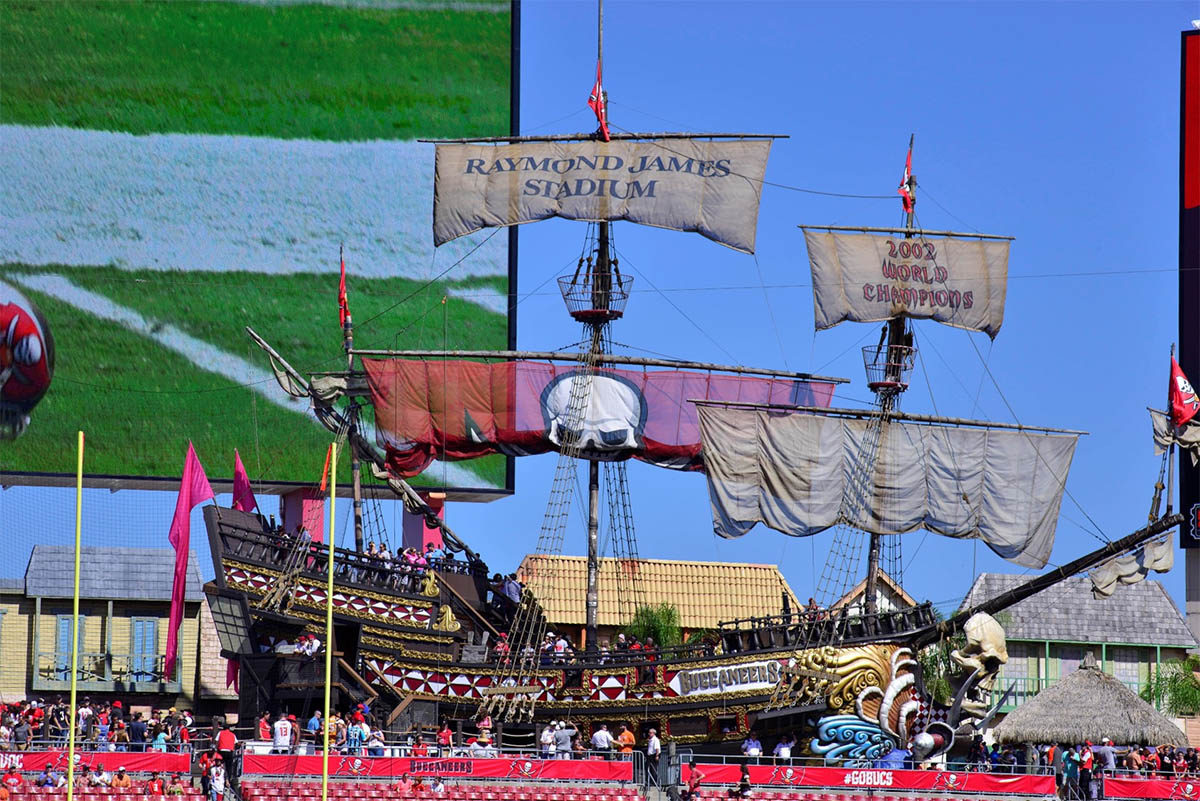 The hip, urban heart of Florida's Gulf coast beats in Tampa Bay. Discover blue skies and sunshine, a sparkling waterfront, world-class chefs, family fun, and a century of Cuban culture – all in Florida's most diverse travel destination. Home to the Tampa Bay Buccaneers, Raymond James Stadium has one of the most unique features in all of the NFL stadiums…a 103-foot, 43-ton steel-and-concrete replica pirate ship! Join us in silencing the cannon fire while cheering on the Pack to victory!
---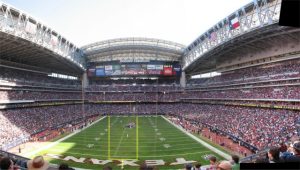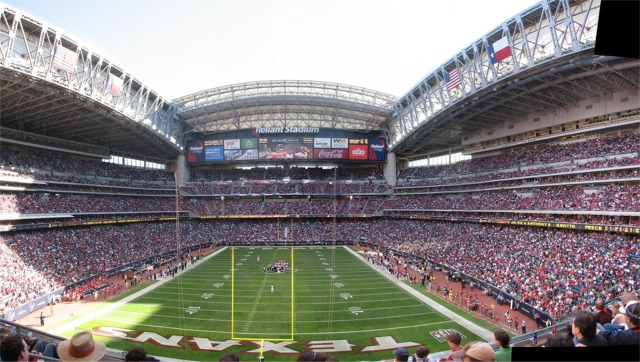 America's fourth-largest city is a cosmopolitan destination, filled with world-class dining, arts, shopping, nightlife and home to the newest team in the NFL, the Houston Texans. While in Houston you can take a stroll through the Houston Heights historic district, spend the day exploring the Museum District or head down to Space Center Houston. After taking in the sites grab a bite in one of the dozens of award-winning restaurants in this Southern hospitality meets urban chic city. Don't miss your chance to cheer on the Pack while they take on Wisconsin native JJ Watt and the Texans for their third time in Packer history at NRG Stadium in Houston.
---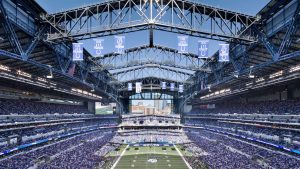 A city known for fast cars and blockbuster events has also gained acclaim for a flourishing culinary and brewing scene, thriving cultural institutions, cool neighborhoods, and so much more. The Packers and Colts have played 41 times in the regular season with the series being tied at 20-20-1. Who will come out ahead in this tie breaking game? Join us in finding out!
---
SANTA CLARA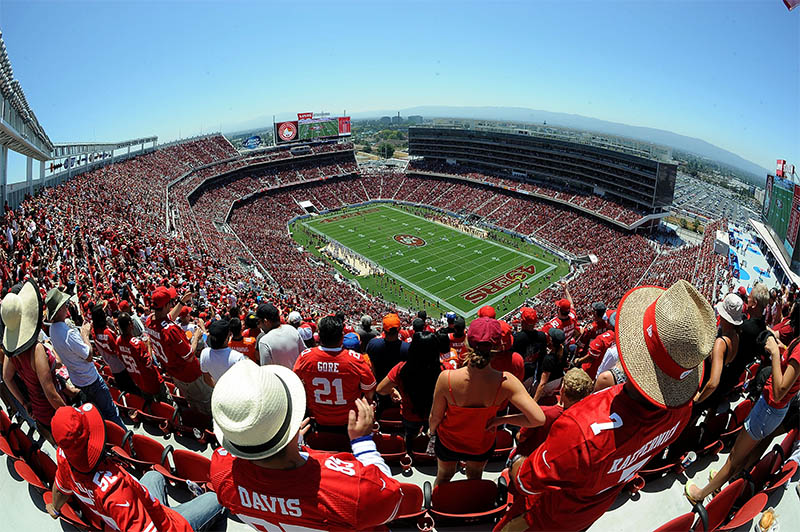 ---
MINNEAPOLIS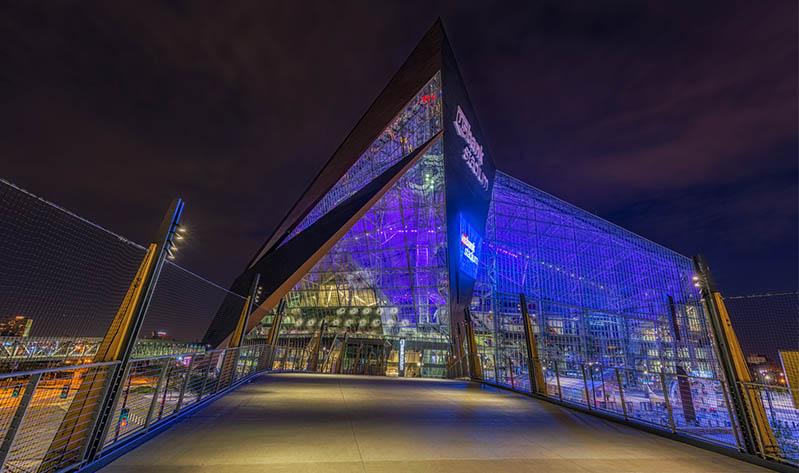 ---
CHICAGO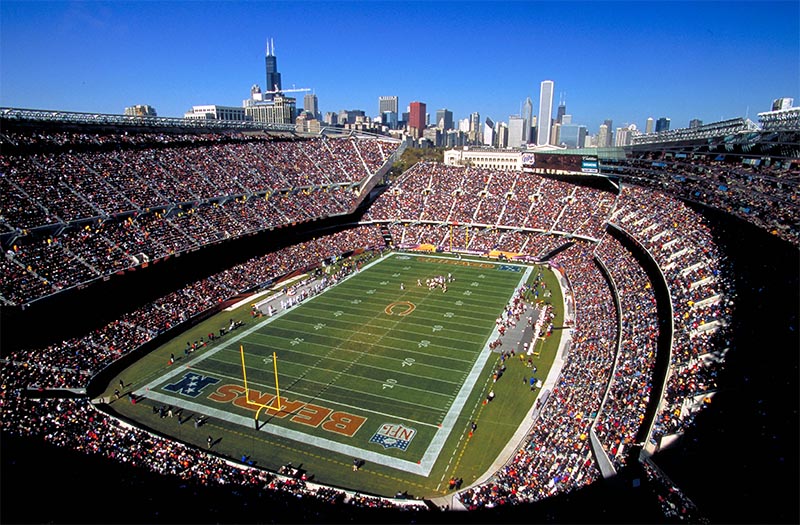 ---
DETROIT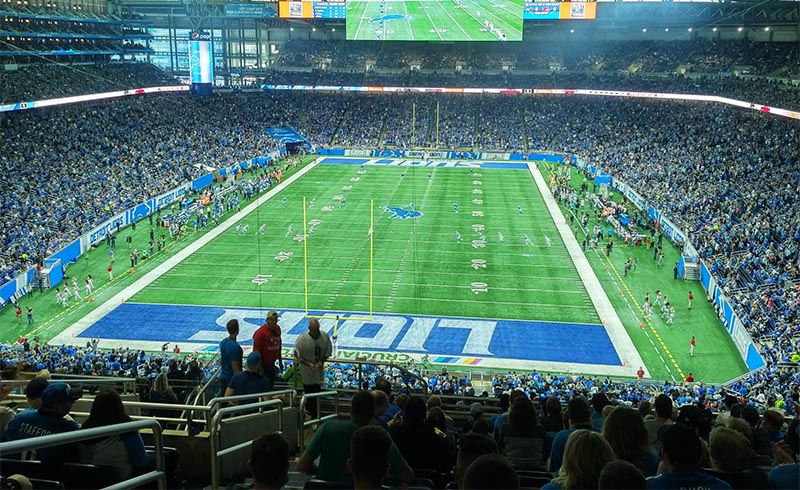 Looking to go to Detroit, Minneapolis, Santa Clara or Chicago to watch the Pack in action? Event USA can take care of all your ticket needs!
EVENT USA WE GET YOU TO THE GAME AND MORE!!!
PRICING
Game
Double

Two people per room, price shown is per person

Triple

Three people per room, price shown is per person

Quad

Four people per room, price shown is per person

Single

One person per room, price shown is per person

Child
10/9 - London Four Night Land Package
$3375
$3175
$3075
$4275
$
Buy
10/9 - London Six Night Land Package
$3825
$3525
$3325
$5125
$
Buy
Game
Double

Two people per room, price shown is per person

Triple

Three people per room, price shown is per person

Quad

Four people per room, price shown is per person

Single

One person per room, price shown is per person

Child
10/9 - London Four Night Land Package
$3375
$3175
$3075
$4275
$
Buy
Game
Double

Two people per room, price shown is per person

Triple

Three people per room, price shown is per person

Quad

Four people per room, price shown is per person

Single

One person per room, price shown is per person

Child
10/9 - London Six Night Land Package
$3825
$3525
$3325
$5125
$
Buy
Game
Double

Two people per room, price shown is per person

Triple

Three people per room, price shown is per person

Quad

Four people per room, price shown is per person

Single

One person per room, price shown is per person

Child
Game
Double

Two people per room, price shown is per person

Triple

Three people per room, price shown is per person

Quad

Four people per room, price shown is per person

Single

One person per room, price shown is per person

Child
Game
Double

Two people per room, price shown is per person

Triple

Three people per room, price shown is per person

Quad

Four people per room, price shown is per person

Single

One person per room, price shown is per person

Child
10/9 - London Four Night Appleton Air Package - Thursday to Tuesday
$4475
$4275
$4175
$5325
$
Buy
10/9 - London Four Night Green Bay Air Package - Thursday to Tuesday
$4475
$4275
$4175
$5325
$N/A
Buy
10/9 - London Four Night Milwaukee Air Package - Thursday to Tuesday
$4525
$4325
$4225
$5375
$N/A
Buy
10/9 - London Four Night Chicago Air Package - Thursday to Tuesday
$4425
$4225
$4125
$5275
$N/A
Buy
10/9 - London Six Night Appleton Air Package - Monday to Monday
$4875
$4525
$4375
$6175
$
Buy
10/9 - London Six Night Green Bay Air Package - Monday to Monday
$4875
$4525
$4375
$6175
$N/A
Buy
10/9 - London Six Night Milwaukee Air Package - Monday to Monday
$4925
$4575
$4425
$6225
$N/A
Buy
10/9 - London Six Night Chicago Air Package - Monday to Monday
$4825
$4475
$4325
$6125
$N/A
Buy
10/9 - London Six Night Appleton Air Package - Wednesday to Wednesday
$4975
$4625
$4475
$6275
$
Buy
10/9 - London Six Night Milwaukee Air Package - Wednesday to Wednesday
$5025
$4675
$4525
$6325
$N/A
Buy
10/9 - London Six Night Chicago Air Package - Wednesday to Wednesday
$4925
$4575
$4425
$6225
$N/A
Buy
Game
Double

Two people per room, price shown is per person

Triple

Three people per room, price shown is per person

Quad

Four people per room, price shown is per person

Single

One person per room, price shown is per person

Child
10/9 - London Four Night Appleton Air Package - Thursday to Tuesday
$4475
$4275
$4175
$5325
$
Buy
10/9 - London Four Night Green Bay Air Package - Thursday to Tuesday
$4475
$4275
$4175
$5325
$N/A
Buy
10/9 - London Four Night Milwaukee Air Package - Thursday to Tuesday
$4525
$4325
$4225
$5375
$N/A
Buy
10/9 - London Four Night Chicago Air Package - Thursday to Tuesday
$4425
$4225
$4125
$5275
$N/A
Buy
Game
Double

Two people per room, price shown is per person

Triple

Three people per room, price shown is per person

Quad

Four people per room, price shown is per person

Single

One person per room, price shown is per person

Child
10/9 - London Six Night Appleton Air Package - Monday to Monday
$4875
$4525
$4375
$6175
$
Buy
10/9 - London Six Night Green Bay Air Package - Monday to Monday
$4875
$4525
$4375
$6175
$N/A
Buy
10/9 - London Six Night Milwaukee Air Package - Monday to Monday
$4925
$4575
$4425
$6225
$N/A
Buy
10/9 - London Six Night Chicago Air Package - Monday to Monday
$4825
$4475
$4325
$6125
$N/A
Buy
Game
Double

Two people per room, price shown is per person

Triple

Three people per room, price shown is per person

Quad

Four people per room, price shown is per person

Single

One person per room, price shown is per person

Child
10/9 - London Six Night Appleton Air Package - Wednesday to Wednesday
$4975
$4625
$4475
$6275
$
Buy
10/9 - London Six Night Milwaukee Air Package - Wednesday to Wednesday
$5025
$4675
$4525
$6325
$N/A
Buy
10/9 - London Six Night Chicago Air Package - Wednesday to Wednesday
$4925
$4575
$4425
$6225
$N/A
Buy
Game
Double

Two people per room, price shown is per person

Triple

Three people per room, price shown is per person

Quad

Four people per room, price shown is per person

Single

One person per room, price shown is per person

Child
Game
Double

Two people per room, price shown is per person

Triple

Three people per room, price shown is per person

Quad

Four people per room, price shown is per person

Single

One person per room, price shown is per person

Child
Game
Double

Two people per room, price shown is per person

Triple

Three people per room, price shown is per person

Quad

Four people per room, price shown is per person

Single

One person per room, price shown is per person

Child
Game
Double

Two people per room, price shown is per person

Triple

Three people per room, price shown is per person

Quad

Four people per room, price shown is per person

Single

One person per room, price shown is per person

Child