Since 1991, Event USA has been providing fans with a complete Road Game experience. Our Deluxe Road Game Package options include air transportation from Wisconsin, or "land only" road package choices, all including Game Tickets. Customized air from any other departure points can be arranged.
Tailor-designed by the city, we include such amenities as tailgate parties, breakfasts, side trips to popular area sites and attractions, celebrity appearances, souvenirs, area maps and information, stadium transfers and airport transfers.
All game packages include welcome/hospitality desks and professional and helpful tour staff to get settled into the rival city and answer any questions you have so you can enjoy the game. Let us do the work for you!
Road Warrior Packages
We also offer a day-of-game package for those who can provide their lodging.
Tailgate Party
Looking for a place to join other Packer fans on the road for a pre-game tailgate party? Look no further! Event USA has you covered with our road tailgate parties.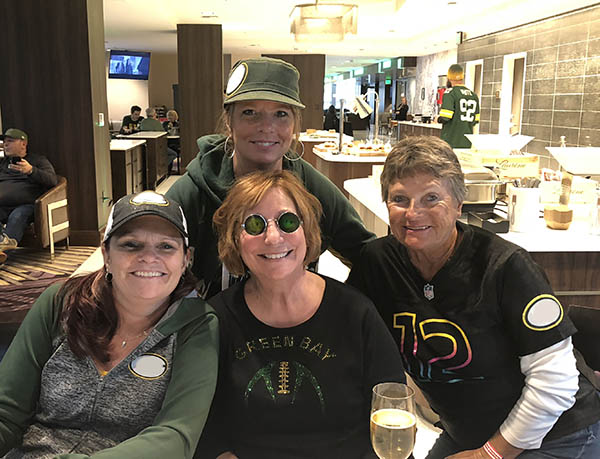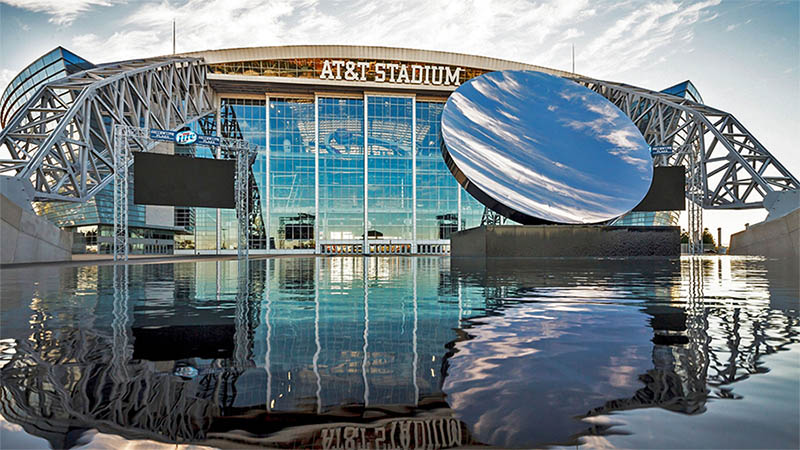 From the Ice Bowl in '67 to the most recent games, the Dallas Cowboys are among the Packers' top rivals. The last time these two faced each other in Dallas the Pack prevailed 35-31 with 11 seconds left due to a fumble by the Cowboys! Join us in seeing "Jerry's World" the beautiful AT&T Stadium and cheer on the Packers to prove who's really "America's Team!"
---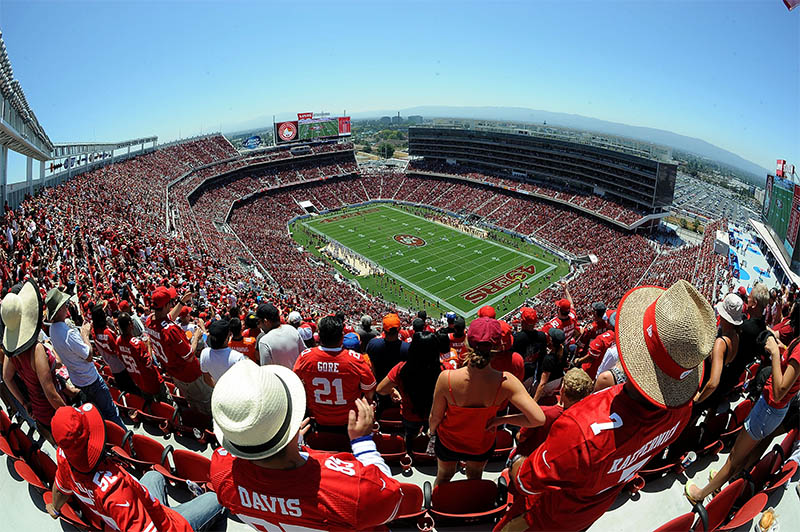 Levi's Stadium is the home of the San Francisco 49ers and was named the premier sports and entertainment venue in the world as well as the most high-tech stadium in the world. Located in Santa Clara just 40 minutes south of San Francisco.
---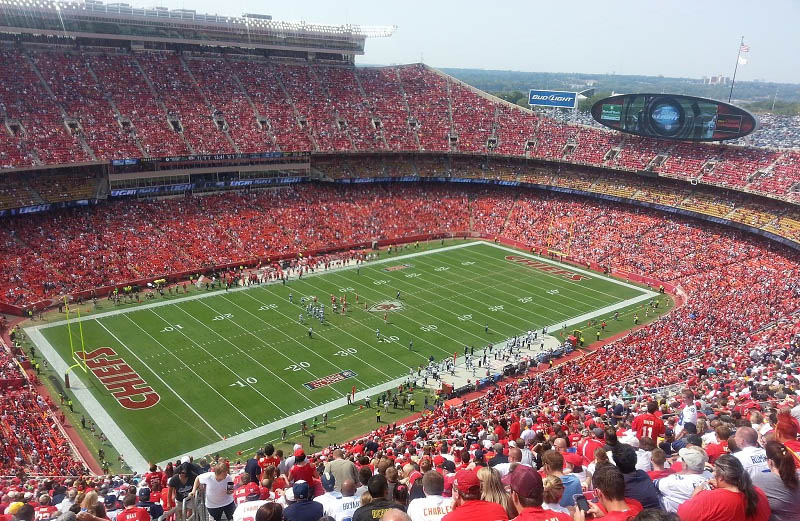 The Packers will definitely have their hands full when facing the Chiefs as they are coming off their third consecutive AFC West titles that took them all the way to the AFC Championship. If that is not enough let us not forget we will be facing the 2018 MVP Quarterback Patrick Mahomes. Here's to the showdown in the Midwest!
---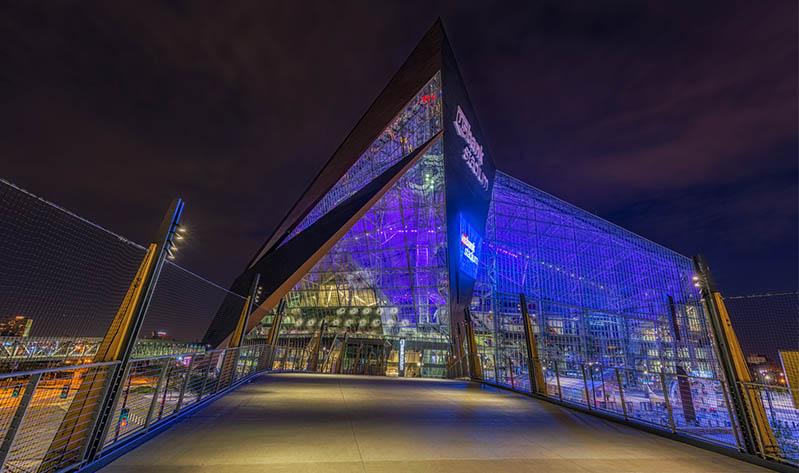 The Pack will definitely need your help in silencing the famous Viking's horn!
---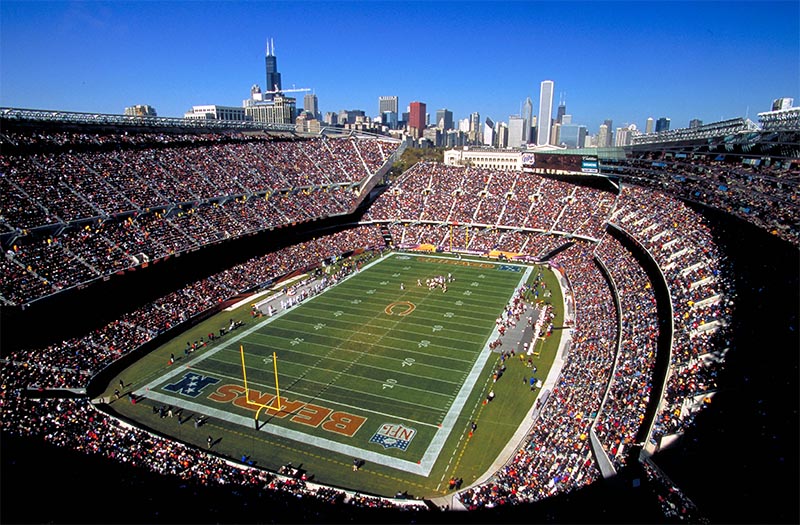 ---
DETROIT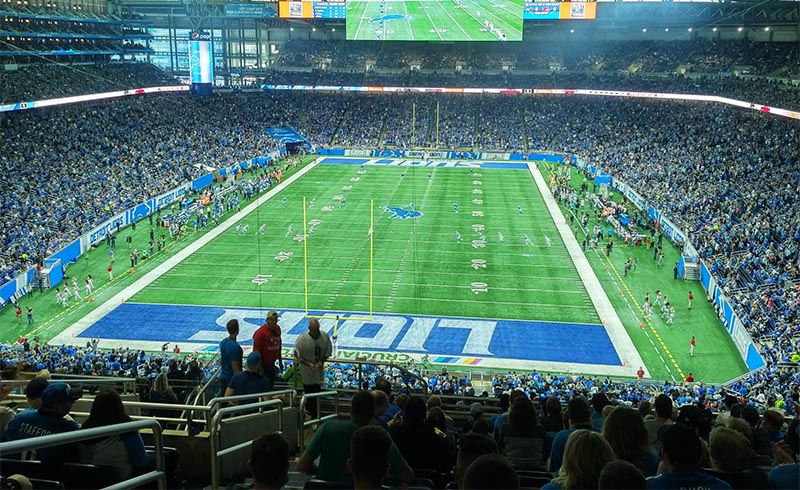 ---
LOS ANGELES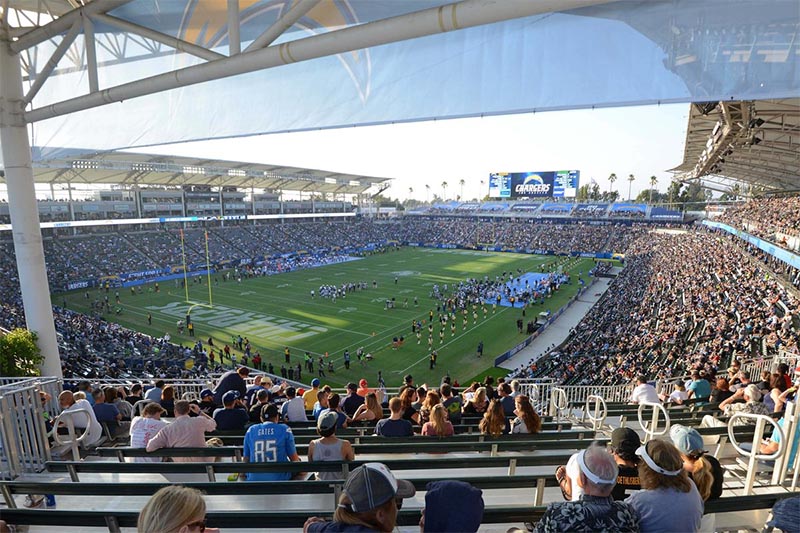 ---
New York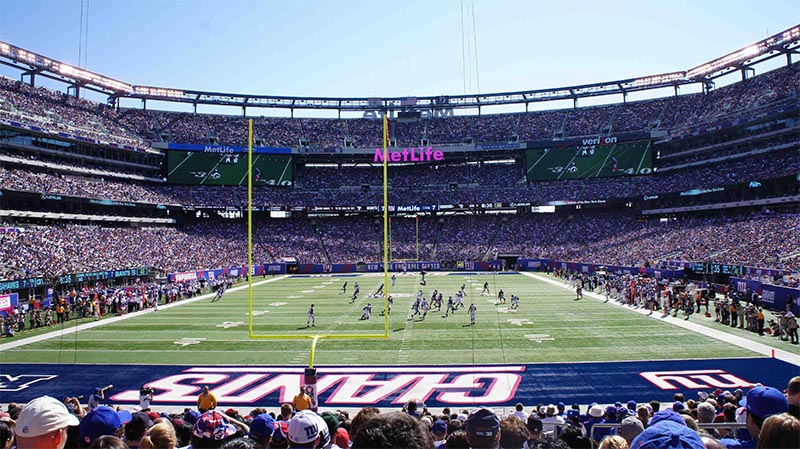 Looking to go to Detroit, Los Angeles or New York to watch the Pack in action?
Event USA can take care of all your ticket needs!
EVENT USA WE GET YOU TO THE GAME AND MORE!!!
PRICING
Game
Double

Two people per room, price shown is per person

Triple

Three people per room, price shown is per person

Quad

Four people per room, price shown is per person

Single

One person per room, price shown is per person

Child
10/09 - Las Vegas Four Night Land Package
$1995
$1795
$1695
$2795
$1095

SOLD OUT
Game
Double

Two people per room, price shown is per person

Triple

Three people per room, price shown is per person

Quad

Four people per room, price shown is per person

Single

One person per room, price shown is per person

Child
10/09 - Las Vegas Three Night Land Package
$1795
$1650
$1575
$2395
$1095

SOLD OUT
Game
Double

Two people per room, price shown is per person

Triple

Three people per room, price shown is per person

Quad

Four people per room, price shown is per person

Single

One person per room, price shown is per person

Child
10/22 - Denver Two Night Land Package
$1195
$1075
$995
$1595
$625
Buy
Game
Double

Two people per room, price shown is per person

Triple

Three people per room, price shown is per person

Quad

Four people per room, price shown is per person

Single

One person per room, price shown is per person

Child
10/22 - Denver One Night Land Package
$995
$935
$895
$1195
$625
Buy
| Game | |
| --- | --- |
| 10/09 - Las Vegas Raiders Road Warrior Package | Buy |
Game
Double

Two people per room, price shown is per person

Triple

Three people per room, price shown is per person

Quad

Four people per room, price shown is per person

Single

One person per room, price shown is per person

Child
10/09 - Las Vegas Two Night Land Package
$1295
$1245
$1195
$1595
$945

SOLD OUT
| Game | |
| --- | --- |
| 10/09 - Raiders Tailgate Party | Buy |
| Game | |
| --- | --- |
| 10/22 - Broncos Tailgate Party | Buy |
Game
Double

Two people per room, price shown is per person

Triple

Three people per room, price shown is per person

Quad

Four people per room, price shown is per person

Single

One person per room, price shown is per person

Child
10/30 - Buffalo Bills One Night Land Package
$719
$679
$659
$859
$459

SOLD OUT
Game
Double

Two people per room, price shown is per person

Triple

Three people per room, price shown is per person

Quad

Four people per room, price shown is per person

Single

One person per room, price shown is per person

Child
10/30 - Buffalo Bills Two Night Land Package
$849
$789
$749
$1109
$459

SOLD OUT
Game
Double

Two people per room, price shown is per person

Triple

Three people per room, price shown is per person

Quad

Four people per room, price shown is per person

Single

One person per room, price shown is per person

Child
10/9 - London Four Night Land Package
$Sold Out
$Sold Out
$Sold Out
$Sold Out
$

SOLD OUT

10/9 - London Six Night Land Package
$Sold Out
$Sold Out
$Sold Out
$Sold Out
$

SOLD OUT
Game
Double

Two people per room, price shown is per person

Triple

Three people per room, price shown is per person

Quad

Four people per room, price shown is per person

Single

One person per room, price shown is per person

Child
10/9 - London Four Night Land Package
$Sold Out
$Sold Out
$Sold Out
$Sold Out
$

SOLD OUT
Game
Double

Two people per room, price shown is per person

Triple

Three people per room, price shown is per person

Quad

Four people per room, price shown is per person

Single

One person per room, price shown is per person

Child
10/9 - London Six Night Land Package
$Sold Out
$Sold Out
$Sold Out
$Sold Out
$

SOLD OUT
Game
Double

Two people per room, price shown is per person

Triple

Three people per room, price shown is per person

Quad

Four people per room, price shown is per person

Single

One person per room, price shown is per person

Child
Game
Double

Two people per room, price shown is per person

Triple

Three people per room, price shown is per person

Quad

Four people per room, price shown is per person

Single

One person per room, price shown is per person

Child
10/9 - London Four Night Appleton Air Package - Thursday to Tuesday
$Sold Out
$Sold Out
$Sold Out
$Sold Out
$

SOLD OUT

10/9 - London Four Night Green Bay Air Package - Thursday to Tuesday
$Sold Out
$Sold Out
$Sold Out
$Sold Out
$N/A

SOLD OUT

10/9 - London Four Night Milwaukee Air Package - Thursday to Tuesday
$Sold Out
$Sold Out
$Sold Out
$Sold Out
$N/A

SOLD OUT

10/9 - London Four Night Chicago Air Package - Thursday to Tuesday
$Sold Out
$Sold Out
$Sold Out
$Sold Out
$N/A

SOLD OUT

10/9 - London Six Night Appleton Air Package - Monday to Monday
$Sold Out
$Sold Out
$Sold Out
$Sold Out
$

SOLD OUT

10/9 - London Six Night Green Bay Air Package - Monday to Monday
$Sold Out
$Sold Out
$Sold Out
$Sold Out
$N/A

SOLD OUT

10/9 - London Six Night Milwaukee Air Package - Monday to Monday
$Sold Out
$Sold Out
$Sold Out
$Sold Out
$N/A

SOLD OUT

10/9 - London Six Night Chicago Air Package - Monday to Monday
$Sold Out
$Sold Out
$Sold Out
$Sold Out
$N/A

SOLD OUT

10/9 - London Six Night Appleton Air Package - Wednesday to Wednesday
$Sold Out
$Sold Out
$Sold Out
$Sold Out
$

SOLD OUT

10/9 - London Six Night Green Bay Air Package - Wednesday to Wednesday
$Sold Out
$Sold Out
$Sold Out
$Sold Out
$N/A

SOLD OUT

10/9 - London Six Night Milwaukee Air Package - Wednesday to Wednesday
$Sold Out
$Sold Out
$Sold Out
$Sold Out
$N/A

SOLD OUT

10/9 - London Six Night Chicago Air Package - Wednesday to Wednesday
$Sold Out
$Sold Out
$Sold Out
$Sold Out
$N/A

SOLD OUT
Game
Double

Two people per room, price shown is per person

Triple

Three people per room, price shown is per person

Quad

Four people per room, price shown is per person

Single

One person per room, price shown is per person

Child
10/9 - London Four Night Appleton Air Package - Thursday to Tuesday
$Sold Out
$Sold Out
$Sold Out
$Sold Out
$

SOLD OUT

10/9 - London Four Night Green Bay Air Package - Thursday to Tuesday
$Sold Out
$Sold Out
$Sold Out
$Sold Out
$N/A

SOLD OUT

10/9 - London Four Night Milwaukee Air Package - Thursday to Tuesday
$Sold Out
$Sold Out
$Sold Out
$Sold Out
$N/A

SOLD OUT

10/9 - London Four Night Chicago Air Package - Thursday to Tuesday
$Sold Out
$Sold Out
$Sold Out
$Sold Out
$N/A

SOLD OUT
Game
Double

Two people per room, price shown is per person

Triple

Three people per room, price shown is per person

Quad

Four people per room, price shown is per person

Single

One person per room, price shown is per person

Child
10/9 - London Six Night Appleton Air Package - Monday to Monday
$Sold Out
$Sold Out
$Sold Out
$Sold Out
$

SOLD OUT

10/9 - London Six Night Green Bay Air Package - Monday to Monday
$Sold Out
$Sold Out
$Sold Out
$Sold Out
$N/A

SOLD OUT

10/9 - London Six Night Milwaukee Air Package - Monday to Monday
$Sold Out
$Sold Out
$Sold Out
$Sold Out
$N/A

SOLD OUT

10/9 - London Six Night Chicago Air Package - Monday to Monday
$Sold Out
$Sold Out
$Sold Out
$Sold Out
$N/A

SOLD OUT
Game
Double

Two people per room, price shown is per person

Triple

Three people per room, price shown is per person

Quad

Four people per room, price shown is per person

Single

One person per room, price shown is per person

Child
10/9 - London Six Night Appleton Air Package - Wednesday to Wednesday
$Sold Out
$Sold Out
$Sold Out
$Sold Out
$

SOLD OUT

10/9 - London Six Night Green Bay Air Package - Wednesday to Wednesday
$Sold Out
$Sold Out
$Sold Out
$Sold Out
$N/A

SOLD OUT

10/9 - London Six Night Milwaukee Air Package - Wednesday to Wednesday
$Sold Out
$Sold Out
$Sold Out
$Sold Out
$N/A

SOLD OUT

10/9 - London Six Night Chicago Air Package - Wednesday to Wednesday
$Sold Out
$Sold Out
$Sold Out
$Sold Out
$N/A

SOLD OUT
Game
Double

Two people per room, price shown is per person

Triple

Three people per room, price shown is per person

Quad

Four people per room, price shown is per person

Single

One person per room, price shown is per person

Child
09/25 - Tampa Bay Buccaneers One Night Land Package - KING Rooms ONLY
$779
$739
$709
$939
$479

SOLD OUT
Game
Double

Two people per room, price shown is per person

Triple

Three people per room, price shown is per person

Quad

Four people per room, price shown is per person

Single

One person per room, price shown is per person

Child
09/25 - Tampa Bay Buccaneers Two Night Land Package - KING Rooms ONLY
$899
$799
$749
$1199
$479

SOLD OUT
Game
Double

Two people per room, price shown is per person

Triple

Three people per room, price shown is per person

Quad

Four people per room, price shown is per person

Single

One person per room, price shown is per person

Child
10/30 - Buffalo Bills One Night Land Package
$719
$679
$659
$859
$459

SOLD OUT
Game
Double

Two people per room, price shown is per person

Triple

Three people per room, price shown is per person

Quad

Four people per room, price shown is per person

Single

One person per room, price shown is per person

Child
10/30 - Buffalo Bills Two Night Land Package
$849
$789
$749
$1109
$459

SOLD OUT
| Game | |
| --- | --- |
| 10/22 - Denver Broncos Road Warrior Package | Buy |
Game
Double

Two people per room, price shown is per person

Triple

Three people per room, price shown is per person

Quad

Four people per room, price shown is per person

Single

One person per room, price shown is per person

Child