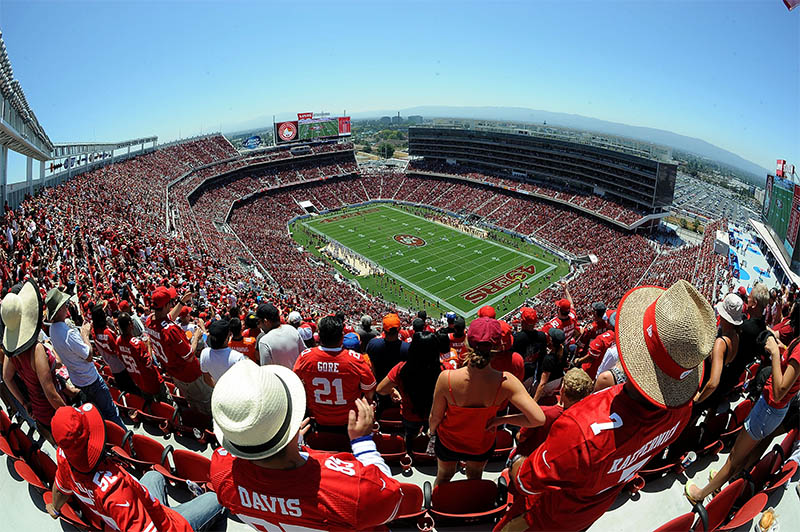 NFC Championship Game Sunday, January 19th – 5:40 PM CST

The Packers have advanced to the NFC Championship game against the 49ers on Sunday, January 19 at 5:40 PM and Event USA has all your needs covered. Hurry before they are gone!
Levi's Stadium – Santa Clara, CA
The Pack are one step away from making it back to the Super Bowl with their final stop in San Francisco to take on the 49ers in the NFC Championship Game on Sunday, January 19th at 5:40 pm CST. After a disappointing lost in November the Pack will definitely have redemption on their mind! Join Event USA in cheering on the green and gold as they battle the 49ers to win their 14th NFC Championship at Levi's Stadium. Are you ready for some football?!
Our Game Package combines all the great things about Santa Clara with the excitement of Packers football! Santa Clara is about an hour south of 'Frisco and it too is chalk full of things to do. Help support the team on the road to the Super Bowl!
Land Package
Our Land Game Package features tickets, accommodations, tailgate, and more to help you support the team on the road!
The Land Game Package includes:
Upper End Zone Electronic Game Ticket (upgrade available)
1, 2 or 3 Nights Accommodations
Event USA Tailgate Party
Event USA Souvenir
Walkable to Stadium
Complimentary WIFI
Staffed Hospitality Desk
Professional Tour Host
Hotel
Need custom airfare?
We can add on custom airfare to your land package from just about anywhere. Call (920) 722-5377 for details!
Just Tickets or game day package?
Our Road Warrior Package is a great day-of-game option. You can also purchase just tickets or tailgate only.
PRICING