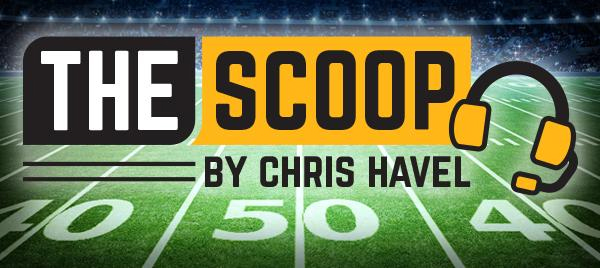 By Chris Havel
Special to Event USA
Green Bay's defense registers six sacks, harasses Denver's Flacco into mistakes
GREEN BAY, Wis. – The Packers' previous six teams that started 3-0 all reached the playoffs. Will first-year head coach Matt LaFleur's undefeated outfit become the seventh?
Oh, I suppose it's too early for all of that. Or is it?
The Packers may be building something special given their most recent display – an impressive defense-driven 27-16 victory over the Denver Broncos Sunday afternoon at Lambeau Field.
Meet Sunday's heroes, Aaron Jones and Jamaal Williams this Wednesday night at our player autograph party. On sale now only $49!
Green Bay's hat trick to open the season is rooted in a tried-and-true formula for success: Smart, mistake-free offense backed by terrific defense and reliable special teams.
It is easier said than done, but the Packers are making it happen.
While Aaron Rodgers and LaFleur are finding their way in the new offense, defensive coordinator Mike Pettine's crew is finding its way to the opposing quarterback.
The Packers registered six sacks – all by edge rushers – and forced three turnovers to make life miserable for Joe Flacco. The Broncos' veteran quarterback completed 20 of 29 passes for 213 yards and one interception for a ho-hum 75.8 passer rating.
So who's who in the Pettine Zoo this week?
Let's start with Preston Smith and his career-high three sacks.
"We don't care if the offense is leaning on us," he told reporters after the game. "We're going out there to do the best we can do. We're going to play to the level and the expectation we have for ourselves and one another, and we're going out there and being the bad-ass defense."
The last time anyone described the Packers' defense as being "bad-ass" Jaire Alexander was in junior high. That was at the height of the Clay Matthews-Charles Woodson era. Before that, Rodgers was in grade school and it was the Reggie White era.
Now, it's the Smiths and Co.
With the game tied at 10-10 late in the first half, Preston Smith barreled into the Broncos' backfield for a strip-sack of Flacco inside the 10. Rookie Rashan Gary pounced on the fumble at Denver's 5-yard line.
After Aaron Jones tried the left end for a 2-yard loss, he got the call again after the two-minute warning and burrowed his way into the end zone for a 7-yard touchdown run to make it 17-10.
The Packers' defense kept up the pressure in the second half.
On the Broncos' first possession Alexander stripped the football away from rookie tight end Noah Fant at Denver's 37.
Rodgers promptly hit fullback Danny Vitale for a 27-yard pass play to set up Jones' second touchdown, this from 1 yard out.
That put the Packers firmly in control at 24-10.
Za'Darius Smith wasn't surprised by the defensive dominance.
"Man, that's the goal we aim for every week, is to be the best we can be and to be the best defense out there in the NFL," Za'Darius Smith said. "So, yeah, we're turning into the best defense. I'm confident in these guys."
The Packers' aggressive offseason is paying dividends.
With safeties Adrian Amos and Darnell Savage backing their play, cornerbacks Kevin King and Alexander are quietly developing into the bookends Green Bay hoped. King had nine tackles and Alexander added seven with two passes defended.
Meantime, the edge rushers have been superb, Kenny Clark has dominated up front and Blake Martinez is a tackling machine.
Offensively, Rodgers is able to whistle while he works.
"I took basically one shot," Rodgers said. "I hit the ground one time. So I'm ecstatic. I've been at this for a long time. To go home with my body feeling this good is a credit to the offensive line, for sure."
It's also critical with the Eagles' game just three days away.
In fact, the Packers' entire roster managed to stay relatively fresh and injury-free on Sunday.
The Packers' new-look offensive line delivered.
With second-round draft pick Elgton Jenkins starting in place of Lane Taylor, who went on IR Friday, the line played well. Jenkins handled his business at left guard while everyone else handled Von Miller and Bradley Chubb.
The Broncos' pass-rush duo didn't register a sack.
Rodgers' uniform never looked cleaner. In fact, Tide laundry detergent may want to consider a marketing campaign.
Rodgers said he took one shot. I had him for two shots – the one hit he absorbed and the 40-yard pass completion to Marques Valdez-Scantling for an opening-drive touchdown.
Rodgers' bomb to MVS capped a five-play, 75-yard drive that put the Broncos' defense back on its cleats.
Rodgers finished 17 of 29 for 235 yards, one touchdown and no interceptions for a 96.2 passer rating.
Green Bay converted just two of nine third down attempts, and ran just 52 plays over 24 minutes of possession. However, the Packers were 2-for-2 in the red zone and managed enough of a running game to be balanced. Jamaal Williams was 12 for 59 while Jones was only 10 for 19 but rushed for two touchdowns.
For his part, Rodgers knows the offense needs to be better.
"I want to play better, I want to score more points," he said, adding, "The potential (on offense) has to start getting closer to the actual performance."
That's the goal Thursday night when the Packers (3-0) host the Eagles (1-2) at Lambeau Field.
Philadelphia is beaten up and coming off a 27-24 loss to Detroit at home Sunday. The Lions' Matthew Stafford gashed the Eagles' defense while not being sacked once.
Rodgers is looking to do exactly that come Thursday, and he's feeling frisky enough to make it happen.
Hey, it's never too early to look ahead, whether it's a game in three days or the post-season in three months.