Please note that we are not offering our Players Autograph Reception at this time due to uncertainty as to what government or NFL rules may be with regard to social distancing and NFL players. Typically this reception is included in our Gold Package; however it will not be included but can be added on at a later date, if it becomes available. Please check back on availablilty for this mid-summer 2022.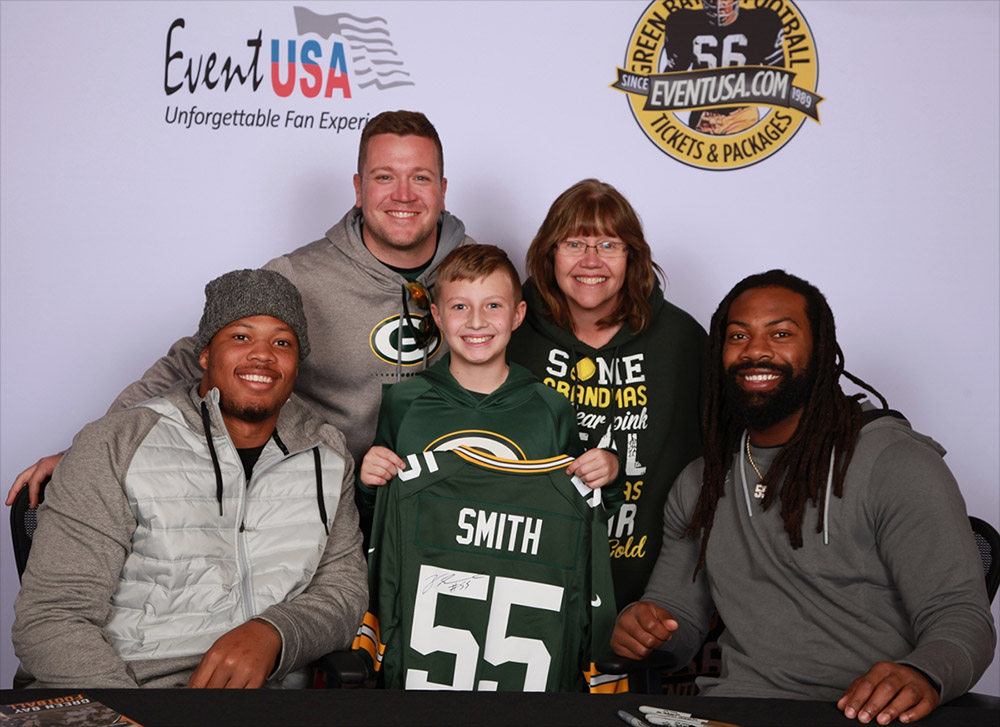 Meet Current Packers Players
Enjoy an evening with Packers Players and Fans at the beautiful Tundra Lodge. Meet and chat with current players, get their autographs and a professional photo taken with them. We offer all you can eat, delicious hors' d' oeuvres and 2 FREE cocktails! Sports expert and radio personality Chris Havel also digs into the hot topics with the players with an exclusive question & answer session.
---
Features:
2 Players will be present either current or former players/Celebrity guests
Autograph & Picture Session – Event USA will provide you with a photo of the players for signing. If you prefer to bring your own item to sign, please feel free to do so.
Hors' d' oeuvres & Cocktails
Q & A/Interview Session
Reception Details:
When: Night prior to the game @ 5:00 pm (Regular Season ONLY not offered for Pre or Postseason games)
Where: Tundra Lodge in Green Bay
Who: Current/former players
Question & Answer Session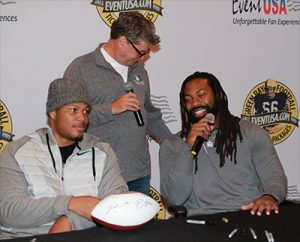 *Included with our Gold Package and takes place right at the Gold Package hotel, now also available by itself or as an add-on to any package!*
*Typically this is included in our Gold Package, however it is not available for the 2021 season.
---
Includes all of the features above, plus drink coupons and an item the players can sign. Child pass is for kids 12 and under and must have one adult companion.
Buy the Player Autograph Reception with a Package & Save!
Add the Autograph Party when you order our:
2019 Guests (Not available for the 2021 season due to NFL player restrictions.)

09/15 – Vikings
09/22 – Broncos
09/26 – Eagles
10/14 – Lions
10/20 – Raiders
11/10 – Panthers
12/08 – Redskins
12/15 – Bears
Players listed are tentatively scheduled to appear. Schedule conflicts, injury complications, personal reasons, or other circumstances may require the substitution of a different guest and we reserve the right to do so at any time without notice. Please note we guarantee appearances by 2 players, either current or alumni players, and/or other celebrities, at each party. While we list for some dates more than 2, in the event one of the guests cannot appear, we guarantee at least 2 appearances will be made at each date by other players or celebrities.
Looking for our reception photos?
You'll find current reception photos here:
Previous Celebrity Guests & Alumnus
We've had numerous players, coaches, and celebrity guests that have attended our receptions over the years, including (but not limited to):
Aaron Jones
Ahman Green
A.J. Hawk
Allen Lazard
Andrew Brandt
Antonio Chatman
Antonio Freeman
Atari Bibgy
Bart Starr
Bernado Harris
Bob Harlan (Chairman Emeritus)
Brady Poppinga
Blake Martinez
Brandon Chillar
Bryan Bulaga
Chad Clifton
Chris Jacke
Colin Cole
Craig Nall
Darnell Savage
Darren Sharper
Daryn Colledge
Dean Lowry
Donald Driver
Doug Pederson
Gilbert Brown
Randall Cobb
Jamaal Williams
James Starks
John Kuhn
Josh Jackson
Alex Green
Derek Sherrod
Sam Shields
Matt Flynn
Joe Philbin (Coach)
Grady Jackson
Greg Jennings
James Jones
Jarrett Bush
Jake Ryan
Jeff Jagodzinksi (Coach)
Jeremy White (Reggie's son)
Jermichael Finley
Johnnie Gray
Jordy Nelson
Janius Coston
Kenny Clark
Kyler Fackrell
LeRoy Butler
Lionel Washington (Coach)
Lynn Dickey
Mark Murphy (Packers President)
Mark Roman
Mark Tauscher
Mason Crosby
Morgan Burnett
Najeh Davenport
Nick Collins
Nick Perry
Preston Smith
Ray Nitschke
Rashan Gary
Robert Ferguson
Ruvell Martin
Ryan Pickett
Samkon Gado
Scott Wells
Steve Mariucci
Tramon Williams
Tony Fisher
William Henderson
Vonta Leach
Za'Darius Smith