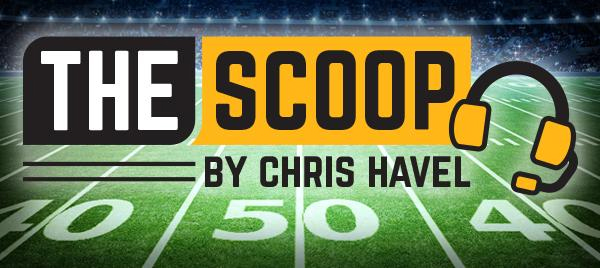 By Chris Havel
Special to Event USA
Green Bay's red-zone defense, big plays overcome turnover-plagued performance
GREEN BAY, Wis. – While Aaron Rodgers lobbied for Allen Lazard to get into the game in the fourth quarter, the Lions' defenders pleaded with the officials to do likewise.
Rodgers got his wish. The Lions got what they deserved.
Lazard caught four passes for 65 yards – all in the fourth quarter – including a 35-yard touchdown grab to make it a two-point game with 9:03 to play. After Green Bay's defense got a stop, the Packers drove 77 yards to Detroit's doorstep, where Mason Crosby nailed a 23-yard field goal at the gun to give Green Bay a 23-22 victory Monday night at Lambeau Field.
More football at Lambeau this weekend plus meet Blake Martinez and Aaron Jones this Saturday night!
It was Green Bay's only lead of the game.
Afterward, Aaron Rodgers shook his head in disbelief.
"It didn't feel like a win until right at the end," he said, not that he was complaining.
The Packers (5-1) sit alone atop the NFC North despite trailing 13-0 early and 22-13 late. They won despite committing three turnovers to none for Detroit.
They won despite being without star receiver Davante Adams (turf toe) for a second straight game, and not having Geronimo Allison (concussion, chest) for much of Monday night's game.
Afterward, the Lions blamed the officials. They would be better served to look in the mirror. They had plenty of chances to take control of the game, but Green Bay's defense wouldn't allow it.
The Lions rushed for just 56 yards on 20 attempts. Kerryon Johnson's long run of the game was a measly 8 yards. Matthew Stafford threw for 146 yards in the first quarter, but only 119 the rest of the way.
Green Bay's defense held Detroit to 3-of-13 on third down attempts, and 1-of-3 in the red zone. The Lions mustered just 13 first downs for the game.
To the Lions' credit they came out in attack mode.
With Packers safety Darnell Savage Jr. sidelined with a high ankle sprain, Detroit opened with a flea-flicker to Kenny Golladay for 66 yards to set up an opening drive field goal. On its second possession, Stafford went deep to Marvin Hall on the first play for 58 yards. It set up Johnson's 1-yard touchdown run to make it 10-0.
The Lions stretched it to 13-0 on another of Matt Prater's five field goals. Lambeau Field was dead silent.
No matter.
The Packers' defense adjusted after its awful start and fairly outplayed the Lions the rest of the way. They sacked Stafford three times and repeatedly turned touchdowns into field goals.
The Packers didn't win because of sub-standard officiating. They won because they had 22 first downs to Detroit's 13. They won because they outgained them, 447-299, and outrushed them, 170-56.
The Packers had six penalties for 48 yards; the Lions had eight penalties for 50.
The Packers' three turnovers, coupled with the Lions' fast start, made it close. The better team won.
In part, it's because Green Bay's offensive depth – which was put to the test – ultimately aced the exam.
While Aaron Jones had a forgettable night, Jamaal Williams stepped up to rush for 104 yards on 11 carries. He also caught four passes for 32 yards and a touchdown.
On the final drive, Williams' heads-up play kept the Lions from getting the football back and effectively ended the game. With first-and-10 at the Detroit 11 and 1:36 to play, Williams rushed for 8 yards before wisely sitting down at the 3-yard line.
The Lions were forced to use their final timeout. Rodgers took a knee twice and Crosby hit the game-winning field goal.
At receiver, Marquez Valdes-Scantling caught two passes for 48 yards while being draped by Darius Slay most of the night. Darrius Shepherd got his first real chance to play on offense and struggled mightily. His fumbled punt led to one Detroit field goal. His dropped pass at the goal line was intercepted by Justin Coleman, whose 55-yard return set up another Detroit field goal.
Look for the Packers to acquire a veteran receiver this week. My best guess would be Denver's Emanuel Sanders.
Also look for Lazard to get increased playing time, especially if Rodgers has anything to say about it. And he does.
Rodgers completed 24 of 39 passes for 283 yards and two touchdowns. He was sacked just once, but despite having ample time couldn't find any open receivers.
Enter Lazard.
"I actually sit next to him in the team meetings," Rodgers told reporters. "We've struck up a pretty good friendship. The thing that got me was, which you love as a quarterback, and that's when your receiver's coming back and telling you he wants the ball and what route he wants to run … that was him coming back in the huddle, telling me what play he wanted, and for a young guy to do that, how can you not have confidence in that?"
Crosby got the game ball from Packers head coach Matt LaFleur, but Jamaal Williams and Lazard also came up big.
"That was fun, yeah," Crosby, 35, said of his first Lambeau Leap after hitting the game-winner.
Now, the Packers must prepare for the Raiders on a short week.
They also have to decide whether to acquire a receiver while Adams continues to mend.