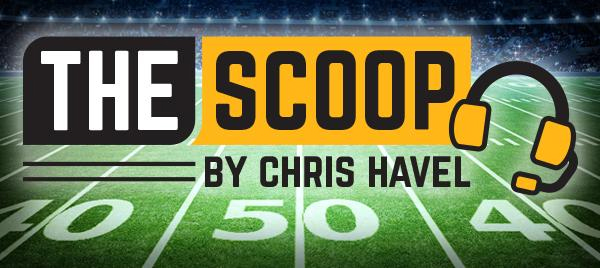 By Chris Havel
Special to Event USA
Aaron Jones' three touchdowns pace Green Bay's win at snowy Lambeau
GREEN BAY, Wis. – Preston Smith made big plays all day.
Then, he made his biggest play on the final play: A goal-line stop of Carolina's Christian McCaffrey just inches shy of what would've been the tying touchdown with a 2-point conversion.
After an agonizingly lengthy official review, referee Shawn Hochuli announced: "The ruling on the field stands!"
Hit the Road to San Francisco with Event USA - Only a few spots left!
With that the crowd erupted and the Packers prevailed in a thrilling 24-16 victory over the pesky Panthers Sunday afternoon at snow-covered Lambeau Field.
Preston Smith registered two sacks, six tackles and four quarterback hits on the way to his 10th sack. Za'Darius Smith, his bookend bro, added a tackle and three QB hits.
The Packers matched a season-high with 17 QB pressures. Not surprisingly, Preston and Za'Darius led the charge.
The Smiths agreed that whoever reached 10 sacks first would buy their defensive mates a gift. Za'Darius planned neck chains with players' numbers as the pendant for the outside linebackers.
Preston is going all in: Rolex watches for the ENTIRE defense.
He might want to give an extra Rolex to running back Aaron Jones, whose three touchdown runs helped carry the day.
"I'm just glad I could help my team get the win," Jones said. "It all starts up front with those guys getting the push up front and the rest of the blocking unit."
Jones has 14 touchdowns to tie McCaffrey for the NFL lead.
Aaron Rodgers believes Jones should be in the conversation for MVP – not of the Packers, but of the entire league.
"We all know that Christian is a very talented player, and he's been mentioned in the MVP race," Rodgers said. "So maybe it's time to start talking about Aaron Jones."
Jones rushed 13 times for 93 yards and scores of 5 yards to tie it at 7, 1 yard to give Green Bay a 14-10 lead, and a 13-yarder on the Packers' opening drive of the second half to make it 21-10.
Jamaal Williams added 13 carries for 63 yards.
After a humiliating loss to the Chargers last week, the Packers' offensive line bowed its back and got after it. Rodgers was hit or pressured on a season-low four drop-backs. Jones averaged 4.3 yards before contact as the offensive line punished Carolina.
The Packers (8-2) outrushed the Panthers (5-4) and McCaffrey 163 yards to 120 yards.
Green Bay also played turnover-free football, while Carolina's two turnovers proved to be killers.
Kyle Allen hit 28 of 43 passes for 307 yards and a touchdown, but mistakes overshadowed an otherwise strong performance.
Allen fumbled at Green Bay's 46 early in the second quarter. Rodgers then capitalized by hitting Davante Adams for 37 yards on what was an incredible catch. That set up Jones' 1-yard run.
Allen's other turnover was a red-zone interception in the second half when. Tramon Williams picked off a pass intended for Jarius Wright in the end zone. It was the Packers' NFL leading fourth red-zone interception of the season.
Again, Rodgers responded by driving the team within field goal range. A Panthers' penalty gave Mason Crosby a second chance after he missed from 52 yards, and his 47-yarder made it 24-10.
Packers coach Matt LaFleur was criticized for choosing to go for a touchdown at Carolina's 1-yard line on the final play of the first half. A field goal would have made it 17-10 Green Bay, with the Packers getting the ball to start the second half.
Instead, after too much deliberation, LaFleur went for it. Rodgers handed it to Williams who was immediately stuffed by Gerald McCoy on the final play of the first half.
"It was a gut feeling," LaFleur said. "I thought we were getting some pretty good push up front all game long, especially up to that point. I thought we could cram it up there for a yard and it didn't work. There was a lot of penetration on that play in the backfield. We didn't even give ourselves a chance."
The Packers' mistake wasn't choosing to go for the touchdown, or any perceived lack of execution. The mistake was letting the clock slip away for no good reason. Facing third-and-1 at the Carolina 17 with 1:10 to play in the half, Williams gained 2 yards to pick up the first down.
LaFleur allowed 31 seconds to click off before the next play.
The notion that Allen would drive the Panthers into scoring position with less than a minute was foolish.
Better clock management would've made the decision easier.
At any rate, the Packers' defense managed to cover LaFleur's backside and its own with the terrific late stand.
"We still had an opportunity to get in," McCaffrey said. "And at the end of the day, no matter who gets it, you've got to make that one yard."
The game's final minutes were excruciating for Packers' fans.
Trailing 24-16, Carolina drove 88 yards in 18 plays to set up the game's final play. Before that the Panthers had numerous chances to score a touchdown and try a tying 2-pointer.
Here's the Panthers' late-drive chronology:
** Third-and-4 at Green Bay's 7 with 19 seconds to play – Za'Darius Smith lines up in the neutral zone. The penalty is half the distance to the goal.
** Third-and-1 at Green Bay's 4 with 18 seconds – Allen throws an incomplete pass.
** Fourth-and-1 at Green Bay's 4 with 13 seconds – Preston Smith jumps offside. The penalty is half the distance to the goal.
** First-and-goal at Green Bay's 2 with eight seconds – Allen throws an incomplete pass.
** Second-and-goal at Green Bay's 2 with three seconds – Allen hands off to McCaffrey who gets stopped by Preston Smith just inches short of the goal line. Game over.
Between Za'Darius Smith's neutral zone infraction, and Preston Smith's offside penalty, I thought: Do the Smiths have to do EVERYTHING in tandem?
Naturally Preston and Za'Darius wouldn't have it any other way.
Neither would the Packers.