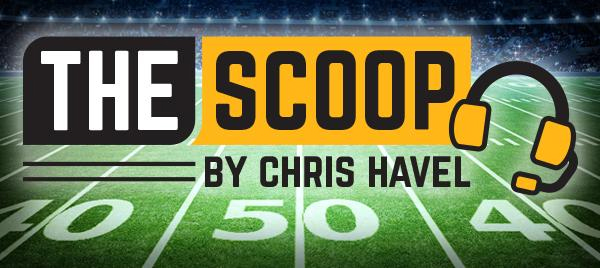 By Chris Havel
Special to Event USA
Green Bay's impressive win-loss record, returning talent reasons for optimism
GREEN BAY, Wis. – Za'Darius Smith is a natural born leader.
His stabilizing presence was pervasive throughout the Packers' locker room all season. He and fellow outside linebacker Preston Smith ran the show by being terrific players and consummate pros.
It was much the same in the NFC locker room Sunday at the Pro Bowl.
The news of NBA legend Kobe Bryant's death earlier that day hit the NFL's greatest players like a tsunami. Some were reduced to tears just minutes before playing in the AFC-NFC Pro Bowl in Orlando, Fla.
Congrats to the Pack! Can't wait for the 2020 season!
Za'Darius Smith stepped up.
He suggested players honor Kobe's memory by mimicking his trademark fade-away jump shot following a big play. And so they did.
The "Kobe J" was just one of the NFL players' tributes.
It's not surprising that Smith led the way. Then he went out and recorded two sacks, a quarterback hit and a pass defended. He plays every bit as well as he talks, and he's one heck of an orator.
The Packers' 13-3 record is reflective of many things.
Great leadership may be at the top of the list.
It came from the Smiths as well as Kenny Clark, Blake Martinez and Adrian Amos. They formed the backbone of a Green Bay defense that clearly grew a spine this season.
Offensively, Aaron Rodgers' willingness to buy into what first-year head coach Matt LaFleur had to sell was critical to the Packers' success.
So was Davante Adams' talent and steadying influence on offense.
That continued Sunday as Adams caught six passes for 61 yards and two touchdowns against the AFC's best. He even completed a pass for 34 yards. Following his third-quarter touchdown catch he looked skyward and flashed Bryant's No. 24 with his fingers in tribute.
Again, it's Adams being a true pro and a class act.
There is tremendous reason for optimism going into the 2020 offseason. Here are the top three reasons:
** No. 1 – GM Brian Gutekunst and LaFleur are just getting started. In a single season they made the Packers relevant again. They retooled the defense by acquiring talent in free agency and the draft. They installed LaFleur's new scheme as best they could with inexperienced receivers. They kept the roster healthy, and when they needed help they acquired tackle Jared Veldheer and return man Tyler Ervin in a heartbeat.
Most of all, they won 14 of 18 and are poised to make a Super Bowl run.
"We didn't end the season the way we wanted to end the season, but I'm really excited about the foundation we laid last year, some of the strides we made," Gutekunst said. "I have a lot of optimism going forward. We have a lot of work to do. (I'm) excited to get there. We've got a lot of decisions to make coming up."
So far, Gutekunst has been right a lot more often than he's been wrong.
** No. 2 – Rodgers, Adams and Aaron Jones provide impact skill players at the most critical positions. The offensive line is solid, and while right tackle Bryan Bulaga's future here may be in doubt, it is clear Gutekunst and LaFleur will have it covered one way or another.
My hope is that Bulaga re-signs here.
In addition, the GM and coach are talking about adding more offensive talent – especially at receiver – while admitting they need help.
** No. 3 – No one at 1265 Lombardi Avenue seems satisfied. They were proud of 13-3 – and rightfully so – but they want more. The beauty is that the object of their desire is attainable.
They've got the coach, the quarterback and the defense. They've also got a GM who has another offseason to refurbish the roster.
Both Gutekunst and LaFleur held their post-season news conferences last week. What they offered was realistic expectations with a plan.
They admit there will be difficult decisions ahead.
"I've got a lot of Ted Thompson in me," Gutekunst said. "I'd like to keep them all. I wish our roster size could be a lot bigger than what it is. Unfortunately, it doesn't work that way."
Rest assured Gutekunst will actively explore all avenues to improve.
I was disappointed the Packers didn't acquire Broncos veteran receiver Emmanuel Sanders before the trade deadline. The 49ers pulled the trigger in October by sending their third- and fourth-round draft picks to Denver in return for Sanders and the Broncos' fifth-round pick in 2020.
Gutekunst wasn't speaking specifically about Sanders, but when asked if he considered adding offensive weaponry at the trade deadline, he said, "The opportunities weren't or of sound value."
Fair enough.
Clearly, Gutekunst has plans for the Packers' third- and fourth-round picks this spring.
What is comforting to Packers fans is the knowledge that at least the team's front office is considering every possibility to get better. They didn't trade for Sanders, but they seriously considered it as an option.
Extending Clark's contract tops the Packers' offseason priority list.
The Pro Bowl defensive tackle is due to hit the jackpot.
"Kenny is a big part of what we do … very important to our defense," Gutekunst said. "I'm optimistic that we'll be able to come to some agreement at some point. These things don't happen quickly, usually."
Martinez is set to hit the open market, while tight end Jimmy Graham has one year at $8 million remaining on his contract.
I suspect the Packers either move on from Graham altogether, or ask him to return at a reduced cost. It's likely the same for Marcedes Lewis, another veteran tight end whose leadership is coveted.
Reports suggest Martinez could sign for as much as $15 million a year. The Packers had a hole in the heart of their defense with Martinez. My guess is Martinez walks and Green Bay doubles down at the position.
Look for them to sign a free agent and add a draft pick of consequence at inside linebacker. If anyone doubts the need for speed on defense all they have to do is turn on the tape of the NFC championship game.
"Obviously Blake's contract is up," Gutekunst said. "We're going to have to take a long look at inside linebacker and make sure we're squared away there."
The Packers' GM added a free agent and a high draft pick to fill their greatest positions of need: Pass rush and safety. It's likely they'll do the same at inside linebacker and receiver.
Re-signing kicker Mason Crosby and defensive back Tramon Williams seems to make sense. Do the Packers actually want to risk dealing with anything similar to the Bears after they let Robbie Gould walk?
Most of all, Gutekunst was pleased with how the team came together. There's no question the presence of players such as Za'Darius and Preston Smith made that happen.
"The thing that by far exceeded my expectations was how this group came together and worked together as a team," Gutekunst said. "They put their individual stuff aside and put team above all else.
"That doesn't always happen in the National Football League. This group and this group of leaders that were in that locker room decided that's the way it was going to be."