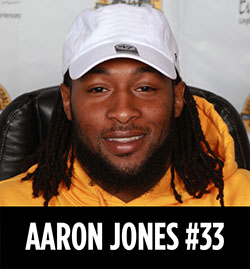 Aaron LaRae Jones (born December 2, 1994) is a running back for the Green Bay Packers.  He played college football at the University of Texas at El Paso from 2013–2016.
In his collegiate freshman debut, against New Mexico, he had 11 carries for 127 yards and two rushing touchdowns and later, against Rice, he had a season-high 186 rushing yards.
As a sophomore, he started out strong, including in the season opener, when he had 237 rushing yards and three rushing touchdowns.  Overall, in the 2014 season, he finished with 1,321 rushing yards (then fourth in school history), 11 rushing touchdowns, 30 receptions, 293 receiving yards, and 3 receiving touchdowns.
As a junior, Aaron played in only two games, his season cut short by an ankle injury.  But, as a senior, he bounced back with a huge season, playing in all 12 games. In his first game back from the ankle injury, he had 249 rushing yards and two rushing touchdowns in a win over New Mexico State.  In other games that year he racked up big rushing totals, including performances of 228 yards, 229 yards, and 301 yards. Overall, he finished his final collegiate season with 1,773 rushing yards, 17 rushing touchdowns, 28 receptions, 233 receiving yards, three receiving touchdowns, and one passing touchdown. Jones was one of the most prolific players in UTEP Miner's history, establishing numerous individual records that still stand.
After being drafted by the Packers in 2017, he saw his first significant action in week four against the Chicago Bears where he had 13 carries for 49 yards and his first career NFL rushing touchdown. The next week he tallied 19 carries for 125 yards against the Dallas Cowboys.  Later that season, he racked up 131 rushing yards against the New Orleans Saints.
During the 2018 NFL season, Aaron continued to develop into a dominant running back for the Packers including finishing the year with the highest average yards per attempt in the entire league.  Injuries cut his season short but he still finished the 2018 season with 728 rushing yards, 8 rushing touchdowns, 26 receptions, 206 receiving yards, and one receiving touchdown.
Back for the 2019 season, healthy and in the best playing shape of his career, Aaron looks forward to the Packers new emphasis on the rushing attack and playing a huge part in the offensive scheme.