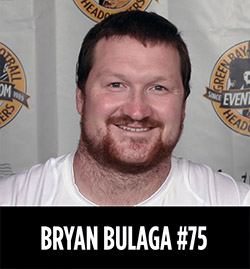 Bryan Joseph Bulaga (born March 21, 1989) is an Offensive Tackle for the Packers. He played college football at Iowa. Bulaga was drafted by the Packers in the first round of the 2010 NFL Draft. He was on the winning Super Bowl team his rookie year, becoming the youngest player in history to start a Super Bowl.
Bulaga grew up in Crystal Lake, Illinois, playing Offensive Tackle and Tight End, and occasionally Defensive End and Linebacker in high school. He recorded 261 career tackles with 46 tackles for losses, 31 sacks, and one interception, while as a tight end, he had 35 pass receptions for a total of 665 yards, and scored 10 touchdowns in his High School career.
Coming out of High School, Bulaga was considered a four-star college recruit by the service and he ranked sixth among the college prospects for offensive tackle.
At Iowa, Bulaga played Left Guard in his true freshman year in 2007, and was a starter by mid-season. He was named to Sporting News' Freshman All-Big Ten team. In 2008, he made the move to Left Tackle, and he started every game at that position for the Hawkeyes. He earned a second team All-Big Ten selection by the coaches and a second team Sophomore All-American selection by College Football News.
In 2009, Bulaga was listed at number three on Rivals.com's preseason Offensive Tackle power ranking. He was also named to the 2009 Outland Trophy watch list. After missing three games due to illness, Bulaga started all of the remaining games for the Hawkeyes, including in their win in the Orange Bowl. He was named the Big Ten's offensive lineman of the year for 2009.
Drafted by the Packers after his Junior year, he began the 2010 season as a back-up offensive lineman before getting his first start in the fifth week against the Redskins. He went on to start every game for the rest of the season, eventually being named to the NFL All-Rookie team. At 21 years, 322 days, Bulaga became the youngest player to start in a Super Bowl that season, as he and the Packers defeated the Steelers by a score of 31–25.
Since then, Bryan has had a dominant career on the offensive line, consistently grading out amongst the best at his position.
In 2014, Bulaga had one of his finest seasons. Despite suffering an injury in week 1, he started and played in 15 of 16 games and was instrumental in the offensive line giving up its fewest sacks (30) since the 2007 season and helped propel Eddie Lacy toward his second consecutive 1,000-yard rushing season.
For the 2019 season, Bryan is expected to resume his starting role and to continue his illustrious career as one of the finest offensive linemen in Packers' history.
See Career Stats