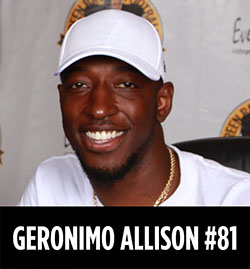 Geronimo John Allison (born January 18, 1994) is a wide receiver for the Green Bay Packers. After a standout college career at Illinois, he was signed by the Packers as an undrafted free agent in 2016.
On October 24, 2016, he was promoted from the practice squad to the active roster. He made his NFL debut against the Atlanta Falcons in Week 8. His first career NFL reception came as a four-yard touchdown from Aaron Rodgers in the second quarter.  Used sparingly however on a roster with loads of receiver talent, he ended the season with 12 receptions, but showed great potential as confidence and communication between him and his quarterback grew.
In 2017, his career began to blossom. In week 3, he had career bests of 6 receptions and 122 yards against Cincinnati, and finished fourth among Packers receivers in catches on the season.
Geronimo was re-signed by the Packers before the 2018 season and started the season off with flourish, with 19 receptions for 289 yards and two touchdowns before suffering a season-ending concussion in Week 4.
For 2019, he is back and healthy.  Geronimo is expected to contend for a starting role and to be integral part in the Packers new offensive scheme.
See Career Stats