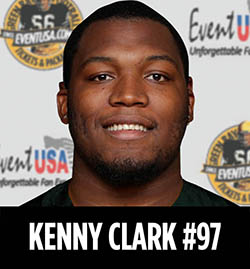 Kenny Clark (Kenneth Duane Clark Jr.) is a nose tackle for the Green Bay Packers.  Born October 4, 1995, he is only 23 years old as the 2019 NFL season begins and yet is considered one of the rising-star defensive linemen in the NFL and a critical player for the Packers.
Kenny played high school football in Rialto California where, as a senior, he registered 71 tackles and 11 sacks. He was rated as a four-star recruit and accepted a scholarship at UCLA.
After three stand-out seasons playing on the defensive line at UCLA, Kenny decided to declare for the NFL draft and was selected, at age 20, in the first round (27th overall) by the Packers in the 2016.
He began his NFL rookie season as a starting defensive tackle alongside veteran Mike Daniels. He was also named a backup and rotational defensive end in the Packers' 3–4 defense.  On September 25, 2016, he made his first career start against the Detroit Lions and racked up a total of four tackles in the Packer's win. In Week 14, Clark made four combined tackles during a 38–10 victory against the Seattle Seahawks. As a rookie in 2016, Clark finished with 21 tackles and two passes defended in 16 games.
Kenny continued to strengthen his role within the Packers defense in 2017.
In Week 13, Clark recorded 1.5 sacks, his first of his NFL career and 6 combined tackles in a 26–20 OT win over the Tampa Bay Buccaneers. He finished the season with 4.5 sacks and 55 tackles.
Clark had a breakout season in 2018, recording 55 tackles, three passes defensed, and six sacks, and was named a Pro Bowl alternate.  On April 22, 2019, the Packers picked up the fifth-year option on Clark's contract, assuring his services on the team through the 2020 season.
In a July 2019 article, Forbes declared that Kenny Clark is the most important player on the Packers defense, the key piece for them having defensive success that season. They also declared him as the third most important player overall on the team:
Read More
Clark is a fan favorite, and an avid supporter of community services and children's causes. Event USA is very pleased to welcome Kenny back to our fan receptions in 2019 and Kenny says he's looking forward to meeting with fans there and answering your questions about the team and his role.
More information on Kenny:
See Career Stats