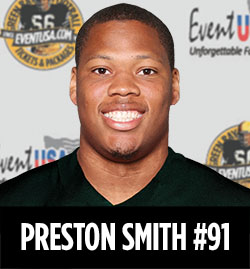 Preston Demarquis Smith born November 17, 1992 is an outside linebacker for the Green Bay Packers. He played college football at Mississippi State University, and was drafted by the Washington Redskins in the second round of the 2015 NFL Draft.
During his rookie NFL season, in the Week 16 game against the Philadelphia Eagles, Smith was voted Pepsi NFL Rookie of the Week after his career high of three sacks in the game. Smith finished the season with eight sacks, which led all rookies for the 2015 season, as well as posting a safety against in the Wildcard playoff loss against the Green Bay Packers.
In March 2016, Smith was voted as one of the best under-25 players in the NFL. Smith became the starting right outside linebacker at the start of the 2016 season. In a game against the Minnesota Vikings in November 2016, Smith had two sacks, along with his first career interception, helping the Redskins to a 26–20 win.
Carrying on his successful career in the 2017 season, Smith had a strong performance in the win against the Arizona Cardinals recording a sack, his second career interception, and a fumble recovery. In the last game of that season, Smith recorded his third career interception on New York Giants quarterback Eli Manning. By the end of the 2017, he had tied his season-high of eight sacks.
In 2018, Smith recovered a fumble in the end zone helping to seal the Week 7 win against the Dallas Cowboys and recording his first career touchdown. Smith recorded his fourth career interception against Houston Texans quarterback Deshaun Watson in Week 11. Overall, Smith continued to excel in that, his fourth season campaign as an NFL player, and he became a free agent at the end of the season.
On March 14, 2019, Smith signed with the Green Bay Packers on a four-year contract. In Smith's debut as a Packer in Week 1 against the Chicago Bears, he made 5 tackles and sacked Mitchell Trubisky 1.5 times in the 10–3 win. In Week 3 against the Denver Broncos, Smith sacked Joe Flacco 3 times and forced a fumble that was recovered by the Packers in the 27-16 win, earning him NFC Defensive Player of the Week honors. In week 6 against the Detroit Lions, Smith sacked Matthew Stafford 1.5 times in the 23-22 win.
As the 2000 season progressed, teaming with fellow free-agent sIgnee, Za'Darius Smith, Preston and Za'Darius formed a formidable tandem in rushing the quarterback, achieving sacks at a record pace. With Preston on the team, the Packers defense improved dramatically in 2019 and they look forward to continued successful defensive campaigns with Preston manning his position.