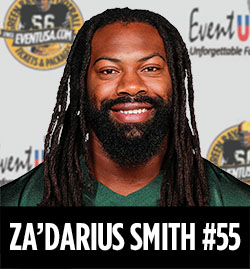 Za'Darius Smith played college football for two years at East Mississippi Community College before transferring to the University of Kentucky. In his two years at East Mississippi, he recorded 66 tackles and 11 sacks. In his first year at Kentucky, Smith started all 12 games and recorded 59 tackles and six sacks, which ranked seventh in the SEC. As a senior in 2014, Smith had 60 tackles and 4.5 sacks.
Smith was drafted by the Baltimore Ravens in the fourth round of the 2015 NFL Draft. As a rookie in 2015, Smith played 15 games with 30 tackles, 5.5 sacks, and 2 pass defended. In the 2016 season, he played in 13 games and started four. He recorded one pass defensed, one forced fumble, one sack, 20 tackles, and four quarterback hits. In the 2017 season, he appeared in 14 games and started four. He recorded one pass defensed, one forced fumble, 3.5 sacks, 24 tackles, and 16 quarterback hits.
In Week 6 of the 2018 season, Smith recorded three sacks, which was part of the new team record 11 sacks, in a 21–0 win over the Tennessee Titans, earning him AFC Defensive Player of the Week. He finished the season with career-highs with 45 combined tackles, 8.5 sacks, two passes defensed and a forced fumble. He led the Ravens in sacks and finished sixth on the team in tackles.
On March 14, 2019, Smith signed a four-year, contract with the Green Bay Packers. In Smith's debut as a Packer in week 1, he made 3 tackles and sacked Mitchell Trubisky once in the 10-3 win over the Chicago Bears. In week 6 against the Detroit Lions, Smith recorded a sack on Matthew Stafford in the 23-22 win.
As the 2019 season progressed, Za'Darius teamed with fellow free-agent signee, Preston Smith, to embark upon a record pace for sacking the quarterback through the early part of the season. With Za'Darius on the team, the Packers' defense overall improved dramatically and the team is looking forward to many more extremely productive seasons with him as an integral part of that defense.
See Career Stats