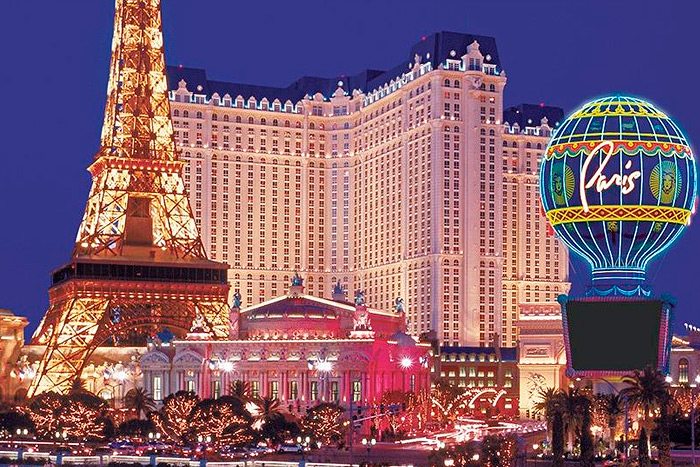 The City of Light Shines On The Strip!
Experience everything you love about Paris, in the heart of the Las Vegas Strip. One night with us is all it takes to realize everything's sexier in Paris.
Paris Las Vegas

3655 S Las Vegas Blvd
Las Vegas, NV 89109
Phone: (877) 796-2096
Floors/Rooms:
34/2916
Elevator(s):
Yes
Check-In/out:
4:00 PM / 11:00 AM
Room Service:
Yes
Airport Transportation:
No

Distance from Airport:
Harry Reed International Airport 2.4 Miles
Distance to Stadium:
2.2 Miles
Parking:
Self Parking $18 Monday – Thursday and $23 for Friday & Saturday
Valet – $36 Monday – Wednesday and $40 Thursday – Sunday
Bedding:
1 Bed – King
2 Beds – Queen/Queen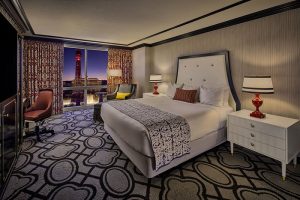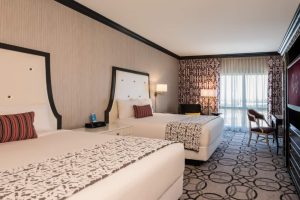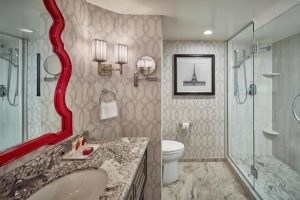 Amenities:
WIFI – High speed internet access available
15 Restaurants, 7 Bars & 1 Eiffel Tower
Spa & Salon
24 Hour Fitness Center
Pool Open 10am till 6pm
On-Site Parking (Self & Valet)
Self Check In – Check-in using your Caesars REwards Mobile App or one of our lobby Kiosks
In-safe rooms
Refrigerator
Iron/ironing board
24 hour Room service
Pool: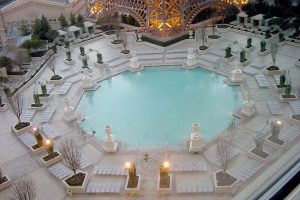 Fitness Center:
Yes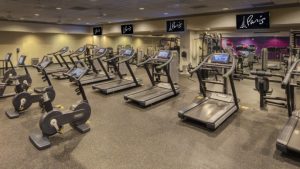 Hotel & Dining:
Dining Services
The Bedford by Martha Stewart – French, Seasonal, and Delicious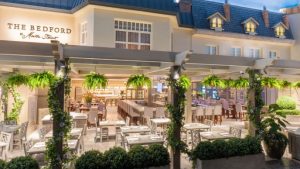 Farmhouse Charm – Martha Stewart and her team have curated all elements of décor to make this space feel just like you are a guest in Martha's home. Embracing a neutral, subtle color palette and simple yet beautiful furniture. From the white marble counters in the Servery and Kitchen to the incredible dining experience in the Brown Room, you will feel like every touch was crafted by Martha.
Opens at 4pm till 10pm
Dress – Casual
Gordon Ramsay Steak – Famous Dishes, Fine Ambiance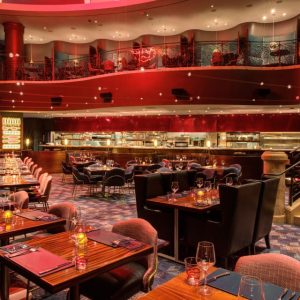 Stylish High-Engery Vibe – Enjoy the chic, swinging London atmosphere between bites of caviar and decadent roasted Beef Wellington. Featuring a towering ceiling splashed with the Union Jack flag, the modern steakhouse includes a bar, lounge and two-story dining area, with a chef's table and private dining rooms also available.
Opens at 4pm till 10:30pm
Dress – Smart Casual
Nobu – Japanese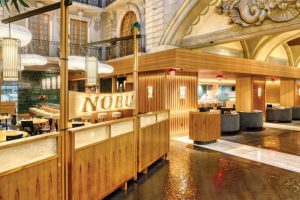 An Incredible Culinary Experience – Come dine with us in this intimate space with 140 seats and natural wood design elements. Nobu continues to attract fans worldwide for its enduring atmosphere and continuous reinvention of genre-defining cuisine.
Opens at 4pm till 10pm
Dress – Casual
Bobby's Burgers by Bobby Flay – American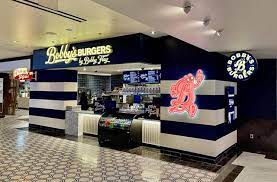 Dive Into Mouthwatering Goodness – You'll love the signature Crunchburger®, topped with potato chips and Bobby's secret fry sauce. Add some bacon to give it more oomph. Or load up on even more temptation for the taste buds with the Bobby Blue + Bacon Burger, complete with a blue cheese sauce.
Opens at 7am till 12am (Sunday – Thursday) and 7am till 2am (Friday & Saturday)
Dress – Casual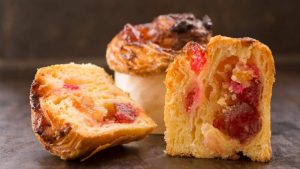 Gourmet Grab-And-Go – Located near the main valet entrance at Paris Las Vegas, Brioche by Guy Savoy is ideally located to grab a morning coffee and fuel up with a delicious French pastry before hitting the Strip.
Opens 6am till 12am
Dress – Casual
Beer Park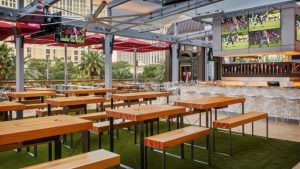 A Dose Of Americana Charm – The open-air Beer Park combines the feel of a classic baseball stadium and the communal charm of a city park. A space designed to bring people together, belly up to a picnic table, play a game of Jenga on the grassy lawn, or settle in to watch the game on one of the many high definition TVs.
Opens at 11am till 11pm (Monday-Thursday), 9am till 1am (Saturday) and 9am till 11pm (Sunday)
Dress – Casual
Cafe Americano Paris

Always Open – The tasty breakfast, lunch, and dinner dishes are perfectly in sync with the decadent ambiance. The restaurant's "patio" overlooks the bustling casino floor and walkways, or choose indoor seating for a quieter meal. Twinkling lampposts, wrought-iron décor, and greenery complement its French café vibe.
Open 24 hours
Dress – Casual
Alexxa's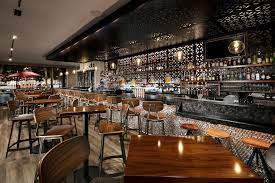 Experience Distinctive Dining – A trip to Vegas isn't complete without an evening sipping sangria under the Paris Eiffel Tower. With innovative offerings like Cinnaroll Waffles and disco ball cocktails, Alexxa's is the place to drink, dine or brunch in an all-day electric ambiance and bask in the best views of the Strip.
Opens at 10pm till 2am (Friday and Saturday)
Dress – Casual
Cafe Belle Madeleine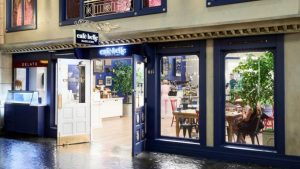 Charmingly French – Find an indulgent selection of sweet delights in this charming French-inspired café. Take-out or sit and enjoy a leisurely coffee and pastry in this cozy space.
Open 24 hours
Dress – Casual
Eiffel Tower Restaurant – French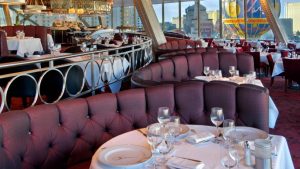 An Updated Classic – With a spectacular view of the Las Vegas Strip and overlooking the fountains, an evening in Las Vegas should begin at Eiffel Tower Restaurant. Dine from signature dishes like a Grand Seafood Platter, Beef Wellington and Roasted Rack of Lamb.
Opens at 5pm till 10pm
Dress – Formal
JJ's Boulangerie – Bistro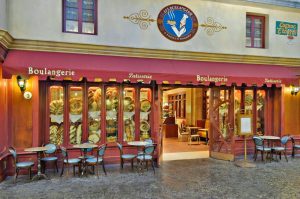 Delectable Breakfast – The perfect spot for a light breakfast. Grab a fresh coffee, a breakfast croissant, Danish or other delicious French pastry, or perhaps a crêpe from neighboring La Creperie.
Opens 7am till 10pm (Sunday-Thursday) and 12am till 12am (Friday & Saturday)
Dress – Casual
La Creperie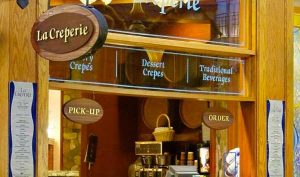 Afternoon To After-Hours – Dig into delicate, Parisian street vendor-style crêpes in the charming ambiance of a traditional walk-up sidewalk window. Conveniently located on Le Promenade, take your breakfast, dinner, or dessert to-go while you explore the wonders of Paris.
Opens 7am till 9pm (Sunday – Thursday) and 7am till 2am (Friday & Saturday)
Dress – Casual
Mon Ami Gabi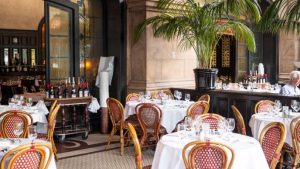 An Authentic French Bistro – Whether sitting in the open-air patio, bright atrium, or tucked away inside the café, you'll feel like you've just landed in Paris at Mon Ami Gabi. Our elevated European ambiance stuns inside and out, but Vegas glamour is never far away. Grab a seat on our patio for stunning fountain views.
Opens 7am till 10pm (Sunday – Thursday) and 7am till 11pm (Friday & Saturday)
Dress – Business Casual
Vanderpump A Paris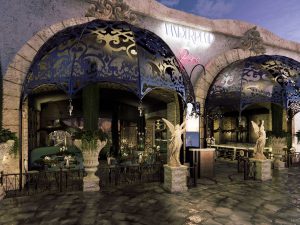 Bespoke & Beautiful Creations – Designed by Lisa Vanderpump and Nick Alain, the space is reminiscent of an old Parisian courtyard, one that's stood the test of time. The interior features Art Nouveau-inspired velvet banquettes, crystal chandeliers in wrought iron cages, bronze umbrella fixtures and windows with rain-like effects.
Opens 4pm till 12am (Sunday-Thursday) and 4pm till 2am (Friday & Saturday)
Dress – Casual