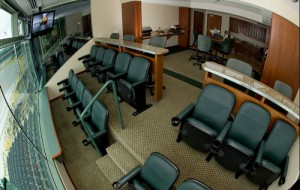 Sit in luxury and save!
Enjoy rock-bottom pricing now on our  luxurious private suite seats including our all-you-can-eat tailgate party for the home opening 8/9 – Packers vs Cardinals game!
Just $139/person or a full 16-person suite only $1999!
» Cardinals Suite Seats
Crosby, Finley and left side of O-Line headline Packers' 'MIP' prospects
By CHRIS HAVEL
Based on production, potential and pay grade Aaron Rodgers and Clay Matthews are the Packers' "Most Valuable Players." That much is fairly apparent.
But who is going to be Green Bay's "Most Improved Player"?
Through the course of every NFL training camp there are a handful of players who distinguish themselves early on. They routinely flash the potential that makes coaches, fans and media gush. They are there each and every practice – available and accountable – for their teammates.
It is almost as if a switch has been turned on.
Frequently, but not always, it is a veteran who is entering the final year of a contract, coming off an inexplicably subpar season, or both. When teams have enough players step up and get noticed in training camp they generally start strong and declare themselves "contenders" at the outset.
Packers' fans know Rodgers and Matthews will be there when it counts. But what of that all-important supporting cast? Here are five strong candidates to be the Packers' 2013 "MIP":
Jermichael Finley, TE, sixth season
Finley is coming off a season in which he caught 61 passes – the team record for tight ends – and two touchdowns. By Finley's standards, and fans' expectations, that could be thought a disappointment though.
The athletic 6-foot-5, 254-pound tight end is in a contract year. He also is in his prime and healthy on the heels of a good season. The guess here is that Finley will earn his next big contract. The only question is whether it comes via extension in Green Bay or a new deal elsewhere.
Josh Sitton, LG, sixth season
Sitton is being asked to help anchor the Packers' left side of the offensive line. After starting 62 of 64 games at right guard in his first five NFL seasons, Sitton is being moved to left guard. He is expected to team up with newly installed left tackle Bryan Bulaga to form a reliable, powerful tandem on the left side.
Sitton was good enough to be a Pro Bowl alternate in 2012. He needs to be even better in 2013.
Mason Crosby, K, seventh season
Crosby boomed 35 touchbacks on kickoffs in 2012. That is the good news. The bad news is he converted just 21 of 33 field goal attempts and must improve to continue as the Packers' placekicker. There are two good reasons to believe Crosby will respond in a big way.
The first is that he is just now entering his seventh season. He is still a young man, especially by placekicking standards. He is in his prime, and despite an "off" year there is nothing physically wrong with him. His leg strength remains exceptional and his attitude outstanding.
The second reason for hope is Crosby's history. He has been a reliable placekicker whose numbers rival the best all-time. Look for Crosby to be pushed by Giorgio Tavecchio in camp, and look for Crosby to respond in a big way.
Randall Cobb, WR, third season
Cobb is merely expected to step in where Greg Jennings left off. Crazy as that sounds given Jennings' amazing statistics in his eight seasons in Green Bay it is realistic to expect Cobb to be exceptional from the start.
Cobb has the hands, the intelligence and the after-the-catch elusiveness to be Rodgers' No. 1 target. He is difficult to jam at the line of scrimmage, and he is a student of the game as a former quarterback. Furthermore, Cobb won't be asked to return kicks, line up out of the backfield or split time with other wideouts.
He is a budding star.
Morgan Burnett, S, fourth season
Burnett's impending contract extension suggests the Packers have big plans for the fourth-year safety. No doubt. Burnett was one of just two NFL players (the Rams' James Laurenaitis is the other) who played on each of his team's defensive snaps. That experience should be of great help to Burnett.
In addition, Burnett's flashes of big-play potential are indicators that the skill is there. He just needs to get comfortable in his role as a defensive leader. Once that happens, the Packers might be able to say they have been able to replace Nick Collins. When the Packers decided not to re-sign Desmond Bishop much of the attention was given to his replacement, Brad Jones. However, Manning's youth and untapped potential also were factors. It would be a mistake to underrate Manning going into this season.
Chris Havel is a national best-selling author and his latest book is Lombardi: An Illustrated Life. Havel can be heard Monday through Friday from 4-6 p.m. CDT on WDUZ FM 107.5 The Fan, or on AM-1400, as well as Fan Internet Radio (www.thefan1075.com). Havel also hosts Event USA' MVP Parties the evening before home games.