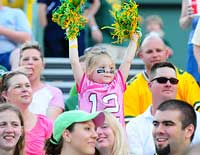 Last Call for Packers Family Night
Great seats still available!
» Get Details
Jones, Perry bring power, speed to lift Capers' crew
By CHRIS HAVEL
It is time for the Green Bay Packers' defense – in particular its front seven – to stand tall and deliver.
It is popular to talk about the way Packers GM Ted Thompson drafts and develops players, rather than playing in free agency. The fact is that the Packers' much-maligned defense has top-end talent.
The Packers' front seven has six first-round draft picks.Defensive linemen Ryan Pickett, B.J. Raji and DaTone Jones are all first-round picks. So are linebackers Clay Matthews, A.J. Hawk and Nick Perry. Only inside linebacker Brad Jones (seventh round) wasn't selected in the first round.That's a strong investment in that group. The return needs to come now.
There is no good reason that Green Bay's defense shouldn't rank among the NFL's top ten. Part of the perception that Green Bay's defense isn't talent-laden might be because two of its best players (Jones and Perry) might be the two youngest. If they continue to show what they've show early in training camp, the Packers' defense should be better than Ok.
Its strength, contrary to how the players were acquired, is in the secondary. Even with Tramon Williams and Casey Hayward sidelined by injuries early in training camp, others such as Sam Shields, Davon House and Morgan Burnett have played extremely well.
While the Packers' 45-31 blowout loss at San Francisco in the NFC Divisional Playoffs certainly was a defensive team effort, the Green Bay front seven certainly was its greatest liability. The Packers have the personnel to be a Top Ten defense. Add Mike Daniels, Mike Neal and Johnny Jolly to the mix up front, and the Packers should have the depth, too.
So far, the Packers' defense has appeared to play a faster, more aggressive brand of football. Obviously, it's a great leap from here to the regular season and all NFL offenses can bring to bear. But Green Bay's defense, in general, and its front seven, in particular, looks much-improved.
On Thursday morning, safety Morgan Burnett continued to fly around and make plays. It was a follow-up to a strong practice on Wednesday when he broke up several passes.
Additionally, cornerback Davon House made it two good days in a row. Early in Thursday's practice he was seated on Gator being looked at by trainers. After enduring an ear infection, food poisoning and shoulder problems, the thought was, "What now?" It turned out House just had his ankles re-taped and he was back on the field. Once there, he made several nice plays including a strip of receiver Jordy Nelson.
Training camp news and notes:
Wide receiver James Jones continues to look like a Pro Bowl player. He catches everything thrown his way. He leads by example. He brings energy to practice and he even defends his teammates afterward.
Jones defended quarterback Aaron Rodgers in the wake of ex-Packers receiver Greg Jennings' comments. Jennings, now with Minnesota, suggested Rodgers wasn't a good leader.
"I was taken aback by his comments, and I'm extremely close to Greg … I'm the godfather of his middle daughter," Jones told the NFL Network. "It was a brotherhood here … him and Aaron especially for seven years, me and him for six. When you leave you don't talk about your brother like that. I'll leave it as that."
Asked about Rodgers' leadership ability, Jones said, "Since I've been here Aaron's been the leader of this football team and he's been one of those guys who's going to be a leader for a long time."
Jones, 29, is entering his seventh season. He appears to be accepting more of a leadership role, too. In practice, he seems supremely confident and comfortable, whether he's helping younger receivers during drills or joking with Jordy Nelson or Jermichael Finley.
Some fans wonder if Randall Cobb can replace Greg Jennings. Actually, it is Jones replacing Jennings, and it has been happening for two seasons. Jennings has 103 catches to Jones' 102 since 2010. Jennings has 1,300 yards receiving to Jones' 1,400 yards.
The greatest surprise is this: Jones has 21 touchdown catches to Jennings' 13 TD grabs.
Other camp news and notes:
RB Johnathan Franklin continues to impress. He beat the defense – particularly Jeron McMillian – up the right sideline for a nice, over-the-shoulder catch. He also catches it easily out of the backfield.
However, he did fumble a punt and seems to battle them a bit.
DE Johnny Jolly showed toughness by walking off a lower leg injury early in practice, and coming back a couple snaps later to stuff a running play. He threw his would-be blocker in the back to blow up the play. In years past he might've sat out the rest of the drill.
DE Mike Daniels went ballistic when James Jones dropped a pass, nobody snatched up the ball, and Daniels (with his back to the play) nearly stepped on the ball and possibly did some serious damage to a leg.
TE Andrew Quarless looked smooth, and on one quick slant out of the Tiger or double-tight end formation, snared a bullet from Aaron Rodgers.
QB BJ Coleman gets high marks for arm strength, and his accuracy has been OK, but on Wednesday he audibled, switched up the play again, then promptly threw into coverage. AJ Hawk, who had dropped into coverage, grabbed it right between the 5 and O for a probably pick 6. Graham Harrell continues to be the backup to Aaron Rodgers.
Chris Havel is a national best-selling author and his latest book is Lombardi: An Illustrated Life. Havel can be heard Monday through Friday from 4-6 p.m. CDT on WDUZ FM 107.5 The Fan, or on AM-1400, as well as Fan Internet Radio (www.thefan1075.com). Havel also hosts Event USA' MVP Parties the evening before home games.