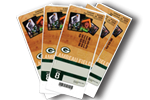 Next up at Lambeau: Browns at Packers
Tickets/packages + meet players the night before!
» Packers Home Game Tickets
Green Bay's 22-9 victory comes at a cost as linebacker corps takes a hit
By CHRIS HAVEL
The Detroit Lions' offense had about as much trouble getting into the end zone as the Green Bay Packers' James Jones did leaping into the stands.
Jones' 83-yard catch and run for a touchdown late in the third quarter helped the Packers to a 22-9 victory over Detroit that kept the Lions winless in Wisconsin since December of 1991. Jones' big play prompted a Lambeau Leap, but an unhappy Lions fan seated in the front row foiled the leap. Jones coolly adjusted his rout, gathered himself and soared into the stands.
While Jones churned out another strong game, the Lions' Calvin Johnson was out with a knee injury and had to watch from the sideline. Johnson's absence certainly affected the Lions' offense. With the Green Bay defense shifting its attention from Johnson to Reggie Bush, the Lions' running back was limited to 44 yards on 13 rushing attempts. He also caught an irrelevant four passes for 25 yards. Johnson's injury was a factor and the Packers admitted as much.
"Just being able to keep (the Lions) in short and intermediate passes definitely helped us out," Packers linebacker Mike Neal said. "Calvin's a big part of their game plan, and without him, I think they put a lot on other guys. It was a big plus for us."
There were several other plusses:
Packers' running back Eddie Lacy came back strong after being out with a concussion. Lacy rushed for 99 yards on 23 carries, and Randall Cobb caught a lateral and raced 67 yards to help the Packers finish with 180 rushing yards on 30 carries.
Jones (four receptions for 127 yards and a touchdown), Nelson (five for 82) and Cobb (four for 35) all made explosive plays. Also, tight end Jermichael Finley returned from a concussion to catch six passes in as many targets for 32 yards in a solid game.
The Packers racked up five sacks – all by linebackers – and kept the Lions' Matthew Stafford from getting comfortable all day. The Lions' only touchdown was a 13-yard pass from Stafford to Kris Durham with 2:06 to play.
Linebackers A.J. Hawk (nine tackles, seven solo) and Nick Perry (five tackles, all solo, including two sacks) had strong efforts. This may have been Hawk's and Perry's finest game of the season.
Welcome to the 2013 season, Morgan Burnett. The safety returned after a hamstring injury to make five tackles and defend a pass that likely would have gone for a touchdown. Burnett's presence illustrated how much the defense loses in his absence.
Mason Crosby went 5-for-5 on field goal attempts, connecting from 26 and 52 yards in the first half, and from 31, 42 and 45 in the second half. Crosby's form looked smooth as silk, and it appears he is going to earn every dollar of that incentive money.
Fortunately Crosby's hamstrings are fine, at least, because too many of his teammates have fallen to the injury. The latest is linebacker Brad Jones, who pulled up while trying to force Bush out-of-bounds in the first half. Jones is likely going to miss several weeks.
Jones' absence is going to hurt.
Linebacker Rob Francois sustained an Achilles injury, and Clay Matthews broke his left thumb. Francois likely is done for the season, while Matthews' status will be updated on Wednesday.
The Packers' poor performance in the red zone should be a concern. Aaron Rodgers went 20 of 30 for 274 yards and a touchdown, but the offense sagged inside the Lions' 20-yard line.
Packers head coach Mike McCarthy's priority has to be red zone offense as he prepares for this week's game at Baltimore.
The Packers (2-2) have now won 23 straight games against Detroit in the state of Wisconsin. They also pulled to within a half-game of first place in the NFC North, thanks to their win over Detroit (3-2) and Chicago's 26-10 loss to New Orleans, which was the Bears' (3-2) second straight.
Chris Havel is a national best-selling author and his latest book is Lombardi: An Illustrated Life. Havel can be heard Monday through Friday from 4-6 p.m. CDT on WDUZ FM 107.5 The Fan, or on AM-1400, as well as Fan Internet Radio (www.thefan1075.com). Havel also hosts Event USA' MVP Parties the evening before home games.