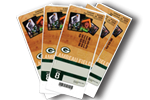 Packers vs Bears: Nov 4
Great seats still available!
» Packers Home Game Tickets
Green Bay rolls past Minnesota 44-31 while controlling clock, inept Vikings
By CHRIS HAVEL
The Green Bay Packers led by three touchdowns with about 10 minutes to play when a TV camera panned the Minnesota Vikings sideline before settling on a tight shot of Adrian Peterson. The Vikings' running back gazed at the Metrodome scoreboard with a quizzical expression as if to say, "When did the second half start?"
By then it was over.
The rest was just details, including ex-Packers receiver Greg Jennings whispering sweet nothings in Aaron Rodgers' ear after the game, followed by Jennings' post-game dodge of the media. Way to stay classy after a forgettable one-catch night. The Packers rolled to a 44-31 victory over Minnesota in dominating fashion Sunday night at Mall of America Field. The Vikings ran just three plays in the third quarter of a disastrous game in which the Vikings' offense had the football less than 20 minutes and ran 43 plays.
Meantime, Rodgers and the allegedly depleted Packers' offense kept moving the chains by converting an astounding 13 of 18 third down attempts. Rodgers completed 10 of 10 passes on third down.
"We've got a great team, very well-coached," Rodgers said. "Guys are ready to play. It was loud in here. It was a tough environment, but guys stepped up."
Clearly, Rodgers didn't miss Jennings. In fact, he rarely missed any of his current receivers, completing 24 of 29 passes for 285 yards and a pair of touchdowns to Jordy Nelson.
"I wasn't going to let this team beat us," Rodgers said. "A lot was on my shoulders."
With Randall Cobb, James Jones and Jermichael Finley sidelined with injuries, Rodgers turned to Nelson, who had seven catches for 123 yards including a 76-yard touchdown that was a thing of beauty. Rodgers hit Nelson on a skinny post out of the slot. With Vikings' linebacker Chad Greenway was a half-step too slow Rodgers whistled the ball past Greenway's ear hole and into Nelson's soft hands.
"I think this is really shaping up to be one of Aaron's best years," Packers head coach Mike McCarthy said. "Aaron's had a lot of challenges Monday through Saturday that don't show up on the stat sheet, just trying to get on the same page with younger players and trusting the game plan."
Rodgers' leadership is beyond reproach, but that didn't stop Jennings from being critical of the Packers' quarterback this offseason. Today, Jennings looks even more foolish than he sounded. He could've stayed in Green Bay but he opted for a more lucrative signing bonus in Minnesota. For him to suggest he left merely to open up opportunities for Cobb, Jones and Nelson is ridiculous. Truth be told, Jennings might be the Packers' No. 4 receiver if he were still in Green Bay.
At any rate, Jennings is yesterday's news, and as Rodgers has said, the Packers are focused on what's ahead. The Packers' run game is hitting its stride. The left side of the line opened running lanes for Eddie Lacy (29 carries for 94 yards) and James Starks (seven for 57). Both backs scored on touchdown runs, with Lacy blasting in from 1 yard out and Starks cruising on a 25-yard burst through the Vikings' lackluster defense. Vikings' defense end Jared Allen, who didn't register a sack against Green Bay's rookie left tackle, David Bahktiari, sounded disgusted.
"When the heck is the last time the Green Bay Packers rushed for 200 yards on somebody?" he said. "If that's not a punch in the gut and a wake-up to people, something needs to be."
The Packers (5-2) continue to hold their place atop the NFC North despite missing seven starters, including three key weapons in the passing game and their top pass rusher, Clay Matthews. No matter against the woeful Vikings (1-6) and Christian Ponder, who was the third different quarterback to start in as many weeks.
Minnesota's only hurrah was Cordarrelle Patterson's 109-yard kick return for a touchdown to open the game. Kick and punt coverage continue to be problematic for the Packers, although special teams did rebound with Micah Hyde's 93-yard punt return for a touchdown.
The Packers have won 15 of 16 games against the NFC North, with Chicago (4-3) up next on Monday Night Football at Lambeau Field. The Packers' Sunday night victory was the first game in a five-game stretch before Thanksgiving in which Green Bay should be favored every week. After Chicago, they host Philadelphia and travel to New York to play the Giants before coming home against Minnesota.
It is an opportunity the depleted (wink, wink) Packers are eager to tackle.
Chris Havel is a national best-selling author and his latest book is Lombardi: An Illustrated Life. Havel can be heard Monday through Friday from 4-6 p.m. CDT on WDUZ FM 107.5 The Fan, or on AM-1400, as well as Fan Internet Radio (www.thefan1075.com). Havel also hosts Event USA' MVP Parties the evening before home games.