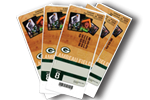 Packers vs Eagles: Nov 10
Great seats still available!
» Packers Home Game Tickets
Chicago defeats Green Bay 27-20 in 'Battle of Backups' at Lambeau Field; Rodgers reportedly out three weeks
By CHRIS HAVEL
By the end of the first quarter, Seneca Wallace had Green Bay Packers fans longing for Aaron Rodgers. By the end of the game, Josh McCoun had them longing for Jay Cutler. McCoun, starting in place of the injured Cutler, played the game of his NFL life while leading the Chicago Bears to a 27-20 upset of the Packers on Monday Night Football at Lambeau Field.
On a night when Green Bay's special teams were truly special, the Packers' offense was awful and the defense was worse.
At least the offense had an excuse. Rodgers injured his left shoulder during a Shea McClellin sack on the final play of the opening drive. Rodgers reportedly fractured his left clavicle and could miss at least three weeks.
The Bears and first-year head coach Marc Trestman seized their chance. Matt Forte blasted away 24 times for 125 yards and a touchdown while McCoun hit 22 of 41 passes for 272 yards and two touchdowns. The Bears racked up 442 yards in total offense, the most in team history during a victory at Lambeau Field.
"It'd be hard to find a better one than this," McCoun told reporters afterward. "They're all special, but this is really neat because it means so much to our team."
The Bears' win creates a three-way tie atop the NFC North with Chicago, Detroit and Green Bay all 5-3 at the season's midpoint. Rodgers' injury increases the Packers' challenge in a tight race. Wallace, playing smaller than his 5-foot-11, 205-pound frame, looked like a quarterback who hadn't taken an NFL snap in two seasons. He completed an ineffectual 11 of 19 passes for 114 yards and an interception. Not even Eddie Lacy's career night could offset that dismal display. Lacy finished with 150 yards on 22 carries and a touchdown.
Lacy's 56-yard jaunt to the Bears' 1-yard line was electric, and James Starks' 32-yard touchdown run was explosive. It wasn't enough. Wallace's rusty right arm posed more of a threat to the Packers' passing game than the Bears' secondary. Afterward, Packers head coach Mike McCarthy acknowledged Wallace's play must improve and predicted it would with a week of practice.
McCarthy got it half-right. Wallace must improve, but I doubt it. If Rodgers' right arm is a cannon, Wallace's is a pop-gun. If the Packers are going to survive without Rodgers, their special teams needs to build on its big night (an onside kick recovery, a blocked punt and suffocating coverage) and its defense needs to step up. Rodgers, the NFL's MVP in 2011, hasn't missed a game due to injury since Dec. 19, 2010. That streak will end Sunday against Philadelphia at Lambeau Field.
"Aaron's a huge part of our offense," McCarthy told reporters. "This is a thing that's been built over time with Aaron as the centerpiece. I don't think it's realistic to put anyone in there and expect him to perform (like Rodgers)."
No one expected Wallace to perform like Rodgers. However, he is expected to play like a competent backup. He didn't by a long shot. Obviously, the Packers must sign a quarterback either to compete with or back up Wallace. They also must find ways to win without their quarterback virtuoso.
When Rodgers scrambled for 9 yards and took a hit on the game's first play I thought, "OK, now he'll be a bit more careful." When right tackle Don Barclay didn't sustain his block on McClellin and Rodgers held onto the football too long it contributed to the Packers' dread "worst case scenario."
While McCarthy figures out how best to proceed without Rodgers, here are several big-picture suggestions moving forward:
Draft a quarterback with talent in the early to mid-rounds once every three or four years. San Francisco did it with Colin Kaepernick, Seattle did it with Russell Wilson and New England did it with Ryan Mallett. Kaepernick and Wilson have since become upper-echelon starters, and Mallett has proven to be more than adequate in Tom Brady's absence.
Develop that guy and prepare him to play within the system, rather than sign a veteran retread in free agency. Praying that Rodgers doesn't get injured isn't enough.
Don't answer the phone if it's a Hattiesburg, Mississippi, number.
Here's the good news:
Rodgers' injury isn't season-ending and the season is far from over.
The Packers' running game – much like the Bears' with Forte – is good enough to win so long as the backup QB is at least competent.
The special teams' play is improving each week, and the defense can only get better when Clay Matthews and Co. return.
Furthermore, the Packers are still in first place. It just doesn't feel like it.
Chris Havel is a national best-selling author and his latest book is Lombardi: An Illustrated Life. Havel can be heard Monday through Friday from 4-6 p.m. CDT on WDUZ FM 107.5 The Fan, or on AM-1400, as well as Fan Internet Radio (www.thefan1075.com). Havel also hosts Event USA' MVP Parties the evening before home games.