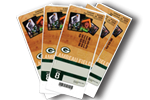 Packers vs Steelers: December 22
Celebrate the Holidays at Lambeau Field. Great deals now!!
» Packers Home Game Tickets
Flynn leads Packers to 37-36 victory over Cowboys in improbable tale of two halves
By CHRIS HAVEL
Texans like to brag about how everything's bigger down there. Today, I couldn't agree more, because the Green Bay Packers' 37-36 victory over the Cowboys on Sunday could not have been bigger. The Packers (7-6-1) are within a half-game of the first-place Lions for the NFC North title, with Detroit (7-6) hosting Baltimore (7-6) tonight on Monday Night Football.
Matt Flynn threw four second-half touchdown passes and Eddie Lacy slammed into the end zone from 1 yard out with 1:31 to play to cap an improbable second-half rally. Green Bay trailed 26-3 at halftime before Flynn and a salty defense helped the Packers tie for the biggest comeback in franchise history.
I will say this for Flynn: When he has a big game he doesn't mess around. Much like the backup quarterback's six-touchdown pass game of his life against Detroit, Flynn's monster second half Sunday breathed life into the Packers' season.
If Green Bay wins out, and Detroit loses one of its final three games (the Lions play the Ravens tonight, the Giants at home next week and the Vikings on the road to finish), the Packers will capture the NFC North and host an NFC wild-card playoff game.
The Packers' victory Sunday was almost surreal. After a dismal first half in which almost everything went wrong, head coach Mike McCarthy's team got it together after intermission. Dallas never knew what hit it.
Tony Romo threw two interceptions in the final three minutes, the first a phenomenal steal by Sam Shields to set up the game winning TD drive and the second Tramon Williams' game-clincher, to seal the Cowboys' fate. When Dallas owner Jerry Jones mandated that the Cowboys and Romo play better in December this isn't what he had in mind.
"This is one of the hardest losses that I've experienced," Jones said. "That's a shame that we've lost that ballgame."
A crying shame, in fact, except it was the Packers' tears of joy.
"It took me everything not to cry," McCarthy told reporters after the game. "I'm just drained … just the sheer emotion. It was incredible."
For Flynn, who finished 26 of 39 for 299 yards, four touchdowns and a quarterback rating of 113.1, it seemed like a dream.
"What a feeling!" Flynn said. "As we were taking a knee, we were thinking, 'Is this real? Is this happening?' "
Tramon Williams was pleased but not surprised. He kept the faith because he believes in his teammates.
"Most guys would pack it in – 'Guys, it's not our season. Let's go home and get ready for next year,' " Williams said. "It's not that vibe here."
Williams' clutch interception iced the game for the Packers. He had an earlier pick wiped out by replay.
It was a measure of redemption for a Packers' defense that has been much-maligned during Green Bay's five-game winless streak without star quarterback Aaron Rodgers. But after blanking Atlanta in the second half of last week's 22-21 victory, the defense held Romo and the Cowboys to just 10 second-half points.
Packers' placekicker Mason Crosby drilled a 57-yard field goal, which ties for the longest in team history, and it provided the winning margin.
Lacy, the brutish rookie running back, rushed for 141 yards on 21 carries, including a 60-yard burst that set up one of Green Bay's five second-half scores. Jarrett Boykin (six catches for 83 yards) and Andrew Quarless (six catches for 66 yards and a touchdown) combined for 12 receptions in as many targets. Jordy Nelson had five catches for 61 yards and a touchdown, and James Jones added three for 49 and a score.
The Packers now await word on Rodgers' health and potential medical clearance to play this week against the Steelers. After the game, Flynn sounded as if he anticipates Rodgers' return this week.
The Packers' epic rally sent the Cowboys (7-7) into scramble mode, although the Vikings did them a favor by upsetting Philadelphia.
Meantime, the Packers will host Pittsburgh Sunday in a game that surely will feature a playoff-type atmosphere. That will be especially true if the defending Super Bowl champion Ravens play like it tonight at Detroit.
Chris Havel is a national best-selling author and his latest book is Lombardi: An Illustrated Life. Havel can be heard Monday through Friday from 4-6 p.m. CDT on WDUZ FM 107.5 The Fan, or on AM-1400, as well as Fan Internet Radio (www.thefan1075.com). Havel also hosts Event USA' MVP Parties the evening before home games.