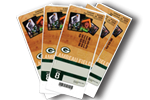 Go to the Game!!
Get your Game Tickets/Packages NOW to see Ha Ha in action!
» Go to the game!
Green Bay's defense adds safety net when 'Bama's Clinton-Dix is there at 21
By CHRIS HAVEL
Ha Ha Clinton-Dix is a headline writer's dream.
Whether he is the solution to Green Bay's weak safety play and a nightmare for the NFC North's pass-happy Bears and Lions remains to be seen. For their part, the Packers had to be thrilled he was there at 21. That's because Green Bay's list of favored best players still available appeared to be getting mighty short as Thursday night's first round of the 2014 NFL Draft crept closer to the 21st pick.
Mock drafts had Packers GM Ted Thompson enamored of LSU receiver Odell Beckham Jr., inside linebackers Ryan Shazier of Ohio State and C.J. Mosley of Alabama, and North Carolina tight end Eric Ebron. Each of those was gone after Baltimore selected Mosley with the 17th pick. What few, if any, mock drafts predicted is Clinton-Dix still there at 21.
The Packers quickly moved to take Clinton-Dix – the second safety selected after Louisville's Calvin Pryor went to the New York Jets at 18 – as a "plug-and-play" pick that is expected to start. Whether the Packers would have preferred either inside linebacker (Shazier or Mosley) or the other safety (Pryor) is unknown.
This much is clear: The Packers preferred Clinton-Dix to Northern Illinois' safety Jimmie Ward (to San Francisco at 30) and USC receiver Marquise Lee (still available). What matters is whether Clinton-Dix can start and play at a high level. Thompson believes so.
"I think he's a real all-purpose kind of safety," he said. "He's shown an ability to cover down in the slot. He's good in run support … physical player … also can play well in the back end. I think like (Alabama) coach (Nick) Saban said at the start of the broadcast, 'We think he's got very, very good ball skills.' And all three of those things are things that we look for in a safety."
Clinton-Dix has ideal size (6-1, 208) along with good range and hands. He also is regarded as a smart player who can organize and direct an NFL secondary. And while he's not off the charts in the measurable, he is a sure tackler who possesses enough speed (4.58 in the 40-yard dash) to cover slot receivers and hybrid tight ends. Clinton-Dix should be the starter alongside Morgan Burnett when the Packers travel to Seattle in the NFL's season-opener. He is the first safety selected by the Packers in the first round since Alabama's George Teague was drafted in 1993.
He also proved to be prophetic by posting an Instagram picture with a Packers jersey a few weeks ago.
"I posted that picture on Instagram and I got 300, 400 comments and posts on Twitter," he told reporters. "I kind of went back and looked at
Green Bay and they could use some help on the defensive side of the ball period with the great offense they already have. It wasn't really 'til then where I was like, 'Eddie (Lacy) might be right. I might end up in Green Bay seriously."
Clinton-Dix seemed pleased but not surprised when his name was called at 21.
"Everything happens for a reason," he said. "I put that picture of me with the Green Bay shirt up there two weeks before the draft and here I am a Packer."
Packers' fans should like this pick for several reasons:
After the disastrous safety play last season, the Packers needed to infuse top-end talent at that position. They did so by not reaching for a second-tier player, and by not spending extra picks to move up.
Clinton-Dix gives the Packers a chance to see if Burnett's play will improve when paired with a high-caliber partner on the back end. If Burnett's play improves that's great. If not, Micah Hyde is still there. In fact, the future at safety could be Clinton-Dix and Hyde.
Green Bay holds three picks going into tonight's second and third rounds. They have the 53rd (second), 85th (third) and 98th (third) picks.
They could acquire a receiver (USC's Marquise Lee and Vanderbilt's Jordan Matthews are still on the board), a center (Colorado State's Weston Richburg remains) and a tight end (Texas Tech's Jace Amaro, Washington's Austin Seferian-Jenkins and Iowa's C.J. Fiedorowicz represent great value in the second/third round area).
Today, some will debate what Thompson would have done if Clinton-Dix was gone and nobody wanted to trade up with the Packers. Fortunately, we didn't have to find out.
Chris Havel is a national best-selling author and his latest book is Lombardi: An Illustrated Life. Havel can be heard Monday through Friday from 4-6 p.m. CDT on WDUZ FM 107.5 The Fan, or on AM-1400, as well as Fan Internet Radio (www.thefan1075.com). Havel also hosts Event USA' MVP Parties the evening before home games.