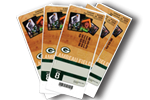 Go to the game!
Lots of new seating and game packagechoices!
» Go to the game with us!
Competition should be keen at C; upgrades will be apparent on 'D'
By CHRIS HAVEL
What is the Packers' most intriguing position unit? Where will your eyes naturally gravitate the first day of training camp? Which rookie draft pick's name is tops on your "Players To See" list?
These are fair questions not easily answered. The Packers' rookie minicamp, OTA's and minicamps offer but a snippet of what a player's NFL career might be. Compared to training camp it is a passing glance. Compared to Week 1 at Seattle it is nothing.
That isn't to suggest OTA's, etc., aren't valuable. On the contrary, first impressions are important. For instance, undrafted free agent tight end Colt Lyerla's fluid moves, athleticism and soft hands were obvious to everyone including Packers cornerback Tramon Williams.
"You can see that he's very fluid in his moves," Williams said. "That stood out watching tape of him."
Lyerla's hustle after each catch also stood out. Again, it is way too early to make too much out of an OTA practice.
However, it couldn't be discounted that second-year defensive back Micah Hyde lined up all over the field. He was twinned with Morgan Burnett and the No. 1 unit at safety. He also lined up as a slot cover corner and deployed near the line of scrimmage.
When Packers coach Mike McCarthy said he expected good things from Hyde, and that he anticipated him being on the field, he meant it.
Also defensively, Julius Peppers' presence in his No. 56 jersey can't be discounted. His presence will instill defense on a unit sorely lacking that quality. He won't lead by talking. He'll lead by playing.
The prospect of having Peppers and Clay Matthews opposite each other is exciting. These pass rushers have never been paired with such a talented bookend before in their career. When Peppers was asked if the Packers were on his radar before he signed, he said that everyone who made sense was on his radar. The Packers made sense, in part, because of Matthews' presence.
If I had to put a sack total over/under on Matthews-Peppers combined for 2014, I'd say 20 ½. And I would bet the over.
The tight ends remain incredibly interesting and competitive. I believe the Packers can win a lot of games, including a championship, with a healthy Andrew Quarless at tight end. He is good enough to make plays in the passing game when defenses focus on the receivers and/or Eddie Lacy, and he is a more than willing and capable run blocker.
The only difference between Quarless and the high-profile tight ends is that they don't require a strong perimeter passing attack or powerful running game to succeed. Since Quarless' team IS blessed with such strengths, the fact that Quarless can capitalize on that is what matters.
At any rate, Lyerla most surely will factor into the final roster.  Jermichael Finley still could factor into the mix in Green Bay. It seems Finley's return would benefit from being in familiar surroundings and playing in a familiar offense.
If/when Finley returns to the field, I want him to be able to play with a free mind and a clear head so he can focus on football. If it happens somewhere else, best of luck. If it happens anywhere, hopefully it will be Green Bay. If it doesn't happen at all, perhaps that's what is best.
Holdover tight ends Ryan Taylor, Brandon Bostick and third round pick Richard Rodgers make for a most interesting group. I'm guessing Quarless, Rodgers, Lyerla and Taylor make the final roster.
J.C. Tretter is healthy and will battle fifth round draft pick Corey Linsley of Ohio State to see who wins the starting job at center. Tretter is more athletic, while Linsley may be a bit stronger. Either should be an upgrade over the departed Evan Dietrich-Smith, who wasn't that bad.
Finally, which rookies are going to be atop the "Players To See" list?
That's easy. Ha Ha Clinton-Dix's every move will be scrutinized. If he maintains his focus and keeps his head in the playbook he'll be a starting safety on Sept. 4 at Seattle. When fans aren't watching Clinton-Dix, they'll be honed in on second-round pick Davante Adams. The wide receiver from Fresno State is expected to contribute immediately.
By all indications – and it's only the OTA's – Adams won't disappoint.
Chris Havel is a national best-selling author and his latest book is Lombardi: An Illustrated Life. Havel can be heard Monday through Friday from 4-6 p.m. CDT on WDUZ FM 107.5 The Fan, or on AM-1400, as well as Fan Internet Radio (www.thefan1075.com). Havel also hosts Event USA' MVP Parties the evening before home games.