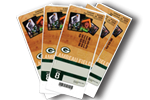 Catch Jordy in Action!
Game Tickets/Packages available from the Packers' Official Tour Company!
» Go to the game with us!
National radio host calls group 'very, very average at best' while being blind to big picture 'D'
By CHRIS HAVEL
NFL fans who rage against players they view as money-grubbing mercenaries have someone to root for.
That someone is Jordy Nelson. Fans of other NFL teams are finding out what Packers' fans have known for several years: Nelson is a special player on the field and an uncommon person off it.
Nelson, 29, signed a three-year contract extension worth $12.6 million on Oct. 1, 2011. It proved to be a bargain for Green Bay when Nelson followed it up with three superb seasons.
With his contract up after this season, Nelson is in a position to demand mega-bucks and probably get it.
But that's not Nelson. The country boy from Manhattan, Kansas, wants to be paid fairly, but he also understands the importance and meaning of "quality of life."
When asked about his contract status last week, Nelson told reporters: "What I got in that last deal, I'll never spend it all anyway. So I'm not worried about it."
The reaction on social media explained fans' sentiment. Here's a sampling:
"Well, that's refreshing!"
"I know. Has a professional athlete ever said that?"
"Amazing what a decent human being can be like despite relative fame. The guy is a shining example of how all athletes should think and behave."
Nelson, his wife, Emily, and their son Royal have embraced Green Bay. He expressed his feelings to ESPN after Sunday's charity softball game.
"My wife and I have enjoyed it," Nelson said. "Let's see, it's six years going on seven years now. We don't want to go anywhere else. We love it here. We want to be here, and hopefully we can get to that point."
Last week, on the heels of Pro Football Focus's rating of each NFL team and players, CBS sports radio national host Doug Gottlieb was critical of the Packers' receiving corps. Gottlieb called the group "very, very average at best" and said it had no "Hall of Famers or superstars."
Clearly, Gottlieb didn't do his homework on the Packers' receivers – who are led by Nelson – and he doesn't understand the big picture.
Let me trot out some numbers on Nelson:
Nelson led the NFL with 19 catches of at least 25 yards last season. Denver's Demaryius Thomas (17), Philadelphia's DeSean Jackson (16) and Cleveland's Josh Gordon (15) and Chicago's Alshon Jeffery (15) trailed him.
 Nelson's 30 touchdown catches since 2011 are the fourth-most by a receiver in that span. He trailed only Dallas' Dez Bryant (34), Detroit's Calvin Johnson (33) and Denver's Eric Decker (32).
Since 2011 Nelson's 17.2-yards per catch average is second behind only Tampa Bay's Vincent Jackson (18.2) for players with 100-plus catches.
Nelson also is a big-game player. He is only the fourth receiver in Super Bowl history to have at least nine catches, 140 yards and a touchdown in a game. Nelson did that in the victory over Pittsburgh.
The 6-foot-3, 217-pound receiver hauled in 85 passes for 1,314 yards and eight touchdowns last season. His numbers qualify him as an elite NFL receiver, regardless what national sports radio show hosts think.
Randall Cobb, the Packers' No. 2 weapon, also is an explosive player. They complement each other perfectly. Nelson is fast, rangy and works the sideline as well as anybody since Cris Carter did his last toe-tap. Cobb, a perfect slot receiver, can take a 10-yard slant and turn it into an 80-yard touchdown in the blink of an eye.
Add Jarrett Boykin, who had a 100-yard receiving day in his first NFL start, and Davante Adams, the team's second-round pick from Fresno State, and the unit looks strong again this season.
Furthermore, the Packers' receivers are among the most down-to-earth, unselfish groups at a position that's stockpiled with prima donnas.
Gottlieb's point was, in part, that Aaron Rodgers makes the receivers better. True, Rodgers is a tremendous quarterback, but he would be the first to defend his receivers, beginning with Nelson.
Fortunately, Rodgers doesn't have to defend them. That's a problem opposing defensive backs must cope with. Also, Nelson and Co. put up big numbers while Rodgers was out last season with a broken collarbone.
Off the field, Nelson is a low-key country boy who keeps it real. His wife, a former college basketball player, coordinates the mentoring program at Ford Howard Elementary School in Green Bay.
One remark from a social media commenter said it well.
"Nelson has a great attitude that fans and coaches love. He's not out there just to collect a check. I'm hoping we keep him around for years to come. He's a good veteran now that can provide a great example to the rookies coming in. (He's) one of those special players that doesn't come around very often."
When the Packers and Nelson do agree to an extension the big winners will be Nelson, Rodgers, the Packers and their fans.
It doesn't get much better than that. In fact, it doesn't get much better than Nelson.
Chris Havel is a national best-selling author and his latest book is Lombardi: An Illustrated Life. Havel can be heard Monday through Friday from 4-6 p.m. CDT on WDUZ FM 107.5 The Fan, or on AM-1400, as well as Fan Internet Radio (www.thefan1075.com). Havel also hosts Event USA' MVP Parties the evening before home games.